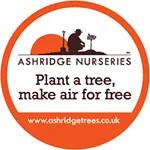 Over the last week or so, primary and middle schools in Somerset and Dorset have been busy planting new trees donated by Ashridge Nurseries. In total, over 2,500 new trees will be planted!
Our 'Plant a tree, make air for free' project was inspired by the national Jubilee Tree Planting challenge, which aims to commemorate the Queen's Diamond Jubilee with the planting of millions of new trees across the UK.
(Here's our earlier post about our schools project)
We hope the photos below bring a smile to your face – you can see that the kids had a great time! We'll add more photos as other schools plant their trees.
Photographs published with the kind permission of: Upton Noble C of E Primary School (Bruton), St Mary's C of E School (Puddletown), Wincanton Primary School (Wincanton), Horsington C of E Primary School (Templecombe) and Hazlegrove Preparatory School (Sparkford).
Hazlegrove Preparatory School has also published a Flickr gallery of their Jubilee Wood planting day.
If you'd like any further information please do get in touch, or alternatively leave a reply below!