Worplesdon Sweet Gum Trees
Liquidambar styraciflua Worplesdon
The details
Delivered in Large Sizes
Long-lasting Autumn display
Loves moist, acidic soil
Moderate vigour
RHS Award of Garden Merit
To 20m
Choose a size
How are they measured?
£
£114.98
£ 109.98
£ 104.99
£
£149.98
£ 144.96
£ 139.98
Delivery prices
Description
Liquidambar styraciflua Worplesdon: Bareroot Sweet Red Gum Trees in Standard Sizes
Worplesdon is an ornamental Liquidambar grown for its wonderfully coloured autumn foliage.
The star shaped leaves are lush, glossy green in summer and, starting in September, one of autumn's highlights, looking gorgeous for almost three months as a stunning range of glowing reds and oranges with a few purple touches engulfs the tree, and it's known as the Red Gum tree for this display.
The fallen leaves keep the gum's sweet aroma; a bundle of them in the garden shed will smell good for several weeks.
The rich brown young bark is unusually textured with corky scales and becomes ridged as it ages.
The flowers in April-May are distinctive, but hard to see among the leaves, being yellow-green piles of male buds from which dangle whitish-green female flowers. The female part matures into a spiky fruit husk, which are used in pot-pourri, and decorate the tree well into winter, providing some interest for birds. To deter dogs and cats from your flower beds, try covering them with these prickly seed cases (sweet chestnut husks are better).
It is not especially vigorous, about 6 metres high in 10 years is normal; mature trees can reach about 20 metres in the British climate.
Browse our large garden trees, or all of our trees.

Delivery season: Liquidambar trees are delivered bareroot during late autumn and winter, approximately November-March inclusive.
Features:
Height: To 20m
Soil: Sunny, moist, acidic
Superb and long lasting Autumn colour
Hardy, but thrives best in warmer Southern regions
RHS Award of Garden Merit
Bareroot delivery only: November-March
Growing Liquidambar
It really loves sunny, moist, acidic sites in the South of Great Britain, where it will look its best, but it is hardy, rated H6 by the RHS, and will be fine anywhere in Scotland with shelter from wind, fertile soil, and no frost pocket. The leaves are the main show, so if they are battered, stressed and undersized, the value of the tree is reduced.
In the South, they are good in dappled shade inside a woodland scheme. In the North, they will be better at the front of the woods.
It's not that they won't grow on chalky soil: they will, and their Autumn colour will be dull rusty-brown, not fiery-red.
Note: Liquidambars don't like having their roots disturbed, and benefit from a longer period of planting aftercare than necessary for most other trees. It is usually best to stake them for two years to prevent wind rock, and vital to water attentively in dry weather into their third summer: by the fourth year, their roots will be solid and increasingly drought resistant, but if there is a drought that year, water them.
Did You Know?
Worplesdon is, of course, a dinosaur, like Stegodon, but since then it is also a town in Surrey, where this cultivar was noted by a local in 1968 and brought to the attention of George Jackman and Son Nursery in Woking, of clematis fame.
Sweet Gum refers to the pleasant smelling resin, called styrax, that the tree emits when damaged. Its heartwood is called satin walnut, which polishes beautifully and makes great furniture.
The species is known as the alligator tree for its bark, which is similar to a native Field Maple, Acer campestre.
Standard trees are measured by their girth in centimetres 1 metre above ground level: their trunk's waist measurement. Unlike sapling trees and hedge plants, standards aren't measured by their height, which will vary quite a bit both between and within species.
So, a 6/8cm standard tree has a trunk with a circumference of 6-8cm and an 8/10 standard has a trunk 8-10cm around. This measurement makes no difference to the tree's final height.
On average, standard trees are 2-3.5 metres tall when they arrive, but we cannot tell you precisely how tall your trees will be before we deliver them.
Planting Instructions
Planting Liquidambar styraciflua:
Sweet Gums come from sunny, swamp-edge terrain: they want their roots above water, but don't mind seasonal floods. They are hardy enough for most of Britain, but prefer cosy urban microclimates and aren't ideal for exposed, inland, and Northern Scotland, where late frosts tend to damage or kill off the young leaves. They also flower less in colder regions, and produce fewer seed cases.
They like moist, rich soil, but with consistent watering and mulching they will establish in dry locations and become drought tolerant mature trees. Soil pH should be acid to neutral; they do not like alkaline conditions and won't turn red in autumn. They colour up best in full sun, so we advise against planting in anything more than very light shade.
Prepare your site before planting:
It is good to dig over the area where you intend to plant several months in advance. Destroy the weeds first: nettles, brambles and ground elder are tough and a weed-killer is the best way to remove them. Then dig the soil over; remove rocks, roots and other rubbish. Mix in well rotted compost or manure down to the depth of about 2 spades.
If you have a heavy clay soil, it might be too difficult to dig over for most of the year. Heavy clay is fertile soil, so you don't really need to improve it; killing the weeds is still necessary.

You must always water establishing plants during dry weather for at least a year after planting, but Liquidambar needs help during dry spells for its first three summers to ensure good root development.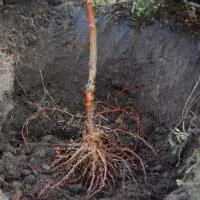 Bareroot?
Bareroot plants have no soil around the roots. They are light, easy to carry and plant.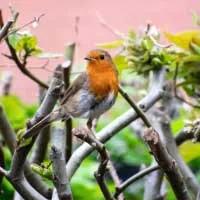 Perfect for Winter
The ground tends to be wet in winter, ideal for planting bareroot plants.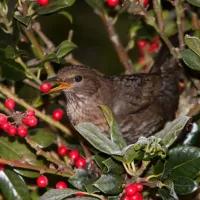 Value for money
You pay less for the same size bareroot plants, compared to potted.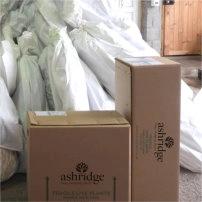 Delivered
Packaged by our experts and sent out by next day delivery.
Tag us @ashridgenurseries