Turkey Oak, Large Trees
Quercus cerris (Standard)
The details
Delivered in Large Sizes
European. Fastest growing oak.
Other Sizes: Bareroot Saplings.
Max. Height: 30m
Bareroot Delivery: Nov-Mar
Description
Quercus cerris: Bareroot Turkey Oak Trees in Standard Sizes
The Turkey Oak, Quercus cerris, is a grand, spreading tree that makes a handsome specimen for a park or large garden. They have neater, more oval shaped leaves than a native oak and its acorn-cups are covered with green growth, like a thick moss. The autumn colour is a rich bronze-brown that makes a good backdrop for other trees with brighter leaves.
They are vigorous for an Oak, and can reach a height of about 25-30 metres.
Standard trees are the largest size that we deliver; you can also buy younger Turkey Oak saplings.
Browse our other Oak tree varieties, or all of our trees.

Delivery season: Oak trees are delivered bareroot during late autumn and winter, approximately November-March inclusive.
Choosing a size: Small trees are cheaper, easier to handle and more forgiving of less than ideal aftercare, so they are best for a big planting project. If instant impact is your priority, or if you are only buying a few plants for use in a place where it is convenient to water them well in their first year, then you may as well use bigger ones. All our bareroot trees are measured by their height in centimetres above the ground (the roots aren't measured).
Features:
Height: 25-30m
Soil: Any well drained
Vigorous, wind resistant
Bareroot delivery only: November-March
Growing Turkey Oaks
This hardy tree thrives in any well-drained soil. It loves chalky soil in general, but may not be wind resistant on shallow chalk rock if its tap root can't find a way down. Otherwise, it is great for exposed coastal locations.
It is shade-tolerant when it is young.
Did You Know?
This European tree's native range is from the South of France through to Turkey, and has been growing wild in Britain for several hundred years. There is a record of it being cultivated in 1735 that suggests that it was already well established here. It is a poor timber tree because it cracks easily, but the dense wood burns very well.
Turkey Oaks host Knopper Gall wasps, which reduce the ability of native oaks to produce viable acorns. This was a big scare in the 1960's, but since then it has become clear that the problem is not as bad as predicted (first time for everything, eh), partly because birds love eating the wasps. Still, the Ministry of Defence has banned them on its property, and turned all of theirs into obstacle courses in the late 1990's.
Other common names: Bitter, Iron, Manna, Mossy-cupped, Austrian, and Wainscot Oak.
Standard trees are measured by their girth in centimetres 1 metre above ground level: their trunk's waist measurement. Unlike sapling trees and hedge plants, standards aren't measured by their height, which will vary quite a bit both between and within species.
So, a 6/8cm standard tree has a trunk with a circumference of 6-8cm and an 8/10 standard has a trunk 8-10cm around. This measurement makes no difference to the tree's final height.
On average, standard trees are 2-3.5 metres tall when they arrive, but we cannot tell you precisely how tall your trees will be before we deliver them.
Planting Instructions
Notes on planting Turkey Oak:
Turkey Oak trees are very versatile, growing on any well drained, reasonably fertile soil. They are hardy and suitable for exposed locations near the sea.
Prepare your site before planting:
Dig a hole at least twice the size of the tree's root system. Mix in well rotted compost or manure to improve the soil. These trees will need a stake and tie and we always recommend using Rootgrow
After you plant a tree, the most important thing to do is water it in dry weather. You will also need to weed around the plants. Watering should be thorough, so the ground is soaked. Let the soil almost dry out before watering again. Watering & weeding will be necessary for at least a year after planting.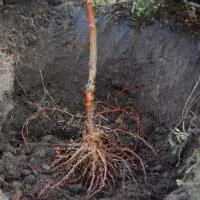 Bareroot?
Bareroot plants have no soil around the roots. They are light, easy to carry and plant.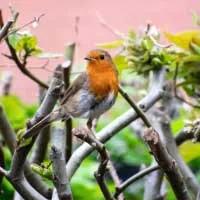 Perfect for Winter
The ground tends to be wet in winter, ideal for planting bareroot plants.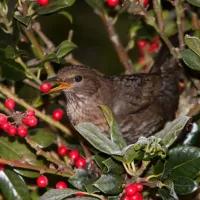 Value for money
You pay less for the same size bareroot plants, compared to potted.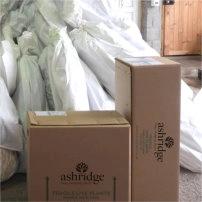 Delivered
Packaged by our experts and sent out by next day delivery.
Tag us @ashridgenurseries