Copper / Purple Beech Hedging Plants
Fagus sylvatica purpurea
The details
Fagus sylvatica purpurea
Hedge Plants
Final Height: 1m to very tall
Soil: well drained
Use: Formal/Native
Single Row: 3/m
Double row: 5/m
Colour: purple
Choose a size
How are they measured?
Qty
1-24
25 - 249
250 - 499
£
£3.54
£ 2.75
£ 2.65
£ 2.40
Qty
1-24
25 - 249
250 - 499
£
£4.95
£ 4.35
£ 3.95
£ 3.90
Qty
1-24
25 - 249
250 - 499
£
£7.65
£ 6.99
£ 6.25
£ 6.20
Qty
1-24
25 - 249
250 - 499
£
£11.25
£ 10.99
£ 10.89
£ 10.75
Qty
1-24
25 - 249
250 - 499
£
£19.99
£ 18.99
£ 17.99
£ 17.45
£
£21.84
£ 18.54
£ 16.68
£ 15.84
125/150cm 1m Trough
Trough
£
£149.94
£ 119.99
£ 99.99
Delivery prices
Description
Fagus sylvatica purpurea: Bareroot Hedging
Delivered by Mail Order Direct from our Nursery with a Year Guarantee


Copper beech, when properly clipped, will bush out to form a waterfall of purple leaves from tip to toe that look superb for the entire growing season.
In Autumn, the leaves turn ruddy-copper before drying and, like green beech, remain on the branches. Anyone blessed with the space to grow a copper beech tree as a feature should certainly invest in one; they are magnificent trees that draw the eye to some distant part of the garden or neighbouring field. Most of us are not that lucky, however, so a hedge of copper beech adds panache and a sense of theatre to a garden full of greens and silvers.
Please note that new Copper Beech leaves are mostly green when they first open, darkening as they fully open and mature.

Browse our range of beech hedging, or all of our hedging.
Delivery season: Beech plants are delivered bareroot during late autumn and winter, approximately November-March inclusive.
Choosing a size: Small plants are cheaper and overall better for hedge use, unless instant impact is your priority. If you are only buying a few plants for ornamental use, then you may as well use bigger ones. All our hedge plants are measured by their height in centimetres above the ground (the roots aren't measured).
What is a trough?
A trough contains 5 beech, and is better value than buying 5 potted beech of the same size.
The trough keeps the beech growing together in a nice row, it's easy to carry and remove, and the ready-made section of hedge should be planting directly into well-prepared soil, and watered very well so that the water has time to penetrate the large block of potting soil.
Features
Size sold: 40-175 cm
Height: 1m to very tall
Soil: well-drained, likes full sun
Use: Formal/Native
Colour: copper - purple
Dramatic backdrop
Growing Purple Beech
It needs full sun to thrive and won't tolerate wet sites.
Beech cannot stand wet feet or more than a bit of shade, but given good drainage and close to full sun, they will handle pretty much any soil, be it poor or chalky. Even if it didn't need it, you would want to plant it in full sun anyway for the effect of the light shining through the leaves in Spring and Winter.
Spacing a Copper Beech hedge: Like most formal hedging, plant at 3 per metre, 33cm apart in a single row for a secure hedge. For an ornamental hedge within your garden, 50cm spacing is fine.
Copper Beech in Your Garden Design
The density of leaves means that your privacy is guaranteed if you grow it as a boundary or perimeter hedge. Being 'everciduous', if you trim the trees in mid-summer they will hold onto their leaves throughout the winter, maintaining the privacy and year round structure in your garden.
A copper beech hedge is a perfect tool for dividing and defining space in a garden and provides a fantastic opportunity for colour combining; silver foliage and really bright colours stand out so well against it. Imagine a herbaceous border full of hot colours enveloped by a rich purple hedge, rather like a photo frame containing and focusing attention on the picture within.
If a solid copper beech hedge feels like overkill, take inspiration from a garden like Hidcote, where they have a famous tapestry hedge of copper beech interspersed with holly. Alternatively, mix up some green, common beech with the purple variety to ring the changes.
Did You Know?
Considerable energy is expended on naming plants accurately, taxonomists gotta eat too, y'know, and this flavour of Fagus sylvatica has been listed as atropurpurea, cuprea, and atropunicea in addition to purpurea: they are basically all the same thing. At the time of writing, the fashion is for Fagus sylvatica Atropurpurea Group.
Fagus is the Latin word for Beech, and also a god of babies. Ginger people were favoured by Fagus, and were a shoo-in for his priesthood.
The colour of the purple leaf comes from pigments called anthocyanins that mask the bright green of the chlorophyll pigment that the plant uses to photosynthesise. It is these same anthocyanins that give fruits like blueberries their colour and make them so healthy.
Planting Instructions
Growing Copper Beech plants:
Beech is happy in any well-drained soil type. If your site is shady, we suggest planting green beech instead. Copper beech is less vigorous than green beech and its darker leaves look best when they are well lit.
It will not grow well if the site is damp. If it takes more than a day for surface water to drain away after heavy rains, then your soil is probably too heavy for Beech. Hornbeam is a good alternative to green beech, as it looks similar and it also holds onto its autumn leaves in winter.
Prepare your site before planting:
It is good to dig over the area where you plant a hedge several months in advance, especially if the soil is poor. Destroy the weeds first: nettles, brambles and ground elder are tough and a glyphosate-based weed-killer is the best way to remove them. Then dig the soil over; remove rocks, roots and other rubbish. Mix in well-rotted compost or manure down to the depth of about 2 spades. If your soil is rich, you don't have to dig it over, but killing all the weeds is still necessary.
Watch our video on how to plant a garden hedge for full details. The plants in this video are delivered pot-grown, but planting out bareroot stock is essentially the same.
Remember to water establishing plants during dry weather for at least a year after planting.
Hedge Planting Accessories:
Prepare your site for planting by killing the weeds and grass with Neudorff WeedFree Plus.
You can buy a hedge planting pack with sheets of mulch fabric and pegs to hold it down.
If your soil quality is poor, we recommend using mycorrhizal "friendly fungi" on the roots of new trees and shrubs.
After you plant a hedge, the most important thing to do is water it in dry weather. If you didn't use a mulch of some kind, you will also need to weed around the hedge. Both of these will be necessary for at least a year after planting.

Trimming Formal hedge plants:
Copper Beech hedging that is planted in winter can be trimmed very lightly, just enough to remove the leaf buds from the ends of each stem. We recommend this more for the larger sizes, over 80-100 cms. If you are using smaller plants, there is less benefit in trimming them after planting. If you are planting a beech hedge in summer, using pot-grown plants, don't trim them at all.

From the winter after planting onwards, your young hedge should be trimmed very lightly once a year, until it is mature.
When it is fully grown, you should clip Copper Beech hedging in late summer to make it hold its autumn leaves right through the winter.
The ideal day for a trim is overcast with rain on the way; full sun on the freshly cut leaves can cause the edges to brown and plants always like to have a drink after a trim.
Special notes on caring for Copper Beech hedges:
Copper Beech is a very tough hedge plant that shouldn't need special attention once it has established. If you didn't use a mulch fabric, it is beneficial to mulch around the base of the hedge each year with well-rotted manure or compost.
Hygiene & Diseases:
Dead, damaged or diseased wood can be pruned off as soon as it appears.
Disinfect your pruning tools between every cut if there is any sign of disease.
Burn or dispose of any diseased material, do not compost it.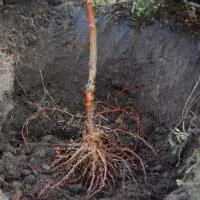 Bareroot?
Bareroot plants have no soil around the roots. They are light, easy to carry and plant.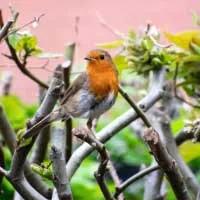 Perfect for Winter
The ground tends to be wet in winter, ideal for planting bareroot plants.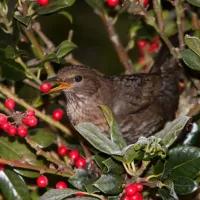 Value for money
You pay less for the same size bareroot plants, compared to potted.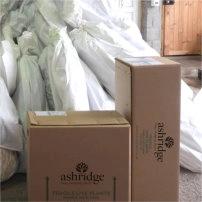 Delivered
Packaged by our experts and sent out by next day delivery.
Tag us @ashridgenurseries