Native Common Alder Sapling Trees
Alnus glutinosa
The details
Alnus glutinosa
Sapling Trees
Native tree. Grows v. fast. Loves wet sites. Adds nitrogen to soil.
Sizes: Saplings & Big Standards.
Rough hedging. Good tall screening.
Max. Height: 20-25m
Bareroot Delivery Only: Nov-Mar.
Qty
1-24
25 - 249
250 - 499
£
£2.28
£ 1.82
£ 1.60
£ 1.49
Qty
1-24
25 - 249
250 - 499
£
£2.82
£ 2.26
£ 1.98
£ 1.84
Qty
1-24
25 - 249
250 - 499
£
£3.72
£ 2.98
£ 2.60
£ 2.42
Qty
1-24
25 - 249
250 - 499
£
£6.96
£ 5.94
£ 5.46
£ 4.98
Delivery prices
Description
Native Common Alder Hedge Plants
Delivered by Mail Order Direct from our Nursery with a Year Guarantee


Black or Common Alder, Alnus glutinosa, is the native British Alder. It is very hardy and thrives on wet, waterlogged soil that most other trees couldn't grow on, although it does require a sunny position. It makes a decent tall country hedging plant, but it's not ideal for short hedges under about 2 metres; it is too vigorous. It can reach a height of 25 metres if it grows freely as a tree.
The plants on this page are young saplings, ideal for planting as hedging or in woodland projects. You can also buy Common Alder trees in large standard sizes here, which will give you instant impact as a garden specimen. Or look at our range of hedging plants and other shrubs.

Alder plants are only delivered bareroot, during winter (Nov-March).
Choosing a size: When you are ordering sapling Alder trees for a hedge, we generally recommend that you use plants that are graded at 40/60cms or 60/80cms. They are cheaper than the larger 90/120cms plants, easier to handle and they will establish well in poor conditions. Use larger plants if you want a taller hedge quickly, or for instant impact. All our hedge plants are measured by their height in centimetres above the ground (the roots aren't measured).
Spacing a Common Alder Windbreak:
Plant Common Alder hedging at 2 plants per metre, 50 cm apart.
Note on Alder roots: These invasive roots can break old water pipes and damage the foundations of old buildings or walls. 30 metres away from vulnerable structures is a safe distance to plant Alder. New build, concrete foundations are not at risk.
Did You Know?
Although it is fairly short-lived in the wild (about 120 years), it will last much longer when it is coppiced, and it was an essential tree during the industrial revolution for three main reasons:
The wood rots only with difficulty and was used for many jobs where the timber would be frequently or constantly wet, like gutters, foundations and roof shingles.
It is resistant to chemicals, easy to carve and light weight - perfect for making clogs, which were the equivalent of today's steel toe capped boot.
It made gunpowder grade charcoal and picked up the name Black Alder as a result.
Common alder is found over most of Europe, Russia, North Africa and parts of Asia. It is also known as Smooth Alder.
Planting Instructions
Growing Common Alder plants:
Common Alder trees will grow well in very wet conditions with full sun. They are hardy and wind-resistant. They will tolerate very poor soils and urban pollution, but if your site is dry and drought prone or very chalky, it won't grow as well as Italian Alder.
Prepare your site before planting:
Native hedge plants like Common Alder are very tough. The only essential preparation is to kill the weeds in a strip a metre wide along the planting site: improving the soil should not be necessary. If your soil is exceptionally poor and dry, then digging in some well rotted manure and/or compost is worthwhile.
Watch our video on how to plant a country hedge for full details. The instruction to cut the plants in half after planting only applies to thorny native hedging and plants in the conservation hedge mix: this isn't necessary for Common Alder.
Remember to water establishing plants during dry weather for at least a year after planting.
Hedge Planting Accessories:
Prepare your site for planting by killing the weeds and grass with Neudorff WeedFree Plus.
You can buy a hedge planting pack with sheets of mulch fabric and pegs to hold it down.
If you are planting in an area with rabbit and/or deer, you will need to use a plastic spiral guard for each plant, supported by a bamboo cane.
If your soil quality is poor, we recommend using mycorrhizal "friendly fungi" on the roots of new trees and shrubs.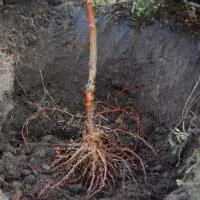 Bareroot?
Bareroot plants have no soil around the roots. They are light, easy to carry and plant.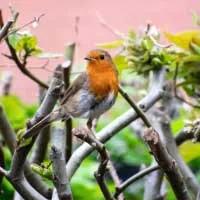 Perfect for Winter
The ground tends to be wet in winter, ideal for planting bareroot plants.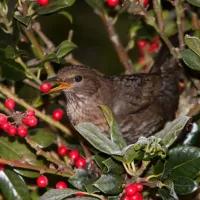 Value for money
You pay less for the same size bareroot plants, compared to potted.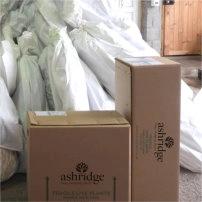 Delivered
Packaged by our experts and sent out by next day delivery.
Tag us @ashridgenurseries