Portugal Laurel Hedge Plants
Prunus lusitanica
The details
Prunus lusitanica
Hedge Height: 1.5 m to very tall
Soil: all soils, bar waterlogged
Use: Evergreen
Single Row: 2-3/m
Colour: Bright Green
Flowers: white racemes
Berries: red/purple in autumn
Bareroot Delivery Nov-Mar
Location: Shade tolerant
RHS Award of Garden Merit
Choose a size
How are they measured?
Qty
1-24
25 - 249
250 - 499
£
£7.86
£ 6.29
£ 5.50
£ 5.11
£
£24.96
£ 23.94
£ 23.40
£ 22.80
Delivery prices
Description
Prunus lusitanica
Delivered by Mail Order Direct from our Nursery with a Year Guarantee


Portuguese laurel is considerably more elegant and pleasing to the eye than its cousin, Common Laurel, and is even tougher and more versatile. The vigorous leaves are lush and glossy and a deep, rich, dark green, looking a little like bay leaves, a bit darker than common laurel. The young spring foliage has a pink tinge, which remains on the rhubarb red leaf stalks after the leaves mature and looks especially stunning in winter. If it is not trimmed hard, it will produce creamy white candelabras of flowers, called racemes, with yellow centres in June. These have a fine scent, similar to hawthorn, and lots of pollen. The flowers are followed by berries that turn from red to purple as they age. See our other Laurels here.
The smallest size is available bare root in the winter, but larger, potted plants are available all year round. If your site is really dry, you are best off planting bare root and small, to give the plant a chance to set strong roots for its size before growing up top.
Portuguese Laurel in Your Garden
This is the plant for that impossible spot where nothing grows: in the shade of the neighbour's Leylandii hedge, abutting the Northfacing wall, on chalky uplands or windy sites by the sea. The only place it can't grow in is waterlogged soil.
Despite the name, this Laurel is hardy throughout the British Isles.
In a city, this laurel eats pollution for breakfast, muffles traffic noise, blocks light, acts as a windbreak, all while looking formal when you clip it tidily. A Portuguese laurel hedge is a larder of berries for birds (not humans: they taste bitter, so children won't want to eat them, even if they could reach that high), especially when you clip it every other year.
It provides excellent game cover and was specifically used for this because it was believed that the berries improved the flavour of the birds.
Grown as a single stemmed tree, Portuguese Laurel will top 15 metres tall.
It can be clipped into lollipops or other basic topiary shapes like mushrooms, ovals and blocks.
Prune in February, July and October to really keep them crisp.
Underplant with Skimmia or Sarcococca, which also look at their best in winter.
Features
Hedge Height: 1.5 m to very tall
Soil: all soils, bar waterlogged
Use: Evergreen
Single Row: 2-3/m
Colour: Bright Green
Flowers: white racemes
Berries: red/purple in autumn
Location: Shade tolerant
RHS AGM
From Portugal to Blighty
Laurels are members of the cherry family. This one was introduced into Britain from Madeira via Portugal in 1648 during the reign of Charles I. The original specimen grew at Oxford Botanic Garden until it was cut down in 1826. On arrival, it was considered tender and was grown in glass house orangeries. At some point, someone left a plant outside over winter, perhaps by mistake, and it was "discovered" to be completely frost hardy.
Planting Instructions
Growing Portugal Laurel plants:
Portuguese Laurel will grow well in any soil with decent drainage apart from pure sand. It tolerates full shade although, like any plant, this will slow down its growth. It will grow in frost pockets and very exposed locations on the coast or on a hillside. It is ideal for dry shade underneath larger trees.
The Laurels will not grow well if the site is too damp. Wet sites will kill them and while they tolerate damp, humid locations, they will be affected by mildew.

Prepare your site before planting:
It is good to dig over the area where you plant a hedge several months in advance, especially if the soil is poor. Destroy the weeds first: nettles, brambles and ground elder are tough and a glyphosate based weed-killer is the best way to remove them. Then dig the soil over; remove rocks, roots and other rubbish. Mix in well rotted compost or manure down to the depth of about 2 spades. If your soil is rich, you don't have to dig it over, but killing all the weeds is still necessary.

Watch our video on how to plant a garden hedge for full details. The plants in this video are delivered pot-grown, but planting out bareroot stock is essentially the same.
Remember to water establishing plants during dry weather for at least a year after planting.
Growing Portuguese Laurel as a Tree:
The plants that we sell have been trimmed for extra bushiness, which is ideal for a hedge. If you want to grow a Portugal Laurel tree, all you need to do is plant your young bush and let it settle in for a year. In winter, select the thickest upright stem to become the trunk of your tree and prune off all the other stems. As the tree grows, you will probably need to continue removing side-shoots from low down on the plant: it's best to do this early in the year when the unwanted shoots are still new and soft.
Hedge Planting Accessories:
Prepare your site for planting by killing the weeds and grass with Neudorff WeedFree Plus.
You can buy a hedge planting pack with sheets of mulch fabric and pegs to hold it down.
Portugal laurel doesn't need protection from rabbits or deer.
If your soil quality is poor, we recommend using mycorrhizal "friendly fungi" on the roots of new trees and shrubs.
You can also improve your soil with bonemeal organic fertiliser and Growmore.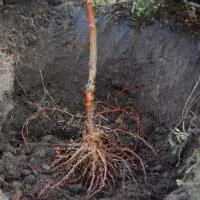 Bareroot?
Bareroot plants have no soil around the roots. They are light, easy to carry and plant.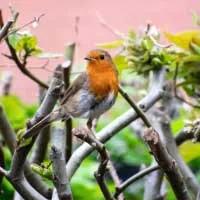 Perfect for Winter
The ground tends to be wet in winter, ideal for planting bareroot plants.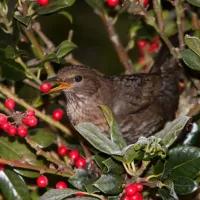 Value for money
You pay less for the same size bareroot plants, compared to potted.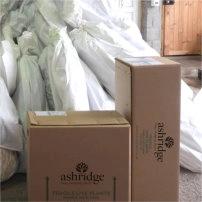 Delivered
Packaged by our experts and sent out by next day delivery.
Tag us @ashridgenurseries