Sweet Box Hedge Plants
Sarcococca confusa
The details
Sarcococca confusa
Acceptable alternative to Buxus
Evergreen. Slow growing, tolerant of full shade
Small white fragrant flowers in Dec-Feb
Decorative, low hedging
Height: 1m as a hedge, 2m as a shrub
RHS Award of Garden Merit
RHS Plants for Pollinators
Pot-Grown Delivery: All Year
Choose a size
How are they measured?
Description
Sarcococca confusa: Pot-Grown Sweet Box Hedging Plants, 3 Litre Pots
This slow-growing, low maintenance, shade-tolerant evergreen winter-flowering shrub is a great all-rounder and fantastic for problem areas of the garden, or the shrub layer of woodland planting schemes. It has long, glossy, dark green leaves that clip fairly well into a low ornamental hedge up to about 1 metre.
The flowers in winter are small, white, and partially hidden by the leaves, but their strong, sweet, vanilla scent is a joy around the garden at a time when there isn't much else going on. If you don't clip them off, these mature into beautiful black fruit nestled at the base of the dark leaves.
View our selection of evergreen hedging, or our full range of garden shrubs.
Sweet Box bushes are only delivered pot-grown, year round.
Features:
Height: Slow growing to 2m (best kept under 1m as a hedge)
Soil: Any well drained. Great for dry and damp shade.
Use: Low evergreen hedging, urban or as a bush in a more informal garden
Colour: Small, vanilla scented, white flowers in Dec-Feb
Acceptable alternative to Buxus
RHS Award of Garden Merit
RHS Plants for Pollinators
Pot grown delivery only

Growing Sweet Box
Exceptionally shade-tolerant, it will grow (slowly) in an alley with no direct sun at all.
Suitable for any well-drained soil, it is drought tolerant when established, especially if you work in plenty of organic matter before planting and mulch in spring. It is a bit more demanding in full sun, where it needs shelter from the wind, and a consistently moist soil; the leaves will be more yellow than the deep green they are in shade.
Trim after flowering, in late Winter or early Spring.
Spacing a Sweet Box hedge: Plant at 5 per metre, 20cm apart, in a single row for an immediate hedge. If you are not in a hurry, plant at 3 per metre and in a few years the root suckers will fill it up nicely.
In Your Garden Design
These are fabulous features in any garden and are ideal for winter gardens. They are excellent used in the same way you would use standard box hedging to define borders and edges. TV presenter and gardener Monty Don uses box to create a clear space around a climbing vegetable such as a runner bean, squash or pea planted around a sturdy frame. You could also plant sweet peas in the middle of a box-defined square, just making sure you have space to climb or reach over the hedge to pick them. Hydrangeas would make an excellent backdrop to the hedge allowed to grow to its full height and snowdrops would look fabulous underneath in winter, and help define the white flowers of the box. Ornamental grasses also look good paired with box, softening the rigidity of a topiary.
Did You Know?
Native to China and the Himalayas, it is also known as Christmas box, and is in the same family as Buxus, Common Box. It is popular with flower arrangers in winter, as it brings a lovely fragrance into the house
Planting Instructions
Growing Sweet Box:
It will grow well in any well drained soil. It is very shade-tolerant and suitable for the coast.
Prepare your site before planting:
It is good to dig over the area where you plant a hedge several months in advance, especially if the soil is poor or compacted. Destroy the weeds first: nettles, brambles and ground elder are tough and weed-killer is the best way to remove them. Then dig the soil over; remove rocks, roots and other rubbish. Mix in well rotted compost or manure down to the depth of about 2 spades. If your soil is rich, you don't have to dig it over, but killing all the weeds is still necessary.
Watch our video on how to plant a garden hedge for full details.
Hedge Planting Accessories:
Prepare your site for planting by killing the weeds and grass with Neudorff WeedFree Plus.
You can buy a hedge planting pack with sheets of mulch fabric and pegs to hold it down. Sweet box suckers from the roots, so allow room for that when you cut holes in the fabric: it won't sucker much in the first year or two, so you could go back later to expand the holes if that's convenient.
If your soil quality is poor, we recommend using mycorrhizal "friendly fungi" on the roots of new trees and shrubs.
You can also improve your soil with bonemeal organic fertiliser and Growmore.
After you have planted your hedge, the most important thing to do is water it in dry weather. You will also need to weed around the plants. Watering should be thorough, so the ground is soaked. Let the soil almost dry out before watering again. Watering & weeding will be necessary for at least a year after planting.
Like all evergreen plants, Sweet Box is active and needs moisture in the ground throughout the year. This means that your establishing plants need to be watered in the winter when they are planted, if the weather is dry.
Trimming: This is a slow growing plant, and we deliver it bushy, so don't clip it at all in its first year. While your young hedge is reaching the desired height, it will need the very smallest amount of formative trimming at the sides, to maintain its bushiness; removing 1cm every winter is good, or even every other winter if it's in deep shade. Do not trim the top of the hedge until it has reached the planned height.
When it is fully grown, you can clip it every year as soon as it finishes flowering. A simple trick to make your job easier if you are using hand shears is to wet the blade frequently, or spray the hedge with water. You will find it much easier to cut and this will give you more precision.
Special notes:
A very tough hedge plant that shouldn't need special attention once it has established. If you didn't use a mulch fabric, it is beneficial to mulch around the base of the hedge each year with well rotted manure or compost.
Hygiene & Diseases:
Dead, damaged or diseased wood can be pruned off as soon as it appears.
Disinfect your pruning tools between every cut if there is any sign of disease.
Burn or dispose of any diseased material, do not compost it.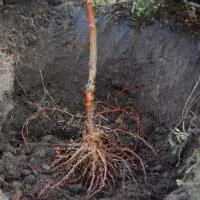 Bareroot?
Bareroot plants have no soil around the roots. They are light, easy to carry and plant.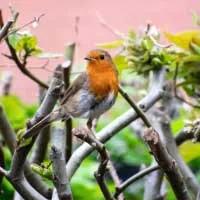 Perfect for Winter
The ground tends to be wet in winter, ideal for planting bareroot plants.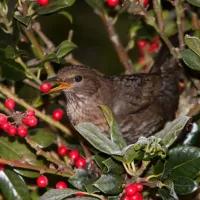 Value for money
You pay less for the same size bareroot plants, compared to potted.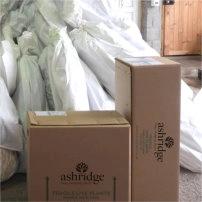 Delivered
Packaged by our experts and sent out by next day delivery.
Tag us @ashridgenurseries