Redcurrants start to fruit at the end of June. If you can get to them before the birds do, this is a delicious way of enjoying them at their best, fresh and totally in season. This easy, no-bake cheesecake serves 10-12 people.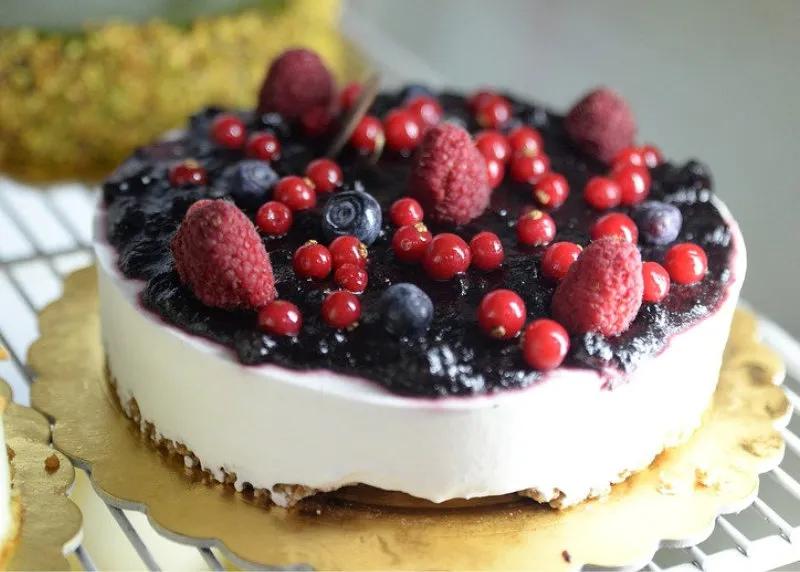 Ingredients
300g digestive biscuits
100g unsalted butter, melted
500g cream cheese
75g icing sugar
1-2 tsp vanilla essence
300ml double cream
For the coulis
Blitz the digestive biscuits into breadcrumbs and add the melted butter to create a mix with a coarse, sandy texture.
Press this mixture into a greased and lined 20cms springform cake tin,
using the back of a spoon to build a smooth and even layer. Chill in the fridge until firm.
Using a stand or hand mixer, whip the cream cheese, icing sugar and vanilla essence until smooth and creamy.
In a separate bowl, whip the double cream until it forms soft peaks that hold their shape. Gently fold the double cream into the cream cheese mix until combined.
Using a spatula, scoop the mixture onto the biscuit base, smoothing the surface so that it is level.
Chill overnight in the fridge, or for at least 6 hours.
To make the coulis, blitz the raspberries, lemon juice and icing sugar together using a stick blender. Sieve this mixture, using a spatula to extract as much liquid as possible and discard the seeds. Chill for several hours.
Just before serving pour the coulis over the cheesecake and top with an artful display of the mixed berries.
Sprinkle with icing sugar for the finishing flourish.