Variegated Kiwi Vine Plants
Actinidia kolomikta
The details
Ornamental Kiwi Vine
AKA Michurin actinidia
Height x Spread: 6-8m x 6-8m
Colour: Pink, White Green variegated foliage
Flowering: Insignificant white flowers in June
Scent: None
Position: Full Sun
RHS Award of Garden Merit
Choose a size
How are they measured?
Description
Actinidia kolomikta Vine Plants
Sometimes called the Kolomikta Vine, Variegated Kiwi Vine, Ornamental Kiwi, or Michurin actinidia, Actinidia kolomikta is a twining climber growing to 6, even 8 metres high and about as much across. It can be kept smaller and is easy to prune if you want to do that. The plants are either male or female and it is not practical to sex them before sale, so your Actinidia will only carry fruit if she is female and if there is a male close enough to be found by a wandering bee.
Browse the rest of our range of climbing plants.
If you want to grow Kiwi fruit, then get Jenny instead, they are self-fertile and bred for great fruit, although they do not have the interesting foliage of kolomikta.
Growing Actinidia
It is a good sized woody climber. It does not form the thick trunks that you find with Wisteria, but over time it can produce branches that are a few inches thick. These need support, so thought should be given to straining wires or the like before planting. Use strong wire: it will be there for a long time. Choose a sunny wall or fence, the variegation of the leaves is much more pronounced and lasts longer when in the sun.
Actinidia has masses of leaves and so is a good choice for covering south facing eyesores such as ugly brickwork or a breeze block garage.
Young plants need to be protected from cats - they find it as attractive as catmint.
Features:
Height to 6-8m
Spread to 6-8m
Foliage: Pink, White Green variegated foliage. Deciduous
Flowers: Small, single sexed white flowers in June
Scent: None
Position: Best colouring in full sun
Other: RHS Award of Garden Merit
Look out for
Actinidia is just about disease free and it is the hardiest member of its family. If it has a weakness it can be touched by a late frost as its buds are breaking, but we have one at home that has been happy since 2002. Prune it in winter or very early spring to keep it in shape and to remove any dead wood and crossing branches.
Did You Know?
Actinidia kolomikta was first imported into the UK in 1878 from the island of Hokkaido in Japan. It also grows in temperate areas of eastern Russia and "kolomikta" is probably from the region, meaning "mixed colours", referring to the leaf colouring.
Planting Instructions
Like every climber, Actinidia needs some form of support. This can be straining wires, an arch or pergola, trellis, a tree or even another climbing plant. The requirements are that the support allows your climber to grow in a favourable position and aspect and that it is strong enough to carry its weight. Please remember that weight can be considerable and that it may need to be borne for many years.
By the same token, as climbers are not usually the sort of plant you transplant, they will generally be in the same place for the rest of their lives, so soil preparation should be as good as you can make it.
Dig a good sized planting hole: at least twice the diameter of the pot in which your plant arrived. If the soil is poor, dig a bit deeper than the pot is tall so you can get some planting mix under the rootball to encourage roots downward.
If there is any risk of poor drainage, really break up the bottom of the hole with a garden fork. If you can, do the same to the sides without them collapsing that helps drainage and establishment as well.
Mix the soil from the hole with about 25% by volume of well-rotted garden compost. Return the mix under and around the rootball keeping the top of the rootball level with the surrounding soil and adding Rootgrow as you go trying to ensure it sticks to the rootball. Firm the planting mix around the rootball and water in well. Continue watering in dry spells until the plant begins to grow away.
If there is any risk of cats coming into your garden, then protect young plants with something like chicken wire - they find it irresistible.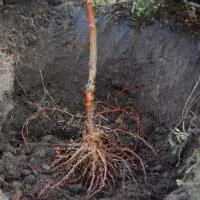 Bareroot?
Bareroot plants have no soil around the roots. They are light, easy to carry and plant.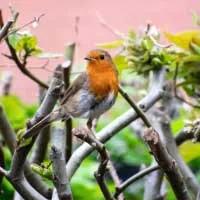 Perfect for Winter
The ground tends to be wet in winter, ideal for planting bareroot plants.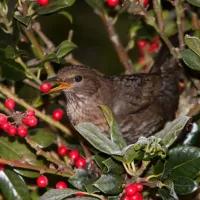 Value for money
You pay less for the same size bareroot plants, compared to potted.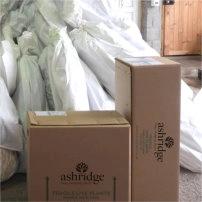 Delivered
Packaged by our experts and sent out by next day delivery.
Tag us @ashridgenurseries