Green Privet Hedging Plants
Ligustrum ovalifolium
The details
Ligustrum ovalifolium
Hedge Plants
Evergreen.
Excellent urban hedging.
Suitable for poor soil & full shade.
Max. Height: 4m
Bareroot delivery Nov-March
Choose a size
How are they measured?
Qty
1-24
25 - 249
250 - 499
£
£2.25
£ 1.85
£ 1.75
£ 1.65
Qty
1-24
25 - 249
250 - 499
£
£2.99
£ 2.45
£ 2.19
£ 1.95
£
£14.98
£ 13.98
£ 12.98
£ 12.00
Delivery prices
Description
Bareroot Ligustrum ovalifolium Hedge Plants
Delivered by Mail Order Direct from our Nursery with a Year Guarantee


Green Privet makes a tough and resilient evergreen hedge plant that can grow to 4 metres if left to its own devices and it does it super efficiently. It grows quickly, clips neatly and manages to flourish even in poor, compacted soil or when in the shade. All this makes it the most popular member of our range of privet hedging. It seems to be oblivious to pollution and so is perfectly happy next to a busy road, occluding light and noise from the road at the same time. As a result, it is THE most valuable hedge for that tricky combination of an urban area and poor soil. The only thing that Green Privet does not enjoy is being waterlogged so make sure that you give it decent drainage. The leaves are small, oval-shaped and slightly pointed at the end. They are a matt green, uniform in colour and knit together to make a lovely, luxurious hedge that will fill a gap or form a boundary in no time at all. In about July the plant is swathed in long, sweet-smelling, white flowers. If neglected, green privet can be rejuvenated by hard pruning back down to the ground from where it will rise, phoenix-like, over the next couple of seasons. In a very hard and frosty winter, green privet may lose its leaves but soon recovers them once spring arrives.
Privet Privacy
Ligustrum ovalifolium makes an excellent boundary hedge, especially where you want protection from traffic noise and light (not to mention the odd passer by) all year round. It grows fast and so will quickly screen out an unsightly low building or wooden fence. Because it is so tough you can plant privet where you may have despaired of ever being able to do better than bare soil. If you are growing it where there is some light then add in a bit of Rosa Rugosa - another tough hedging plant that will produce pink or white flowers in the summer and gorgeous hips in the autumn. And while you are planting your hedge, add a few clumps of Narcissi at the edge of the trench to bring some spring cheer (it also saves you digging twice). For the more artistic, you can also do some pretty fancy topiary with privet. Generally, the long hedge clipped in the form of a dragon or a reclining lady is made from Green privet.
Features
Final Height: 75cm to 4m
Soil: any soil
Use: Formal/clipped
Single Row: 3/m
Colour: green
Urban hedging
Pollution resistant, shade tolerant
Ponderings on Privet
Green privet is a Japanese plant that was introduced to Britain in 1885. The Victorians fell in love with it because it grew happily in their polluted, smoggy inner cities. Birds love the berries in autumn and it is a stick insect's essential diet in the UK!
Planting Instructions
Growing Privet plants:
Privet will grow well in any conditions with average soil drainage. It thrives in the poor, compacted soil that is often found in the front gardens of townhouses and it does well in the shade. It is suitable for exposed sites (although it won't grow quite so quickly) and can grow quite close to the sea; if you are right on the coast, we recommend planting the similar looking New Zealand Privet (Griselinia) instead. Established privet plants are drought resistant.
Privet is very hardy, but please note that it does tend to lose its leaves for a couple of months in harsh winters. This is normal and doesn't damage the plants.
Privet will not grow well in soil that is too boggy.
Prepare your site before planting:
Privet is very tough. The only essential preparation is to kill the weeds in a strip a metre wide along the planting site: improving the soil should not be necessary. If your soil is exceptionally poor and dry, then digging in some well-rotted manure and/or compost is worthwhile.
Watch our video on how to plant a garden hedge for full details. The plants in this video are delivered pot-grown, but planting out bareroot stock is essentially the same.
Remember to water establishing plants during dry weather for at least a year after planting.
Hedge Planting Accessories:
Prepare your site for planting by killing the weeds and grass with Neudorff WeedFree Plus. You can buy a hedge planting pack with sheets of mulch fabric and pegs to hold it down. If you are planting in an area with rabbit and/or deer, you will need to use a plastic spiral guard for each plant, supported by a bamboo cane. If your soil quality is poor, we recommend using Rootgrow mycorrhizal "friendly fungi" on the roots of new trees and shrubs.
After Care
After you have planted your Privet hedge, the most important thing to do is water it in dry weather. You will also need to weed around the plants. Watering should be thorough, so the ground is soaked. Let the soil almost dry out before watering again. Watering & weeding will be necessary for at least a year after planting.
Like all evergreen plants, Privet is active and needs moisture in the ground throughout the year. This means that your establishing plants need to be watered in the winter when they are planted, if the weather is dry.
Trimming Formal hedge plants: Our Privet doesn't need any clipping at all in its first year. In the winter of the year after planting, your young hedge should be trimmed lightly and every winter after that until it is mature.
When it is fully grown, you can clip it at anytime.
Old privet hedges or bushes can be pruned hard, down to stumps about 30-50cm high. They will regrow beautifully.
Special notes on caring for Privet hedges:
Privet is a very tough hedge plant that shouldn't need special attention once it has established. If you didn't use a mulch fabric, it is beneficial to mulch around the base of the hedge each year.

Hygiene & Diseases:
Dead, damaged or diseased wood can be pruned off as soon as it appears.
Disinfect your pruning tools between every cut if there is any sign of disease.
Burn or dispose of any diseased material, do not compost it.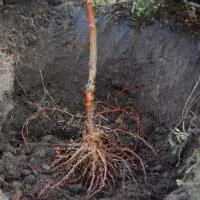 Bareroot?
Bareroot plants have no soil around the roots. They are light, easy to carry and plant.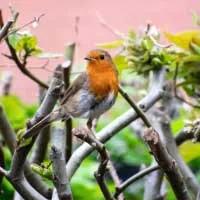 Perfect for Winter
The ground tends to be wet in winter, ideal for planting bareroot plants.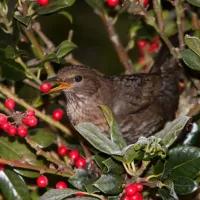 Value for money
You pay less for the same size bareroot plants, compared to potted.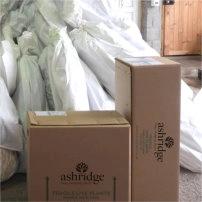 Delivered
Packaged by our experts and sent out by next day delivery.
Tag us @ashridgenurseries