White Japanese Ramanas Rose Hedging
Rosa rugosa 'Alba'
The details
Rosa rugosa Alba
Hedge Plants
Wild, but not native. Very thorny, secure hedging.
Scented white flowers & large rose hips.
Grows on chalk & the coast.
Max. Height: 3m
Bareroot Delivery Only: Nov-Mar.
Choose a size
How are they measured?
Qty
1-24
25 - 249
250 - 499
£
£2.16
£ 1.73
£ 1.51
£ 1.40
Qty
1-24
25 - 249
250 - 499
£
£3.06
£ 2.52
£ 2.22
£ 1.98
Delivery prices
Description
White Ramanas Rose Hedge Plants
Delivered by Mail Order Direct from our Nursery with a Year Guarantee


Rosa rugosa Alba
is an ideal rose for hedging or wildlife gardens. Its lovely white, single blooms, up to 9cm wide, have silky, wrinkled petals and golden-yellow stamens in summer, followed by large, orange-red hips in late summer-autumn. It is informal though so if you would like a tidier, less "aggressive" more formal rose, here is our full range of
shrub roses
. However, for a mixed rose hedge you can also buy
Rosa rugosa Rubra - the red flowering variety
of this rose here. Flowers have a lovely strong, old-rose fragrance and the leaves are glossy, lush and healthy-looking. For a rose with simple flowers, it has many names, which can often lead to confusion. Rosa rugosa Alba is also known as the white flowering Ramanas rose; the white Japanese rose, the white wrinkled rose and in Japan, they are known as shore pears, as plants often grow near the coast.
It's an exceptionally tough plant and disease resistant, growing in temperatures well below -20C in its home in north-eastern Asia, often in pure sand on dunes. It has very thorny, densely-packed stems, ideal for creating impenetrable hedges, especially on poor soil in coastal areas. Rugosas are extremely hardy and disease resistant, and will thrive in poor sandy soils and coastal areas - even growing on sand dunes. They are usually very thorny; ideal for creating impenetrable hedges on our poor, salt-laden seaside soils. Salt-laden winds are not a problem either. It will also tolerate partial shade and exposed sites.
Great in your garden
If you want a hedge to attract wildlife, Rosa rugosa Alba is an ideal choice, growing up to about 2 metres high. It can be interplanted with the red Rugosa rose for more colour. To increase the appeal to bees, birds, small mammals and other pollinators, add hawthorn and blackthorn. This is also easier to keep in trim if you need to cut it back.
Rosa rugosa Alba looks great in an informal garden or seaside cottage garden setting - in a large border, single plants can be used but make sure the thorns are well away from path edges or other plants with delicate, large leaves, or they will be ruined. If the hips last into late autumn/early winter, depending on how hungry your garden animals are, they look great against the dull copper/brown of winter beech leaves.
Features of White Rugosa Roses
Size: 2m (h) x 1.5 (w)
Colour: White with yellow stamens, 9cm wide
Flower type: Single
Scent: Strong, Old Rose
Flowering: June-September
Group: Rugosa Shrub
Good for hedging, wildlife gardens
Attractive, large red hips in autumn
Very thorny
Disease resistant
Suitable for extreme environments, poor but well-drained soil and coastal winds
History of Rosa rugosa
Rosa rugosa is native to north-eastern China, Japan, Korea and south-eastern Siberia, where it grows in very harsh climates on the coast, often on sand dunes, which, along with its thorns, makes it such a tough hedging plant. The Latin word 'rugosa' means wrinkled, referring to the petals.

Planting Instructions
How to plant Rugosa roses
If planting near a wall leave about 45cm (18") between plant and wall. Dig a hole deep enough to allow the graft to finish at soil level when planted and with plenty of room for the roots. Improve the soil from the hole by removing large stones, weeds, roots and other rubbish and mixing in about 25% by volume of well-rotted compost or manure. Wet the roots and sprinkle with Rootgrow so it stays in contact with the roots. If planting a pot grown plant gently loosen some of the roots before planting.
Position your rose so the roots are spread out and it is set at approximately the same level in the soil as it was before being transplanted. The union should be level with the soil when you have finished planting. Backfill the hole with the planting mix, firming it down as you go. Water in thoroughly. Water again a day or two later and then keep watering in dry spells.
After Care
Water Rugosa roses well until established. Prune in the winter and feed twice, first in spring and then later in the summer.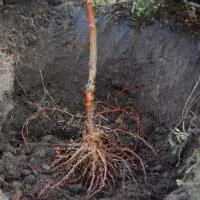 Bareroot?
Bareroot plants have no soil around the roots. They are light, easy to carry and plant.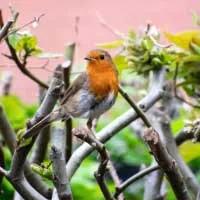 Perfect for Winter
The ground tends to be wet in winter, ideal for planting bareroot plants.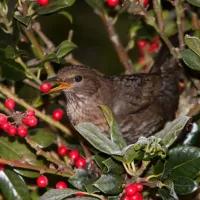 Value for money
You pay less for the same size bareroot plants, compared to potted.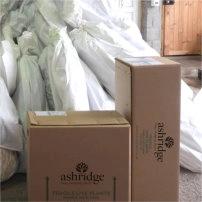 Delivered
Packaged by our experts and sent out by next day delivery.
Tag us @ashridgenurseries