Every year the anticipation mounts. I look out of my bedroom window at the ornamental plum tree on the street, scouring its deep claret branches for signs that the colour is changing, life stirring within. Subtly, from a solid winter opacity to something with just a hint of deepest rose. Sometimes I think I see it, but then decide it's wishful thinking. But all of a sudden it's there, unmistakable. Slowly, buds of the palest pink, almost white, pop open, a few at first, barely noticeable, then more and more every morning to reach that glorious state of frothy abandon.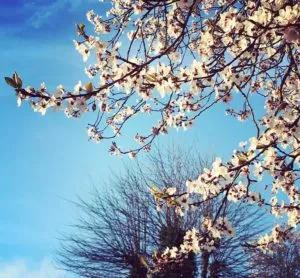 At this time of year, I feel so lucky to live in this little corner of south London. All the streets around mine are planted with ornamental plums, and they're glorious in blossom. To be honest, I'm really not fussed about them in summer – the leaves are a drab bronze and they're not my thing at all. But no matter. When the blossom comes, all is forgiven. The flowers are single, pale to perfection, light, and ridiculously romantic, coinciding with the daffodils in full splendour in a wonderful affirmation that spring is here.
I should have been born in Japan, really. The Japanese are the undisputed experts in the art of cherry blossom appreciation. There, the love of spring blossom is given free rein in a fevered annual festival called hanami, the cherry trees will be in full bloom this week. The build-up to spring in Japan sees an entire nation turn pink with anticipation, supermarkets filling with fake cherry blossom branches, and seasonal cherry blossom flavour taking over old favourites (last year cherry blossom Pepsi was the thing). Regular bulletins appear on the TV news, documenting the advance of the opening blooms from south to north. When at last it's time, hanami – literally 'looking at flowers' – can begin, and the nation spreads out its picnic blankets under a sky of pink and white to feast in wonderment.
For the Japanese, the flowers of the cherry blossom are deeply significant. They are the embodiment of the fleeting nature of life and of beauty. As well as a symbol of the new beginnings of spring. Even more pertinent in Japan, as 1 April is the beginning of both the new school year and the financial year.
A little closer to home, some of the best blossom in the UK can be seen at Brogdale, near Faversham in Kent, home of the National Fruit Collection and more than 350 cherry varieties. They hold their own hanami festival, this year around 14th April, with picnics under the trees and various other Japanese-themed activities, including calligraphy demonstrations, origami, drumming and sword displays.
I don't have a blossom tree in my little city garden, although I have my eye on a few for when my poor golden robinia needs to come out (it's slowly giving up the ghost) and I have a bit more space. I'll miss the robinia when it's gone, but I suppose something with lovely spring blossom will make up for it.
Blossom comes out in London earlier than elsewhere and I know that much of the blossom around the country hasn't come out yet, it will be worth the wait.
This is my blossom shortlist, in no particular order:
1 Amelanchier lamarckii (snowy mespilus)
A little stunner, and one I've used often in clients' gardens. It's smothered in star-shaped white flowers, with rich mahogany leaves that turn to orange then red in autumn. It's a good one for most gardens as it grows to around 6-8 metres, eventually.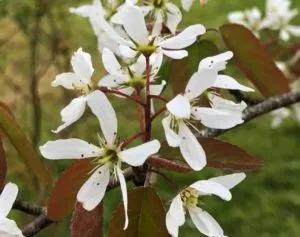 2 Prunus 'Tai-Haku' (great white cherry)
An elegant, spreading blossom tree with that classic wide, flat-canopied Japanese shape. The blossom, in April, is fragrant and white. It reaches 8-10 metres high and is quite vigorous.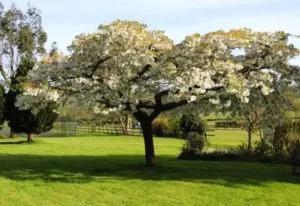 3 Prunus incisa 'The Bride' (flowering cherry)
The pure-white semi-double flowers last so long and are truly exquisite, and the leaves turn rich shades of orange and red in autumn. Another good one for a small garden.
4 Prunus 'Kursar' (flowering cherry)
It's all about the intense pink blossom with this small tree, covered in bees and blossom at this time of year. It's a toughie, too, very tolerant of pollution, and a lovely shape, spreading to just 3 metres x 3 metres.
5 Malus 'Evereste' (crab apple)
A white-flowered crab apple, with a profusion of flowers starting pale pink and opening pure white. The added extra is a fabulous display of crab apples, from autumn until the end of the year.
6 Prunus 'Kanzan' (flowering cherry)
Blossom-wise, 'Kanzan' is big and blousy, like a stick of candy floss, exploding with small pink double flowers. The leaves are unusual, too, turning a fabulous shade of orange in autumn. It's as wide as it is tall (about 8-10 metres), so it'll need space.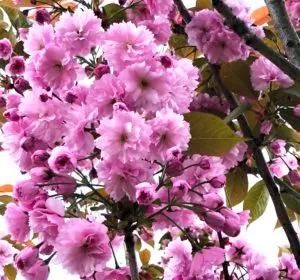 7 Crataegus leavigata 'Paul's Scarlet' (hawthorn)
A native hedging plant or small tree best in a country garden or relaxed, informal space, and great for wildlife. This hawthorn has pretty, frilly deep-pink flowers with touches of white, in May.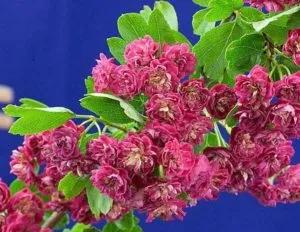 8 Prunus shirotae (flowering cherry)
This weeping cherry has brilliant white blossom. The leaves that follow the flowers are coppery at first, then turn green.
A Cox-type apple with particularly lovely delicate-pink blossom. It's pretty much self fertile so you wouldn't need another tree to get decent fruit.
Happy hanami!
Francesca Clarke, Journalist and Garden Designer