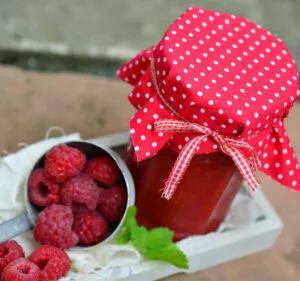 The home-grown fruit and veg cropping in abundance bring with them the soothing, homely prospect of making jams, jellies and chutneys. Do have a look below for the Ashridge team's favourite recipe for raspberry compote .
Compote Ingredients
Fresh or frozen raspberries (2 cups - 200g)
Sugar (2 tbsp)
Lemon juice (1 tbsp)
Water (2 tbsp)
Method
Add the raspberries (fresh or frozen) to a heavy saucepan with sugar, water and lemon juice. Bring to a boil.
Simmer the compote for 10 minutes until it starts to thicken.
Allow to cool slightly, then transfer to a sterilised jar.
Want to grow your own raspberries? Visit our online shop and see all the soft fruit we sell including raspberry canes