Bay Laurel Trees, Lollipop & Pyramid
The details
Laurus nobilis
Glossy, neat evergreen foliage
Provides structure and formality
Aromatic, culinary stewing herb
Disease resistant
Sun or partial shade
Prepared as either pyramid or lollipop.
RHS Award of Garden Merit
Choose a size
How are they measured?
Description
Bay Trees Ready Clipped as Pyramids & Lollipops
Bay Laurel, Laurus nobilis, (sometimes called Aromatic Bay) is a lovely neat and glossy, hardy evergreen tree. A well grown Bay Leaf tree is a beautiful topiary specimen providing structure and formality, either in a pot or within a formal planting scheme. Perfect for a statement on a terrace or on either side of doors or arches.
If allowed to grow freely, your bay could reach 40' by 30', but they are superb topiary specimens and are easy to keep at your desired size. The leaves have culinary uses and can be dried or frozen, and spices are made from the berries and the leaf oil.
Our lollipop trees have long narrow trunks with a round head of foliage on top. As the name suggests. They are grown for us by laurel specialists and are of high quality. Please remember that as living natural organisms the trunks cannot be "plumb line straight" and some natural variation is tolerated.
PLEASE NOTE: The plant height includes the pot. Sizes may vary by ~5%. We always try to pick well matched plants when you order more than one.

Features:
Lanceolate grey-green leaves.
Glossy, neat evergreen foliage
Provides structure and formality
Aromatic, culinary stewing herb
Vigorous
Disease resistant
Sun or partial shade
Plant height includes the pot
RHS Award of Garden Merit
Growing Bay Leaf Trees
It is hardy, but may suffer damage in harsh winds and extreme cold so should be kept in a sheltered spot out of the wind. In an exposed situation, are best protected with horticultural fleece for a harsh winter.
Bay needs a well drained soil, but apart from that is not fussy, and thrives in large pots. Partial shade is no problem for it.
Bay trees suffer very little from disease and are easy to keep in shape with a spring prune.
Did You Know?
The Laurus nobilis that is cultivated today is a descendant of the wild laurels from forests that grew in the Mediterranean basin 10,000 years ago. They thrived in humid conditions and gradually died out leaving just small pockets in the mountains of Southern Turkey, Syria, Portugal, Spain, the Canary Isles and Madeira.
Laurel was dear to the god Apollo who, struck by Eros' golden arrow, was consumed with desire for the nymph Daphne; Daphne had already been hit by Ero's leaden arrow, causing her to be disgusted by Apollo. The backstory here is that Eros and Apollo were old archery rivals, and the latter had mocked the former as a mere cheeky boy, unable to slay fearsome beasts like Python. Just as Apollo was about to seize Daphne, she cried out to her father, "Help me, Peneus! Open the earth to enclose me, or change my form, which has brought me into this danger! Let me be free of this man from this moment forward!", who promptly did what any good dad would do, and turned her into a shrub. This was barely a setback to the ardent Apollo, who declared "Always my hair will have you, my lyres will have you, my quivers will have you, laurel tree", and thus granted the laurel tree its evergreen leaves that, when dry, last for many years without deteriorating.
For this reason, the Greeks and Romans used laurel leaves to form crowns called Laurea, an honorific used to this day as the English word Laureate (as in Poet or Nobel), and referenced in the exhortation "don't rest on your laurels". That is a modern spin on the phrase, however. In the past, resting on one's laurels meant the achievement of retiring at a grand old age after a long and successful career: "So thou, paternal Sage, may'st now repose, nor seek new Laurels to adorn thy Brows".
Other common names include aromatic, sweet, or royal Bay, and Roman or true Laurel.
Planting and Care Instructions
How to plant Bay Trees
If planting in the ground the rootball should be placed in a hole at least half as large again and to which has been added a good multipurpose compost and a handful of Root Grow. Backfill with compost, firm and water in well.

In a pot your bay tree will need a good, well draining compost and feeding once a year with a slow release fertiliser.
Look out for: Bay trees can be prone to leaf spot, which is often caused by waterlogged roots, or overly wet conditions. When container grown plants suffer from this it is usually an indication that the compost has become old and tired. If this happens, you should root-prune and replant your tree into fresh, well-drained compost.
They can also suffer from peeling bark. This most often follows harsh winters, after which they may develop cracked, peeling bark, especially on the lower stems. The exact cause of this is not certain, but cold weather and other factors such as fluctuating moisture levels are likely to be contributors. Any damage caused is not serious, however, and provided the rest of the plant is growing normally or has recovered from winter damage by midsummer, no action should be necessary.
Pruning Bay Trees
Take a look at our video on how to prune your lollipop bay trees.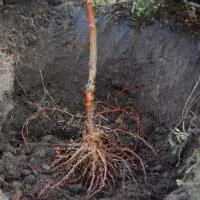 Bareroot?
Bareroot plants have no soil around the roots. They are light, easy to carry and plant.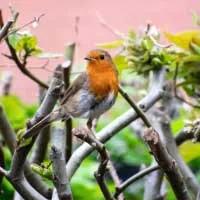 Perfect for Winter
The ground tends to be wet in winter, ideal for planting bareroot plants.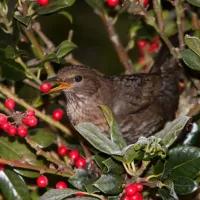 Value for money
You pay less for the same size bareroot plants, compared to potted.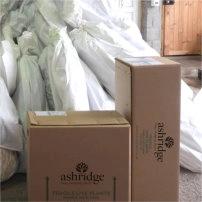 Delivered
Packaged by our experts and sent out by next day delivery.
Tag us @ashridgenurseries