Elwes's Greater Snowdrop Bulbs
Galanthus elwesii
The details
Elwes's Greater Snowdrop
Colour: White
Height: 15-30cms
Scent: Slight
Flowering: January-February
Bulb Size: 4-5 cms
Planting Depth: 8-10 cms
Planting Months: Sept - late Nov
RHS Award of Garden Merit
Choose a size
How are they measured?
Description
Galanthus elwesii
The Elwes Snowdrop is a welcome addition to our range of snowdrops. It is much rarer than the common snowdrop, Galanthus nivalis so you should snap these up as we never have many. As with G. nivalis it has three, pure white outer tepals which can be up to 2.5 cm long. The smaller, inner petals are flared at the tip with bold green markings that vary: sometimes there are two marks, sometimes just one and sometimes two join together. This is the stuff of Galanthophile fantasy! It flowers earlier than G. nivalis and is also a taller growing, more substantial snowdrop with glaucous, grey leaves. Its nodding head is supported on strong, sturdy stems that are very upright. It has a wonderful honey scent if you can bend down that far..... a lovely plant which is why it holds an RHS Award of Garden Merit
Sand and sun
Snowdrops have a particular affinity to limestone or alkaline soils. But even without one of these, snowdrops will do well if you just make sure there is enough drainage. Add grit, sand, leafmould and organic matter to heavy clay soil where you wish to plant any snowdrop. Even where you see snowdrops doing well in damp soil in the wild, the chances are that the water is on its way somewhere and not stagnant. G. Elwesii is particularly suitable for naturalising because its bulbs bulk up quickly giving you a great return on your investment and a carpet of white flowers to boot. While most snowdrops like the dappled shade of a woodland edge, Elwesii's greyer leaves mean that it actually does well in sunnier, more open positions too. If you want to include your snowdrops in a planting plan then they will befriend aconites, celandine, Cyclamen coum and that contemporary-looking, black Ophiopogon grass. They are perfect grown under roses or around the base of Viburnums or in between Hellebores with which they associate particularly successfully. If you have any ornamental creeping bramble as groundcover, plant some Galanthus Elwesii to peep out from its evergreen leaves in winter. Once flowering is over, feed your snowdrops with a water-on soluble food or something like slow release Vitax Q4. This will encourage them to produce more flowers and more bulblets.
Features of Galanthus Elwesii
Colour: white, with green markings
Height: 10-20 cm
Scent: honeyish
Flowering: January-February
Bulb Size:
Planting Depth: 10 cm/
Foliage: glaucous, grey
Planting Months: immediately on receipt
And what is more....
Galanthus elwesii is native to Turkey, Greece and the former Yugoslavia. It was named in 1875 after Henry John Elwes (1846-1922), the well known Victorian plant-collector and traveller who lived at Colesbourne Park near Cirencester in Gloucestershire. It is worth making the pilgrimage to Colesbourne to view the snowdrop spectacle that is open to the public every year and is testament to his passion for snowdrops of all types.
You may see it listed as Galanthus graecus in older literature.
Planting Instructions
Plant Galanthus elwesii in borders, containers and grassy areas where they naturalise well. In pots, they need cool conditions because excess heat makes the flower buds die.
Snowdrops grow in most soils and locations but prefer light shade or even an open position. Having said which, G elwesii grows better in full sunlight than most other snowdrops aided by those grey leaves that reflect heat and light. They like soil that is well-drained, fertile and retains some moisture while the bulb is growing. Neutral to alkaline is best.
Snowdrops should be planted about 10 cm deep. In grass and sandy soils, you can go a bit deeper.
Ensure that the soil remains moist throughout the year but is not waterlogged. Let the foliage die back naturally for 6-8 weeks before mowing.
Once flowering is over, feed your snowdrops with a water-on soluble food or something like slow release Vitax Q4. Lift and divide clumps of bulbs if flowering is poor.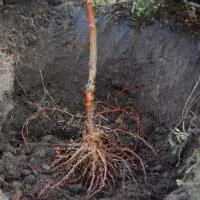 Bareroot?
Bareroot plants have no soil around the roots. They are light, easy to carry and plant.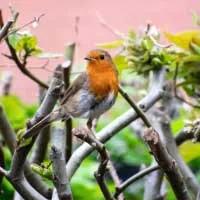 Perfect for Winter
The ground tends to be wet in winter, ideal for planting bareroot plants.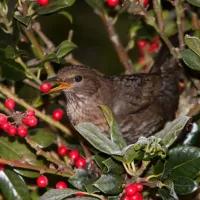 Value for money
You pay less for the same size bareroot plants, compared to potted.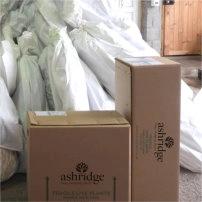 Delivered
Packaged by our experts and sent out by next day delivery.
Tag us @ashridgenurseries