Gorgeous Crab Apple, Large Trees
Malus × atrosanguinea Gorgeous (Standard)

The details
Delivered in Large Sizes
Final height/spread: 4m x 3m
Foliage: deciduous
Soil: well drained
Use: ornamental, specimen, culinary
Features: blush pink/white flowers, red fruits
RHS Award of Garden Merit
Choose a size
How are they measured?
Description
Malus Gorgeous Standard Trees
Corny to say, but the Gorgeous crab apple lives up to its name and is as desirable as it suggests. A petite tree with delicately arching branches covered in prominent pink buds in early spring, it then becomes a mass of palest pink blossom with star-shaped scented, single flowers that fade to white as they age. The flowers are up to 3cm across and in full spate Gorgeous is devastatingly.... well.... gorgeous. All crab apples are self fertile, so this diminutive tree will then effortlessly convert that blossom into clusters of cherry-like, bright red crab apples that hang daintily into late winter unless your blackbirds spot them. At the same time, the leaves colour up well to provide a fantastic counterpoint to the pure pastel colours of spring.
Unquestionably one of the most beautiful of our crab apple trees.
Gorgeous in your garden
Gorgeous is grown on a semi-vigorous rootstock that will limit its height to between 3-4 metres, so it can be squeezed into even the smallest gardens. It makes a great focal point for a garden at the end of a path or on its own in a lawn during spring when in full flower, or in autumn when its colours and fruit are so striking. Given space, plant a group of them together in a circle as a sort of fairy ring and surround them with bulbs like Camassia leichtlinii or amazing frilly tulips like the Darwin Tulip Pink Impression. In autumn, you can then make bewitching jellies from the fruit. Gorgeous would make the perfect gift for anyone, but especially for those with smaller gardens.
Features:
Final Height/Spread: 4m x 3m
Foliage: Deciduous, defined glossy green leaves
Soil: Well-drained but copes with a heavy soil
Use: Ornamental, culinary (one of the best for jelly)
Palest pink/white flowers, red fruits
Royal Horticultural Society Award of Garden Merit
Did you know?
Crab apples, unlike the domestic apple, all grow in a cluster, with many stalks emerging from a central point. This is why crab apples are so small and why the red ones bear such a strong resemblance to cherries, which grow in the same way. For gardeners, it means that you get a concentrated hit of flower and fruit colour in one place, which adds to their attraction. Crab apples belong to the Rosaceae family, along with roses.
Planting Instructions
Notes on planting Malus Gorgeous:
Crabapples are tough trees that thrive in any moderately fertile soil. They tolerate light shade well, although we recommend planting them in full sun to get the best display of flowers and fruit. Although a moist, well-drained site is ideal, crabapples like heavy clay and don't mind a bit of waterlogging in winter.
They won't grow in deep shade and may struggle in very poor dry soil.
Prepare your site before planting:
It is good to dig over the site where you plant a tree several months in advance. Kill the weeds first: for tough weeds like nettles, brambles and ground elder, you will usually need a glyphosate based weed-killer to get rid of them. When you dig the soil over, remove stones and other rubbish and mix in well-rotted compost or manure down to the depth of about 2 spades.
Watch our video on how to plant a tree for full instructions.
Remember to water establishing trees during dry weather for at least a year after planting.
Tree Planting accessories:
Prepare your site for planting by killing the weeds and grass with Roundup weed killer.
You can buy a tree planting pack with a wooden stake & rubber tie to support the tree and a mulch mat with pegs to protect the soil around the base of your tree from weeds and drying out.
We suggest that you use mycorrhizal "friendly fungi" on the roots of all newly planted large trees: if your soil quality is poor, we strongly recommend it.
After you plant a tree, the most important thing to do is water it in dry weather. You will also need to weed around the plants. Watering should be thorough, so the ground is soaked. Let the soil almost dry out before watering again. Watering & weeding will be necessary for at least a year after planting.
If your trees do need pruning, it is ideal to do this in winter. Always hire a tree surgeon to remove large branches.
Special notes on caring for your trees:
Malus Butterball is an ornamental tree that will perform best when it receives a yearly mulch of well-rotted manure or compost to help keep the soil around it fertile.
Remember to check the stake and tie supporting your trees a few times a year. Tighten the tie if it becomes loose but loosen it as the tree grows. Make sure that the tree's trunk isn't rubbing against the stake.
Hygiene & Diseases:
Dead, damaged or diseased wood can be pruned off as soon as it appears.
Disinfect your pruning tools between every cut if there is any sign of disease.
Burn or dispose of any diseased material, do not compost it.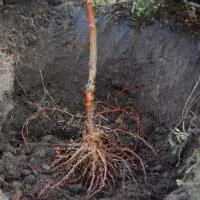 Bareroot?
Bareroot plants have no soil around the roots. They are light, easy to carry and plant.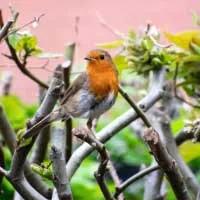 Perfect for Winter
The ground tends to be wet in winter, ideal for planting bareroot plants.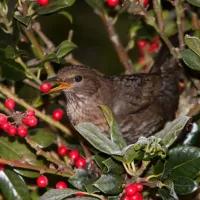 Value for money
You pay less for the same size bareroot plants, compared to potted.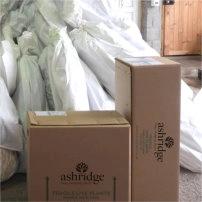 Delivered
Packaged by our experts and sent out by next day delivery.
Tag us @ashridgenurseries