Lombardy Poplar, Large Trees
Populus nigra Italica (Standard)
The details
Delivered in Large Sizes
Tall, v. narrow, good for dry soil.
Classic screening tree.
Sizes: Standards & Saplings.
RHS Award of Garden Merit
Max. Height: 30m
Bareroot Delivery: Nov-Mar.
£
£149.98
£ 144.96
£ 139.98
Delivery prices
Description
Populus Nigra Italica Standard Trees
Populus nigra Italica, the Lombardy Poplar tree, is a vigorous, narrow, tall plant that thrives on dry soils, except chalk.
Their extremely tall, slender form became a real fashion statement and a driveway lined with poplars in summer not only gives a grand air to a property, it also requires no pruning to keep it looking superbly neat and tidy. Their bark is rough and becomes ridged at a young age, while their leaves are a squashed teardrop shape. They bear quite long, copper-orange catkins in spring that spread their pollen in the wind, putting on a little show just before the leaves appear. Unfortunately, the pollen is unlikely to reach its goal; all Lombardy poplars sold to the public are male, cloned from one original parent (the female of the species is not as fastigiate as the male).
It can reach a height of about 30 metres.
Standard trees are the largest size that we deliver; you can also buy younger Populus nigra Italica saplings.
Browse our variety of large trees, or our full range of trees.
Did You Know?
The Lombardy poplar (spelt Lombardi in Europe) is one of the most recognizable trees in the country, thanks to its totally upright (fastigiate, to use the botanical term) growth. Populus nigra Italica was introduced to Britain in the 1750's and can now be found in every corner of the land, such is its popularity.
It used to be known as Populus nigra Pyramidalis, though it is hard to think of a tree that is less pyramid shaped.
How Standard Trees are Measured:
All the plants in the ornamental trees section are graded as standardss, which means that they are measured by their girth in centimetres 1 metre above ground level (basically, their trunk's waist measurement). They aren't measured by their height, which will vary. So, a 6/8 standard has a trunk with a circumference of 6-8 centimetres and an 8/10 standard has a trunk 8-10 centimetres around. This measurement makes no difference to the tree's final height.
Standard trees are 2 - 3.5 metres tall (on average) when they arrive; they are the most mature trees that you can buy from us. We cannot tell you precisely how tall your trees will be before we deliver them.
Planting Instructions
Notes on planting Populus nigra Italica trees:
Growing Populus nigra Italica is easy, as long as your soil isn't chalky. It can even handle having its roots in quite boggy ground, as long as it you plant it into a raised mound that keeps the base of the trunk away from the worst of the damp. Their roots are invasive enough for us to recommend that you plant them away from your house or drains. The joy of poplar is that there is no need to prune them - they will grow tall and straight without any help at all. The tallest poplars can reach 40-45 metres, 130 - 150 feet, though 30 metres, 100 feet, is probably about average. Despite their stature, Lombardy poplars should not develop a crown wider than a mere 5 metres, 15 feet across.

Prepare your site before planting:
It is good to dig over the site where you plant a tree several months in advance. Kill the weeds first: for tough weeds like nettles, brambles and ground elder, you will usually need a weed-killer to get rid of them. When you dig the soil over, remove stones and other rubbish and mix in well rotted compost or manure down to the depth of about 2 spades.

Watch our video on how to plant a tree for full instructions.
Remember to water establishing trees during dry weather for at least a year after planting.
Tree Planting accessories:
Prepare your site for planting by killing the weeds and grass with Neudorff WeedFree Plus.
You can buy a tree planting pack with a wooden stake & rubber tie to support the tree and a mulch mat with pegs to protect the soil around the base of your tree from weeds and drying out.
We suggest that you use mycorrhizal "friendly fungi" on the roots of all newly planted large trees: if your soil quality is poor, we strongly recommend it.
You can also improve your soil with bonemeal organic fertiliser and Growmore.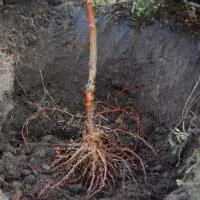 Bareroot?
Bareroot plants have no soil around the roots. They are light, easy to carry and plant.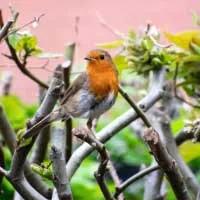 Perfect for Winter
The ground tends to be wet in winter, ideal for planting bareroot plants.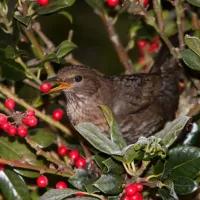 Value for money
You pay less for the same size bareroot plants, compared to potted.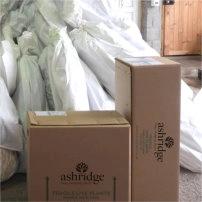 Delivered
Packaged by our experts and sent out by next day delivery.
Tag us @ashridgenurseries