Wild Privet Hedge Plants
Ligustrum vulgare
The details
Ligustrum vulgare
Hedge Plants
Size: to 3m
Soil: any, especially poor and dry
Use: as a tall hedge or wildlife cover
Single row: 3
Colour: green
Feature: berried
Flowering: May to June
Berries: November to January
Choose a size
How are they measured?
Qty
1-24
25 - 249
250 - 499
£
£4.32
£ 3.24
£ 2.88
£ 2.40
Qty
1-24
25 - 249
250 - 499
£
£5.28
£ 3.84
£ 3.48
£ 2.88
Delivery prices
Description
Ligustrum vulgare Hedging
Delivered by Mail Order Direct from our Nursery with a Year Guarantee


Ligustrum vulgare, the wild privet, is a large native shrub that makes a great country hedging plant. It's the only semi-evergreen in our range of privet hedge plants, losing its leaves in mid-winter in cold weather. This hardy, shade-tolerant bush is often planted to provide cover, while its berries are valuable food for all kinds of wildlife, including game. It's also the main food source of the privet hawk moth, Britain's largest native moth. Do bear in mind, however, that like other members of the privet family, the shoots and leaves of wild privet are poisonous, so keep it away from livestock. It will perform well in any averagely fertile soil, even in dry or quite damp places, where it is better than green privet . It's a natural choice for coastal hedging.
Going native
Wild privet has an average growth rate of 20-40cm a year, and it's ideal for a rural site, whereas Japanese privet and common privet are better suited to towns and cities. It's often planted as a mixed native hedge, where species such hawthorn and guelder rose will add to the berry and flower bonanza, attracting even more beneficial wildlife.
An Elizabethan favourite
Wild privet is found all over Europe, parts of North Africa and eastwards as far as Iraq. It's been used extensively as hedging since Elizabethan times, but has been almost entirely replaced by green privet, which was introduced from Japan in the 1880s.
Planting Instructions
Growing Wild Privet plants:
Wild Privet will grow well in any moderately fertile soil with decent drainage. It is hardy, drought resistant and suitable for exposed coastal sites. It is shade tolerant and loves chalky soil. It won't grow well in very poor soils or in places that get waterlogged in winter.
Spacing a Privet hedge: Plant Privet hedging at 3 plants per metre, 33cm apart.
Prepare your site before planting:
Native hedge plants like Wild Privet are very tough. The only essential preparation is to kill the weeds in a strip a metre wide along the planting site: improving the soil should not be necessary. If your soil is exceptionally poor and dry, then digging in some well-rotted manure and/or compost is worthwhile.
Watch our video on how to plant a country hedge for full details. The instruction to cut the plants in half after planting only applies to thorny native hedging and plants in the conservation hedge mix: this isn't necessary for Wild Privet.
Remember to water establishing plants during dry weather for at least a year after planting.
Hedge Planting Accessories:
If your soil quality is poor, we recommend using Rootgrow mycorrhizal "friendly fungi" on the roots of new trees and shrubs.
After Care
After you have planted your Wild Privet hedge, the most important thing to do is water it in dry weather. You will also need to weed around the plants. Watering should be thorough, so the ground is soaked. Let the soil almost dry out before watering again. Watering & weeding will be necessary for at least a year after planting.
Like all evergreen plants, Wild Privet is active and needs moisture in the ground throughout the year. This means that your establishing plants need to be watered in the winter when they are planted if the weather is dry.
Trimming Country hedge plants: From the winter after planting onwards, your young hedge should be trimmed lightly once every winter, until it is mature. When it is fully grown, you can clip it at any time.
Special notes on caring for Wild Privet hedges:
Wild Privet is a very tough hedge plant that shouldn't need special attention once it has established. If you didn't use a mulch fabric, it is beneficial to mulch around the base of the hedge each year with well-rotted manure or compost.
Hygiene & Diseases:
Dead, damaged or diseased wood can be pruned off as soon as it appears. Disinfect your pruning tools between every cut if there is any sign of disease. Burn or dispose of any diseased material, do not compost it.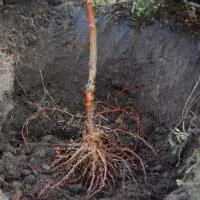 Bareroot?
Bareroot plants have no soil around the roots. They are light, easy to carry and plant.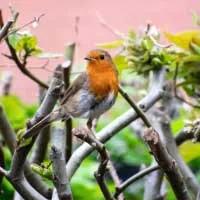 Perfect for Winter
The ground tends to be wet in winter, ideal for planting bareroot plants.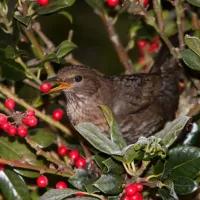 Value for money
You pay less for the same size bareroot plants, compared to potted.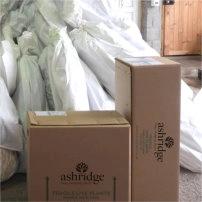 Delivered
Packaged by our experts and sent out by next day delivery.
Tag us @ashridgenurseries