Garden / Spear Mint Plants
Mentha spicata
The details
Mentha spicata
Pot Grown Herbs
Height: 45-60 cm
Spread: indefinite
Colour: green foliage, purple/mauve flowers
Flowers: July-August
Uses: culinary, herb garden
Spacing: 30 cm
Scent: spearmint
Habit: upright, vigorous
Life: hardy perennial
Choose a size
How are they measured?
Description
Mentha spicata
Common Garden or Spear Mint is the most frequently found garden herb, bar none. The bright and refreshing taste is hard to beat. The familiar bright green leaves are pointed with serrated edges. Slightly smaller than apple mint, it sports similar but slightly deeper purple flowers in the summer and is just as rampant.
Browse all of our mint varieties.
Features
Height: 45- 60 cm
Spread: boundless, unless contained
Colour: bright green, pointed, serrated edge, mauve/purple flowers
Flowers: July-August - good for bees
Uses: culinary, herb garden - good for cooking and tea
Spacing: 30 cm
Scent: Minty!
Habit: upright, vigorous
Life: half-hardy herbaceous perennial
Growing Spearmint
Arguably the best plant for a beginner, it grows like an invasive weed in almost any soil, and really only needs watering in dry weather to thrive. Because its runners race through good garden soil to colonise your entire herb area, it is often grown in pots to keep it under control. Another popular option is to bury a bottomless bucket, leaving a rim at least 5cm above soil level, and plant your mint into that.
It dies right back in the winter without cover. Although unnecessary in terms of the plant's requirements, we pop a transparent plastic storage box over some of ours, with some space for ventilation between it and the soil, and most of it survives to provide fresh mint in midwinter; it's not quite as nice as the summer growth, but serves well for tea. We chop all the old growth down in spring to make way for the new shoots.
The leaves taste better before flowering, so pick frequently and clip if you don't need any for a few days. If you do allow some to flower, your bees will be pleased.
Don't plant mint varieties next to each other: Strangely, if you plant one type of mint right next to another, they lose their individual scent and flavour.
Aesthetically pleasing in itself, you could try interspersing it with more low-lying herbs like the thymes Silver and Golden Queen. Mint deters aphids from attacking your roses.
Cooking with Spearmint
As well as its traditional use with lamb, it is now included in feta and fruit salads, used to garnish drinks and added to jellies or salsas making it an indispensable component of any herb garden.
Did You Know?
Spicata means spiky.
Mint's powerful, fresh smell has been used for millennia to gladden hearts wherever pongs and miasmas were smelt. The Egyptians placed it in the houses of the unliving at least as long ago as 2,500 BC, and by 1,400 AD it was the standard herb used by Europeans in toothpastes, although it has been cultivated in Britain since the Roman era and was surely a common breath freshener since that time. It is also good for digestion.
In the run-up to the American Revolution (or their first civil war, depending on your point of view), mint was a popular cash crop because it was not subject to perfidious (or glorious - point of view again) Albion's taxes on tea.
Oil of spearmint is rich in the terpenoid R-(–)-carvone (a natural antibacterial agent), but (unlike peppermint) low in menthol and menthone, which is why they smell quite different.
Aftercare
Like all aromatic plants, mint rarely succumbs to pests or diseases. It requires little looking after unless your soil is especially poor in which case a mulch of compost occasionally will be beneficial. Keep cutting the plant down before it flowers to encourage growth of fresh young leaves. Contain the roots in a bucket sunk into the ground.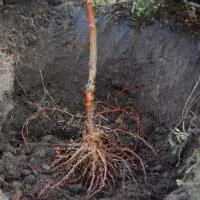 Bareroot?
Bareroot plants have no soil around the roots. They are light, easy to carry and plant.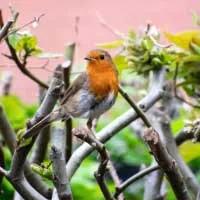 Perfect for Winter
The ground tends to be wet in winter, ideal for planting bareroot plants.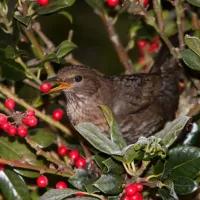 Value for money
You pay less for the same size bareroot plants, compared to potted.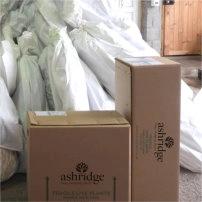 Delivered
Packaged by our experts and sent out by next day delivery.
Tag us @ashridgenurseries