Donard Seedling Escallonia Hedge Plants
Escallonia 'Donard Seedling'
The details
Escallonia 'Donard Seedling'
60-80cms Hedge Plants
Pink buds. Pink & white flowers.
Evergreen, fragrant shrub. Ideal hedging.
Suitable for the coast & poor soil.
Must have good drainage & sun.
Max. height: 3m
Year round delivery
Choose a size
How are they measured?
Qty
1-10
11 - 50
51 - 250
251 - 1000
£
£12.06
£ 9.96
£ 9.30
£ 8.46
£ 7.68
Delivery prices
Description
Escallonia Donard Seedling Hedging
Escallonia Donard Seedling is a vigorous evergreen shrub that makes a fine ornamental bush and hedging plant. It needs plenty of sun and a well drained site is essential.
Donard Seedling is good for hedges up to about 2.5-3 metres high.
Browse our selection of coastal hedging or our full range of hedging plants.
Escallonia Donard Seedling hedge plants are only delivered pot-grown, year round. We may delay delivery in mid-winter if the weather is too cold.
All our hedge plants are measured by their height in centimetres above the ground (the roots & pots aren't measured).
Spacing an Escallonia Donard Seedling hedge:
Plant Escallonia Donard Seedling hedging at 2 plants per metre, 50cm apart.
General description of Escallonia Donard Seedling plants:
This is one of the better escallonia varieties for hedging; it is strong growing and its fragrant, glossy, dark green leaves are larger than average. Grown as a specimen shrub, it has an arching habit and will naturally grow about as wide as it is tall.
Donard Seedling flowers through the summer and into early autumn with succession of pink buds that open to white flowers with a pale pink blush.
History & uses:
This plant was bred from Escallonia 'Langleyensis' and Escallonia x virgata. It won the RHS Award of Merit for its cut flowers in 1916.
Planting Instructions
Growing Escallonia Donard Seedling plants:
Escallonia needs good soil drainage and a decent amount of sun: it is not suitable for shady sites or places that are prone to waterlogging. It will grow on any soil type and thrives on clay in dry, raised areas. It is an excellent plant for growing on the coast, but you should improve the soil if your site is very sandy.
Escallonia is quite hardy, but it is not suitable for inland frost pockets. If you live in the North or Scotland, it is best to plant it in a South facing, sheltered location.
Prepare your site before planting:
It is good to dig over the area where you plant a hedge several months in advance, especially if the soil is poor. Destroy the weeds first: nettles, brambles and ground elder are tough and weed-killer is the best way to remove them. Then dig the soil over; remove rocks, roots and other rubbish. Mix in well rotted compost or manure down to the depth of about 2 spades. If your soil is rich, you don't have to dig it over, but killing all the weeds is still necessary.
Watch our video on how to plant a garden hedge for full details.
Remember to water establishing plants during dry weather for at least a year after planting.
Hedge Planting Accessories:
Prepare your site for planting by killing the weeds and grass with Neudorff WeedFree Plus.
You can buy a hedge planting pack with sheets of mulch fabric and pegs to hold it down.
If your soil quality is poor, we recommend using mycorrhizal "friendly fungi" on the roots of new trees and shrubs.
You can also improve your soil with bonemeal organic fertiliser and Growmore.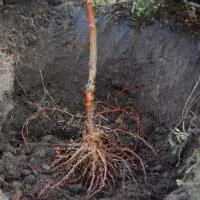 Bareroot?
Bareroot plants have no soil around the roots. They are light, easy to carry and plant.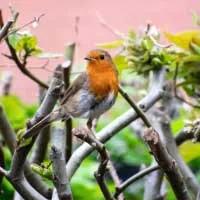 Perfect for Winter
The ground tends to be wet in winter, ideal for planting bareroot plants.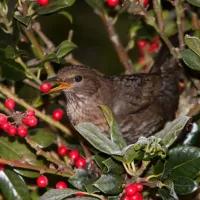 Value for money
You pay less for the same size bareroot plants, compared to potted.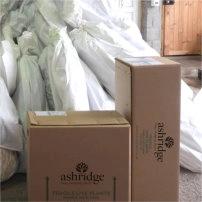 Delivered
Packaged by our experts and sent out by next day delivery.
Tag us @ashridgenurseries