Quaking Aspen / Poplar, Large Trees
Populus tremula (Standard)

The details
Delivered in Large Sizes
Native. Vigorous & suckering.
Likes damp sites.
Max Height 25m
Bareroot Delivery.
£
£149.98
£ 144.96
£ 139.98
Delivery prices
Description
Populus tremula: Bareroot Quaking Aspen / Poplar Trees in Standard Sizes
The Common European, Quaking, or Trembling Aspen has long, thin leaf stems and broad, oval shaped, leaves with a wavy outline. They wobble even when there is no wind, and begin to flutter in the smallest breeze. It is a native, deciduous tree whose slender trunk has pale, slightly creamy bark, topped with a lollipop shaped canopy. It is noted for supporting a wide range of butterfly and moth larvae.
Before the leaves come out in early spring, male trees produce lovely red and grey catkins that look uncannily like big fuzzy caterpillars. Female trees have plain green catkins that erupt in tiny, white haired, wind-borne seeds: we do not sell female poplar trees because these seeds are a real nuisance.
The Autumn colour is bright, clean yellow.
Old Aspens have an extraordinary suckering habit: there is a famous tree in Wales that has at least a thousand suckering trunks and covers a hectare. It won't be taking over your garden though: the Welsh tree is several centuries old, and the original trunk is long gone. In any case, a thicket of suckers creates a valuable wildlife habitat.
This vigorous and tidy tree is great for a medium to large sized garden. They can reach a height of about 25 metres.
Standard trees are the largest size that we deliver; you can buy younger Populus tremula saplings.
Browse our variety of large garden trees, or all our trees.


Delivery season: Poplar trees are delivered bareroot during late autumn and winter, approximately November-March inclusive.
Choosing a size: Small trees are cheaper, easier to handle and more forgiving of less than ideal aftercare, so they are best for a big planting project. If instant impact is your priority, or if you are only buying a few plants for use in a place where it is convenient to water them well in their first year, then you may as well use bigger ones. All our bareroot trees are measured by their height in centimetres above the ground (the roots aren't measured).
Features:
Height: 25m
Soil: Ideally wet, needs plenty of sun
Native
Bareroot delivery only: November-March
Growing Quaking Aspen / Poplar
Hardy and wind resistant, it needs a lot of sun and really loves a moist to wet soil, but with help it can establish on poor, dry soils as well. White poplar is probably a better choice for shallow chalk
Try not to prune them if you don't want them to start to sucker.
Did You Know?
Also known as the haps tree. Being so light and easy to work, the wood is one of the most common sources of timber for matches, and is good for paper.
The American aspen, Populus tremuloides, is very similar and has the same common names of trembling or quaking.

Standard trees are measured by their girth in centimetres 1 metre above ground level: their trunk's waist measurement. Unlike sapling trees and hedge plants, standards aren't measured by their height, which will vary quite a bit both between and within species.
So, a 6/8cm standard tree has a trunk with a circumference of 6-8cm and an 8/10 standard has a trunk 8-10cm around. This measurement makes no difference to the tree's final height.
On average, standard trees are 2-3.5 metres tall when they arrive, but we cannot tell you precisely how tall your trees will be before we deliver them.
Planting Instructions
Notes on planting Quaking Aspen trees:
Although Aspen Poplars like wet soil, they can also be found growing on cliff faces, which proves that they aren't fussy. The only thing that they won't tolerate is shallow chalk. We generally advise against pruning your tree unless absolutely necessary because they form a neat, round crown all by themselves and even mild pruning will greatly encourage their suckers (so if you want lots of sucking stems, you know what to do).
Prepare your site before planting:
It is good to dig over the site where you plant a tree several months in advance. Kill the weeds first: for tough weeds like nettles, brambles and ground elder, you will usually need a weed-killer to get rid of them. When you dig the soil over, remove stones and other rubbish and mix in well rotted compost or manure down to the depth of about 2 spades.

Watch our video on how to plant a tree for full instructions.
Remember to water establishing trees during dry weather for at least a year after planting.
Tree Planting accessories:
Prepare your site for planting by killing the weeds and grass with Neudorff WeedFree Plus.
You can buy a tree planting pack with a wooden stake & rubber tie to support the tree and a mulch mat with pegs to protect the soil around the base of your tree from weeds and drying out.
We suggest that you use mycorrhizal "friendly fungi" on the roots of all newly planted large trees: if your soil quality is poor, we strongly recommend it.
You can also improve your soil with bonemeal organic fertiliser and Growmore.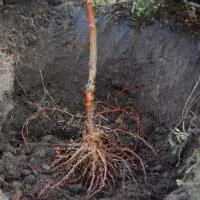 Bareroot?
Bareroot plants have no soil around the roots. They are light, easy to carry and plant.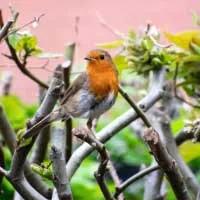 Perfect for Winter
The ground tends to be wet in winter, ideal for planting bareroot plants.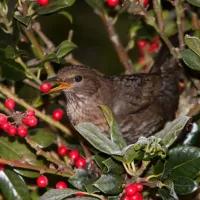 Value for money
You pay less for the same size bareroot plants, compared to potted.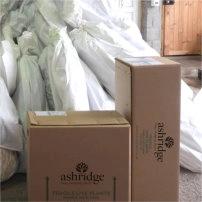 Delivered
Packaged by our experts and sent out by next day delivery.
Tag us @ashridgenurseries