Sunburst Honey Locust, Large Trees
Gleditsia triacanthos Sunburst (Standard)

The details
Delivered in Large Sizes
Golden new leaf fronds.
Any soil. Good for roadsides.
Sizes: Standards only.
Max. Height: 12m
Bareroot Delivery: Nov-Mar.
Choose a size
How are they measured?
Feather - Bareroot - 1.75-2.5m
Bareroot
£
£124.98
£ 119.99
£ 114.98
£
£139.98
£ 134.98
£ 129.97
Delivery prices
Description
Gleditsia triacanthos Sunburst: Bareroot Honey Locust Trees in Standard Sizes
Gleditsia triacanthos Sunburst is a Golden variety of Honey Locust, with glorious golden-yellow new leaf fronds, made up of fern-like rows of little leaflets that seem to sniff the breeze as they sway about. They mature to green, and go yellow again in Autumn. This cultivar is thornless, unlike the wild species. The tiny flowers aren't really visible, but they have a good sweet scent that carries well. In a hot, sunny summer, especially in the South and West, you should get some seeds, which are lovely long bean pods.
It is a great garden tree, with a canopy spread of only 4-5 metres and it will grow well in the middle of a lawn with grass growing right up to its trunk. They reach a height of about 12 metres.
Browse our large garden trees, or all of our trees.

Delivery season: Honey Locust trees are delivered bareroot during late autumn and winter, approximately November-March inclusive.
Choosing a size: Small trees are cheaper, easier to handle and more forgiving of less than ideal aftercare, so they are best for a big planting project. If instant impact is your priority, or if you are only buying a few plants for use in a place where it is convenient to water them well in their first year, then you may as well use bigger ones. All our bareroot trees are measured by their height in centimetres above the ground (the roots aren't measured).
Features:
Height: 12m
Fixes nitrogen
Yellow spring foliage, green in Summer, yellow in Autumn
Soil: Any, needs sun
Bareroot delivery only: November-March
Growing Gleditsia
It is suitable for most gardens and will grow on pretty much any soil in a sunny place. Responds well to pruning.
Did You Know?
Gleditsia are native to America and parts of Asia, and have been widely planted in Britain since the start of the 1700's. This Sunburst variety, also listed as "Inermis Aurea" was bred in the 1950's.
The pulp and seeds inside the ripe seed-pods are sweet and can be eaten, usually cooked.
It is in the pea family, so it is a cousin of Robinia, the Common or Black Locust. It's one of the nitrogen fixing trees used in "multicultural" orchards, where fruit species are planted in a repeating sequence along a row like Apple, Cherry, Pear, then a Nitrogen Fixer, which can be harvested for wood; cutting the tree releases nitrogen from the roots. This permaculture principle reduces the pressure from pests and diseases, which cannot swarm from similar tree to tree, and nourishes the terrain to an extent.
Standard trees are measured by their girth in centimetres 1 metre above ground level: their trunk's waist measurement. Unlike sapling trees and hedge plants, standards aren't measured by their height, which will vary quite a bit both between and within species.
So, a 6/8cm standard tree has a trunk with a circumference of 6-8cm and an 8/10 standard has a trunk 8-10cm around. This measurement makes no difference to the tree's final height.
On average, standard trees are 2-3.5 metres tall when they arrive, but we cannot tell you precisely how tall your trees will be before we deliver them.
This tree transplants badly when it gets large, so these plants are slightly too small to be graded as standardss and are delivered when they are about 2m tall.
Planting Instructions
Notes on planting Gleditsia Triacanthos Sunburst trees:
These tough, hardy plants will grow in any sunny location, although shallow chalk isn't ideal. They grow on the coast and seem just as happy in damp, fertile soil as they do on dusty hillsides. They are very tolerant of air pollution.
If you live in the North or Scotland, we recommend that you protect your trees with horticultural fleece for the first 3 years if there is a frost warning during spring and the leaves have begun to appear. This is just to make sure they get off to a strong start. Once they have properly settled in, this precaution won't be necessary. Leave the fleece on for the night and remove it in the morning.
There is a gall midge, a little mosquito-looking fly, that makes its nest in Honey Locust leaves, causing cosmetic damage, making swell into small pods. You can ignore them, or sweeping up in Autumn and burying or burning the fallen leaves is sufficient control. In the unlikely event (not to be expected in the UK climate) that a young plant fell prey to a swarm of midges, our organic insecticide spray will deal with the adults, and trimming will get the egg-pods off.
Prepare your site before planting:
It is good to dig over the site where you plant a tree several months in advance. Kill the weeds first: for tough weeds like nettles, brambles and ground elder, you will usually need a weed-killer to get rid of them. When you dig the soil over, remove stones and other rubbish and mix in well rotted compost or manure down to the depth of about 2 spades.
Watch our video on how to plant a tree for full instructions.
Remember to water establishing trees during dry weather for at least a year after planting.
Tree Planting accessories:
Prepare your site for planting by killing the weeds and grass with Neudorff WeedFree Plus.
You can buy a tree planting pack with a wooden stake & rubber tie to support the tree and a mulch mat with pegs to protect the soil around the base of your tree from weeds and drying out.
We suggest that you use mycorrhizal "friendly fungi" on the roots of all newly planted large trees: if your soil quality is poor, we strongly recommend it.
You can also improve your soil with bonemeal organic fertiliser and Growmore.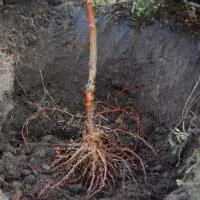 Bareroot?
Bareroot plants have no soil around the roots. They are light, easy to carry and plant.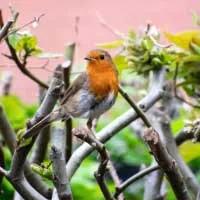 Perfect for Winter
The ground tends to be wet in winter, ideal for planting bareroot plants.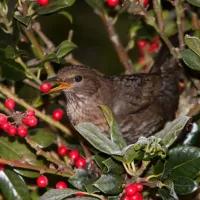 Value for money
You pay less for the same size bareroot plants, compared to potted.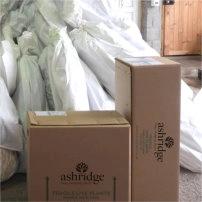 Delivered
Packaged by our experts and sent out by next day delivery.
Tag us @ashridgenurseries