Sycamore, Large Trees
Acer pseudoplatanus (Standard)
The details
Delivered in Large Sizes
Fast growing, most soils.
Great coastal screening tree.
Sizes: Standards & Saplings.
RHS Plants for PollinatorsB
Max. Height: 35m
Bareroot Delivery: Nov-Mar.
Choose a size
How are they measured?
Description
Acer pseudoplatanus: Bareroot Sycamore Maple Trees in Standard Sizes
The Sycamore Maple, Acer pseudoplatanus is a big, fast-growing tree that will thrive almost anywhere. It makes a great windbreak for exposed coastal sites and is equally happy in the inner city. Fully grown, a Sycamore is a magnificent specimen, rivalling any of our other large native trees. It is one of the best tall trees for a coastal windbreak. It is great for wildlife, and every child has surely tired themselves out in autumn by throwing the "helicopter" seeds up into the air over and over again (although there is probably an app for that now).
Sycamores can reach a height of about 35-40 metres.
Standard trees are the largest size that we deliver; you can also buy younger Sycamore saplings.
Browse our other Maple varieties, or all of our trees.

Delivery season: Maple trees are delivered bareroot during late autumn and winter, approximately November-March inclusive.
Choosing a size: Small trees are cheaper, easier to handle and more forgiving of less than ideal aftercare, so they are best for a big planting project. If instant impact is your priority, or if you are only buying a few plants for use in a place where it is convenient to water them well in their first year, then you may as well use bigger ones. All our bareroot trees are measured by their height in centimetres above the ground (the roots aren't measured).
Features:
Height: 25m
Soil: Any except totally waterlogged
Extremely hardy, great for coastal windbreaks
Excellent timber & firewood
RHS Plants for Pollinators
Bareroot delivery only: November-March
Growing Sycamores
It will grow anywhere except in fully waterlogged soil* but is happy on a bank beside water, and doesn't mind being temporarily flooded in winter. It is unaffected by pollution, and arguably grows better in the city because its fallen leaves are typically removed, which pretty much prevents cosmetic damage to the following year's leaves from sycamore tar spot fungus.
They are ideal for exposed coastal locations.
Young trees are pretty shade-tolerant, and will simply grow slowly until they reach more sunlight.
Grey squirrels love chewing the bark of young (or recently coppiced) trees, which is the only reason why this tree is not widely grown by the timber industry. The best way to deal with them is a terrier or beagle who had a light breakfast.
*To be precise, you can't transplant them successfully into very wet soil, but if a seed germinates there and adapts to it from day one, it has a chance.
Did You Know?
They aren't strictly native British trees, but they may as well be. Native across Europe and Western Asia, they have been cultivated here for 800 years at the very least, and are good for wildlife. They bear some similarity to the Plane tree and in Scotland they are commonly called Planes, which isn't necessarily confusing because the true Plane tree isn't really grown in the North. The species name, pseudoplatanus, means "False Platanus (Plane)".
Like the Plane tree, the Sycamore was one of the few trees that continued to thrive in our polluted, industrial revolution era cities when so many other species gave up and died in the smog.
The Tolpuddle Martyrs' tree in Dorset is probably the most famous Sycamore in the UK, which was calculated to be about 320 years old in 2019. There is a passage through Hadrian's Wall called Sycamore Gap with an old tree marking it, which appears in several paintings and postcards.
The timber is excellent, both durable and easy to carve, and makes good firewood and charcoal. In the past, it was probably the most common wood for making treen, which are simply any small utensils made from wood, but these days the word usually applies to antique, decorative items. It was also the wood of choice for Scottish Mauchline Ware, hugely popular wooden souvenirs made in the eponymous town in Ayrshire.
Standard trees are measured by their girth in centimetres 1 metre above ground level: their trunk's waist measurement. Unlike sapling trees and hedge plants, standards aren't measured by their height, which will vary quite a bit both between and within species.
So, a 6/8cm standard tree has a trunk with a circumference of 6-8cm and an 8/10 standard has a trunk 8-10cm around. This measurement makes no difference to the tree's final height.
On average, standard trees are 2-3.5 metres tall when they arrive, but we cannot tell you precisely how tall your trees will be before we deliver them.
Planting Instructions
Notes on planting Sycamore trees:
It is great for very exposed situations, including seaside ones and will grow in almost any averagely fertile, moist soil. It loves heavy clay and is tolerant of polluted urban or industrial zones. Young plants are shade tolerant.

Prepare your site before planting:
It is good to dig over the site where you plant a tree several months in advance. Kill the weeds first: for tough weeds like nettles, brambles and ground elder, you will usually need a weed-killer to get rid of them. When you dig the soil over, remove stones and other rubbish and mix in well rotted compost or manure down to the depth of about 2 spades.

Watch our video on how to plant a tree for full instructions.
Remember to water establishing trees during dry weather for at least a year after planting.
Tree Planting accessories:
Prepare your site for planting by killing the weeds and grass with Neudorff WeedFree Plus.
You can buy a tree planting pack with a wooden stake & rubber tie to support the tree and a mulch mat with pegs to protect the soil around the base of your tree from weeds and drying out.
We suggest that you use mycorrhizal "friendly fungi" on the roots of all newly planted large trees: if your soil quality is poor, we strongly recommend it.
You can also improve your soil with bonemeal organic fertiliser and Growmore.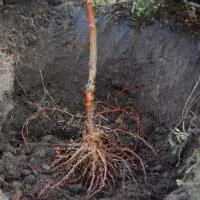 Bareroot?
Bareroot plants have no soil around the roots. They are light, easy to carry and plant.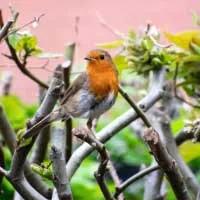 Perfect for Winter
The ground tends to be wet in winter, ideal for planting bareroot plants.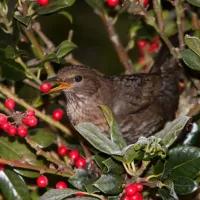 Value for money
You pay less for the same size bareroot plants, compared to potted.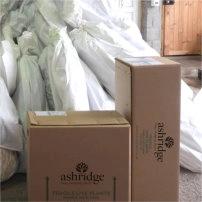 Delivered
Packaged by our experts and sent out by next day delivery.
Tag us @ashridgenurseries