Variegated Japanese Laurel Hedging
Aucuba japonica Variegata
The details
Aucuba japonica Variegata
Hedge Plants
Large evergreen shrub. Ideal for hedging.
Good for poor, dry soil, chalk, shade & the coast.
Drought & pollution tolerant.
Thrives under large trees
Pot-Grown delivery only
Choose a size
How are they measured?
Description
Aucuba Japonica Variegata Hedging
Delivered by Mail Order Direct from our Nursery with a Year Guarantee


Spotted or Variegated Japanese Laurel, Aucuba japonica Variegata, is an excellent evergreen hedging plant for poor soil and shady sites.
Spotted Laurel is good for hedges up to about 4 metres high.
View our selection of evergreen hedging or see our full range of hedging plants.
Spotted Laurel hedge plants are only delivered pot-grown, year round.
Choosing a size:
When you are ordering Spotted Laurel plants for a hedge, we generally recommend that you use plants that are graded at 60/80cm. They are cheaper than large plants, easier to handle and they will establish well in poor conditions.
Use larger plants if you want a taller hedge quickly or for instant impact as a specimen shrub.
All our hedge plants are measured by their height in centimetres above the ground (the roots aren't measured).
Large evergreen shrub. Ideal for hedging.
Good for poor, dry soil, chalk, shade & the coast.
Drought & pollution tolerant.
Thrives under large trees
Pot-Grown delivery only
Spacing a Spotted Laurel hedge:
Plant Spotted Laurel hedging at 2 plants per metre, 50cm apart.
General description of Spotted Laurel plants:
One of the Japanese laurels, Spotted Laurel is large shrub or small evergreen tree. Its large, tough, pointed leaves are mid green with cream markings.
Spotted Laurel is usually grown as a hedge and it is also a good specimen for a shady corner. This is also the most drought tolerant of the laurels (when it is established) and does in dry spots under other trees.
It is a superb screening plant and its heavy, pollution tolerant leaves are an effective noise barrier.
As it matures, it sends up shoots from the base that make an old Aucuba hedge almost solid in the middle.
This make it equally suited as roadside hedging or screening in a nudist colony.
All parts of Spotted Laurel are poisonous to humans and livestock.
The Aucuba berries are eaten by some birds but taste very bitter to us, so children are at no risk of eating one.
History & uses of Aucuba japonica Variegata:
This Japanese plant was introduced to Britain in 1783 by John Graeffer, but because only females were brought over at first (which do sometimes make sterile, undeveloped berries by themselves), there were no proper, developed berries recorded until 1864!
They were very popular with Victorians because of their immunity to smokey air pollution.
Planting Instructions
Growing Spotted Laurel plants:
Spotted Laurel will grow well in any soil with decent drainage. It is shade tolerant.
Prepare your site before planting:
It is good to dig over the area where you plant a hedge several months in advance, especially if the soil is poor. Destroy the weeds first: nettles, brambles and ground elder are tough and a glyphosate based weed-killer is the best way to remove them. Then dig the soil over; remove rocks, roots and other rubbish. Mix in well rotted compost or manure down to the depth of about 2 spades. If your soil is rich, you don't have to dig it over, but killing all the weeds is still necessary.
Watch our video on how to plant a garden hedge for full details.
Remember to water establishing plants during dry weather for at least a year after planting.
Hedge Planting Accessories:
Prepare your site for planting by killing the weeds and grass with Neudorff WeedFree Plus.
You can buy a hedge planting pack with sheets of mulch fabric and pegs to hold it down.
If your soil quality is poor, we recommend using mycorrhizal "friendly fungi" on the roots of new trees and shrubs.
You can also improve your soil with bonemeal organic fertiliser and Growmore.
After Care
After you have planted your Spotted Laurel hedge, the most important thing to do is water it in dry weather. You will also need to weed around the plants. Watering should be thorough, so the ground is soaked. Let the soil almost dry out before watering again. Watering & weeding will be necessary for at least a year after planting.
Like all evergreen plants, Spotted Laurel is active and needs moisture in the ground throughout the year. This means that your establishing plants need to be watered in the winter when they are planted, if the weather is dry.
Trimming Formal hedge plants:

Your plants need no trimming at all for their first year.
Until they reach the desired height, all you need to do is pinch out the tips of the stems in winter to encourage bushy growth in spring.
Mature Spotted laurel hedges are best clipped back with secatuers - it takes longer, but you don't end up with lots of ragged leaves with brown edges.

If left untrimmed, Spotted Laurel produces small purple flowers in late spring which are followed by red berries that can be held until late winter.
Special notes on caring for Spotted Laurel hedges:
Spotted Laurel is a very tough hedge plant that shouldn't need special attention once it has established. If you didn't use a mulch fabric, it is beneficial to mulch around the base of the hedge each year.

Hygiene & Diseases:
Dead, damaged or diseased wood can be pruned off as soon as it appears.
Disinfect your pruning tools between every cut if there is any sign of disease.
Burn or dispose of any diseased material, do not compost it.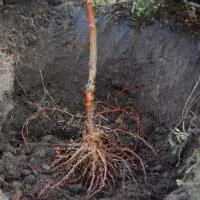 Bareroot?
Bareroot plants have no soil around the roots. They are light, easy to carry and plant.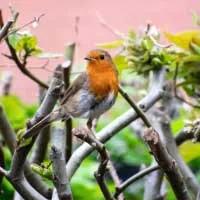 Perfect for Winter
The ground tends to be wet in winter, ideal for planting bareroot plants.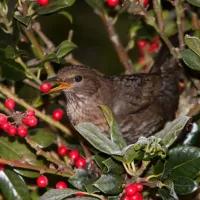 Value for money
You pay less for the same size bareroot plants, compared to potted.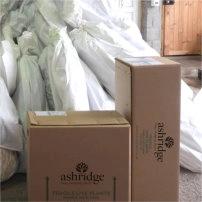 Delivered
Packaged by our experts and sent out by next day delivery.
Tag us @ashridgenurseries