Common Laurel Hedge Plants
Prunus laurocerasus Rotundifolia

The details
Prunus laurocerasus Rotundifolia Hedge Plants
Hedge Height: 1m to very tall
Soil: all soils
Use: Evergreen
Single Row: 2-3/m
Colour: Bright Green
Location: Shade tolerant
RHS Award of Garden Merit
Bareroot Delivery Only: Nov-March
Choose a size
How are they measured?
£
£4.80
£ 3.84
£ 3.36
£ 3.12
Qty
1-24
25 - 249
250 - 499
£
£7.14
£ 5.94
£ 5.58
£ 4.98
£
£10.98
£ 9.96
£ 8.94
£ 7.98
£
£14.99
£ 13.98
£ 13.20
£ 12.96
£
£16.98
£ 16.56
£ 15.60
£ 15.00
£
£24.96
£ 22.98
£ 19.98
£ 18.00
Delivery prices
Description
Prunus laurocerasus Rotundifolia: Bareroot Cherry Laurel Hedging
Delivered by Mail Order Direct from our Nursery with a Year Guarantee


The common or cherry laurel is a vigorous garden superhero that relishes inhospitable conditions and will make a stunning, shiny green hedge all year round. Its seriously glossy, greeny-yellow leaves, which can be up to 15 cm long, are so verdant and lush that they look almost tropical. Naturally bushy, it blocks out almost everything - car lights, road noise and will dissipate strong, prevailing winds.
In summer, it is festooned with tall, white, flowers that are richly scented and pull in bees and butterflies.
Autumn brings large, shiny, black, inedible "cherries" that are hugely popular with birds.
It is almost infinitely forgiving of mistakes, so it is hard not to produce a good Laurel hedge!
View the rest of our laurel hedging or our range of hedging plants.
A similar but less vigorous option is Portuguese laurel, Prunus lusitanica. For restrained evergreen hedging with smaller, matt leaves, Privet hedging has the same propensity to thrive where no other plant dare go.
Delivery season: Bareroot plants are delivered during late autumn and winter, approximately November-March inclusive.
Features
Size sold: 30-60 cm
Hedge Height: 1m to very tall
Soil: all soils
Use: Evergreen
Single Row: 2-3/m
Colour: Bright Green
Great for poor soils and brightening a shady corner
RHS Award of Garden Merit
Growing Common Laurel
It will grow in any soil apart from waterlogged. It is very shade tolerant, and is a go-to choice for shady sites with poor, dry soil.
It is low maintenance and can be hard pruned at anytime if necessary, although it will bounce back better if you do this in winter.
Spacing a Cherry Laurel hedge: Like most formal hedging, plant at 3 per metre, 33cm apart in a single row.
Laurel in your Garden
Its vigour is second to none, its rounded, shiny leaves play with light to brighten a dark corner of the garden, and it can be shaped into individual balls or lollipops that look fantastic.
Plant a laurel hedge next to a low, stone wall, and you can 'extend' your wall by several metres by trimming the laurel flush to the wall's face. It will provide a perfect screen to block the line of sight from nearby buildings, and is an ideal windbreak to provide shelter in a garden so that you can grow more tender ornamental trees and plants.
Lead and stone statuary or planters look especially good against its vibrant green and are indicative of how laurel can be used in a more formal setting where you use laurel to provide structure in the garden as opposed to the more commonly used but slower growing box or yew.
Another use is as ground cover for game and wildlife, although it is probably best not to grow it next to a field containing livestock because it's poisonous to them.
How to Clip & Prune Laurel Hedges
Some formative pruning will make it as dense as possible. Do not clip Laurel Hedging straight after planting, but wait until new leaves appear, showing that the roots have established.
Laurel can put out new growth from the junction of stem and leaf.
To encourage this growth, cut back a branch so two or three leaves remain.
A new side shoot will come from each leaf within a few weeks.
Do this yearly until there is a good structure of bushy branches.
A mature hedge is best pruned with secateurs and loppers when practical, which won't leave ragged foliage.
The best time to use a hedge trimmer is the middle of Spring, when the vigorous new growth will cover the ragged foliage.
Trim your hedge into a sort of "A" shape, with a flat top. A slight taper to a hedge - wider at the bottom than at the top - allows light and air to get to the lower branches, keeping them healthy and covered in leaf.
Hard Pruning Old Laurel: Laurel cut to the ground will grow back. Mid-winter is the best time for surgery.
Did You Know?
The bay leaf (Laurus nobilis), widely used as a culinary herb, is the only 'true' laurel grown widely in this country, although in other parts of the world there are more than 2,500 other species of tree and shrub laurel. Most of these are flowering plants with shiny evergreen leaves and include such familiar names as the avocado, cinnamon and camphor.
What we refer to as cherry or common laurel belongs to the cherry family, in the genus Prunus. It has a long tradition of use in gardens here since it was first introduced from the Ottoman Empire in the 1500s.
The long-lasting foliage is a standard element for floristry.
Planting Instructions
Growing Cherry Laurel plants:
Cherry Laurel will grow well in most conditions, as long as the soil drainage is good. It thrives in the shade and on poor, dry, compacted urban soil. It is suitable for exposed, windy places but it is not recommended for the coast.
It is best to plant laurel on sites with a good airflow, which helps to reduce the spread of unsightly fungal diseases. Laurel can be prone to mildew if it is planted in humid places.
Common laurel will not grow well if the site is too damp and it doesn't tolerate chalk.
Portugal laurel will grow on chalk and near the coast.

Prepare your site before planting:
It is good to dig over the area where you plant a hedge several months in advance, especially if the soil is poor. Destroy the weeds first: nettles, brambles and ground elder are tough and a glyphosate based weed-killer is the best way to remove them. Then dig the soil over; remove rocks, roots and other rubbish. Mix in well rotted compost or manure down to the depth of about 2 spades. If your soil is rich, you don't have to dig it over, but killing all the weeds is still necessary.
Watch our video on how to plant a garden hedge for full details. The plants in this video are delivered pot-grown, but planting out bareroot stock is essentially the same.
Remember to water establishing plants during dry weather for at least a year after planting.
Hedge Planting Accessories:
Prepare your site for planting by killing the weeds and grass with Neudorff WeedFree Plus.
You can buy a hedge planting pack with sheets of mulch fabric and pegs to hold it down.
You may need a bamboo cane to support your plants, but they do not need protection from rabbits or deer.
If your soil quality is poor, we recommend using mycorrhizal "friendly fungi" on the roots of new trees and shrubs.
You can also improve your soil with bonemeal organic fertiliser and Growmore.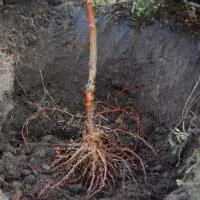 Bareroot?
Bareroot plants have no soil around the roots. They are light, easy to carry and plant.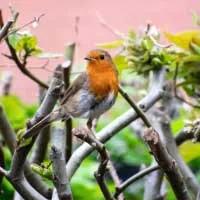 Perfect for Winter
The ground tends to be wet in winter, ideal for planting bareroot plants.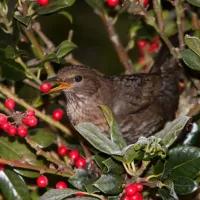 Value for money
You pay less for the same size bareroot plants, compared to potted.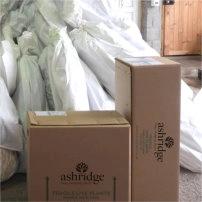 Delivered
Packaged by our experts and sent out by next day delivery.
Tag us @ashridgenurseries