Elaeagnus (Oleaster) Hedge Plants
Elaeagnus angustifolia

The details
Elaeagnus angustifolia
Hedge Plants
Thorny hedging shrub.
Fixes nitrogen, ideal for the coast.
Sizes: Saplings only.
Max. Height: 4m
Bareroot Delivery Only: Nov-Mar.
Choose a size
How are they measured?
Qty
1-24
25 - 249
250 - 499
£
£3.48
£ 2.88
£ 2.52
£ 2.28
Delivery prices
Description
Elaeagnus Angustifolia Hedging
Delivered by Mail Order Direct from our Nursery with a Year Guarantee


Elaeagnus angustifolia, Oleaster, is a big thorny shrub that thrives in poor soil by the sea and is able to grow on almost pure sand.
Elaeagnus angustifolia is good for hedges up to about 4 metres high.
You can also buy the evergreen Elaeagnus ebbingei, which is less hardy and has no thorns.
Elaeagnus angustifolia hedge plants are only delivered bareroot, during winter (Nov-March).
All our hedge plants are measured by their height in centimetres above the ground (the roots aren't measured).
Spacing an Elaeagnus angustifolia hedge:
Plant Elaeagnus angustifolia hedging at 3 plants per metre, 33cms apart.
General description of Elaeagnus angustifolia plants:
This is a hardy hedging plant for poor soils and windy sites on the coast. It is thorny and has silvery, fragrant foliage. The small, abundant yellow flowers aren't very showy, but they have a good scent that carries well. These mature into small silver-orange berries, which are edible, although they don't have much flavour and tend to be quickly picked off by birds. As a shrub, Oleaster is also good for small gardens. Oleaster's roots fix nitrogen, so it will thrive on the worst soils.
View our selection of coastal hedging plants or see our full range of hedging.
History & uses of Oleaster:
Common Names: Oleaster, Silver berry bush, Russian olive, Wild olive
Elaeagnus angustifolia's native range is from Russia to Iran, where its berries are dried, powdered and added to milk for drinking. It has been grown in Britain since the 1500s.
Planting Instructions
Growing Elaeagnus angustifolia plants:
Elaeagnus angustifolia will grow well in any sunny, well drained soil apart from shallow chalk, although it will tolerate most other alkaline soils. It is suitable for exposed, salty seaside areas and mature plants are very drought hardy.
Prepare your site before planting:
It is good to dig over the area where you plant a hedge several months in advance, especially if the soil is poor. Destroy the weeds first: nettles, brambles and ground elder are tough and Neudorff WeedFree Plus weed-killer is the best way to remove them. Then dig the soil over; remove rocks, roots and other rubbish. Mix in well rotted compost or manure down to the depth of about 2 spades. If your soil is rich, you don't have to dig it over, but killing all the weeds is still necessary.
Watch our video on how to plant a country hedge for full details. The instruction to cut the plants in half after planting only applies to thorny native hedging and plants in the conservation hedge mix: this isn't necessary for Elaeagnus angustifolia.
Remember to water establishing plants during dry weather for at least a year after planting.
Hedge Planting Accessories:
Prepare your site for planting by killing the weeds and grass with Neudorff WeedFree Plus.
You can buy a hedge planting pack with sheets of mulch fabric and pegs to hold it down.
If you are planting in an area with rabbit and/or deer, you will need to use a plastic spiral guard for each plant, supported by a bamboo cane.
If your soil quality is poor, we recommend using mycorrhizal "friendly fungi" on the roots of new trees and shrubs.
You can also improve your soil with bonemeal organic fertiliser and Growmore.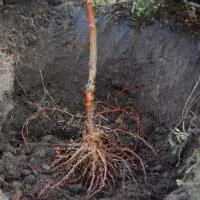 Bareroot?
Bareroot plants have no soil around the roots. They are light, easy to carry and plant.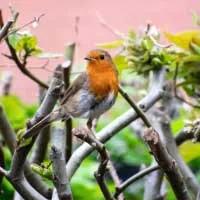 Perfect for Winter
The ground tends to be wet in winter, ideal for planting bareroot plants.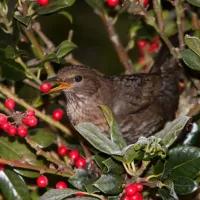 Value for money
You pay less for the same size bareroot plants, compared to potted.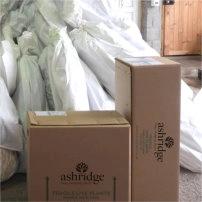 Delivered
Packaged by our experts and sent out by next day delivery.
Tag us @ashridgenurseries