Purple Barberry Hedge Plants
Berberis thunbergii Atropurpurea
The details
Purple Barberry
Hedge Plants
Thorny. Wine-purple leaves, good autumn colour.
Excellent garden hedging.
Max. Height: 1.5m
Bareroot delivery.
Choose a size
How are they measured?
Qty
1-24
25 - 249
250 - 499
£
£2.82
£ 2.26
£ 1.98
£ 1.84
£
£7.50
£ 6.48
£ 5.94
£ 5.28
Delivery prices
Description
Berberis Atropurpurea: Bareroot Purple Berberis Hedging Plants
Delivered by Mail Order Direct from our Nursery with a Year Guarantee

Berberis thunbergii Atropurpurea is the purple-red leaved variety of Japanese Barberry. With its vandal-proof, vicious spines and springy, arching stems, this medium-sized, deciduous shrub makes an excellent prickly hedge or specimen. It is an ornamental plant, decked out with small yellow, pink-tinged flowers in April and May that attract bees and mature into bright red, inedible berries in summer. The small leaves are purple for most of the year, turning deep red in a striking display of Autumn colour.
It is quite shade tolerant and is good for hedges up to 1.5 metres high. For other plant sizes, see our full range of berberis or view our other hedging plants.
Delivery season: Berberis hedge plants are delivered bareroot during late autumn and winter, approximately November-March inclusive.
Choosing a size: For a hedge, we generally recommend that you use plants that are graded at 40/60cm. They are cheaper than larger plants, easier to handle, and they will establish well in poor conditions. All our hedge plants are measured by their height in centimetres above the ground (the roots or pots aren't measured).
Features:
Acidic, Alkaline/Chalky, Poor/Dry Soils.
Hedging, Shrub, Wildlife Value.
Coastal Areas, Exposed Windy Areas.
Partial Shade.
Deciduous Foliage.
Good for Autumn Foliage Colour with Red Berries.
Yellow/Gold Flowers.
RHS Plants for Pollinators
Max Height 1.5m.
Growing Berberis Atropurpurea
A thorny shrub that makes a great hedging plant, suitable for any well drained soil in full sun or partial shade. It is tolerant of coastal conditions and can be planted in exposed, windy spots. It is drought tolerant when established, but can be prone to mildew on dry soils.
It is relatively slow growing, and you should not clip the hedge in its first year. In the winter of the year after planting, the hedge should be lightly trimmed, repeating every winter after that until it is mature. When the hedge is fully grown, it can be clipped at any time of year. Specimen shrubs can be lightly trimmed in winter or even coppiced to encourage brighter stem and summer foliage colour.
Spacing a Berberis hedge:
Plant at 3 plants per metre, 33cm apart.
In Your Garden Design
It creates an attractive backdrop and its dramatic foliage colour can be repeated through a border using other dark-leaved shrubs like Cotinus coggygria, Sambucus nigra Black Lace and Physocarpus opulifolius Diabolo. It combines well with the vibrant yellows of Rudbeckia and Achillea, and the purples of Salvia Amistad and Lavender.
Did You Know?
The Red Japanese Barberry or Thunberg's Barberry was introduced to Europe from Japan in the 1860s and these red-purple forms were cultivated in the early 20th century. The species is named after Carl Peter Thunberg, a Swedish naturalist, thought to have identified the shrub on a visit to Japan towards the end of the eighteenth century.
Planting Instructions
Growing Berberis thunbergii Atropurpurea plants:
Berberis thunbergii Atropurpurea will grow well in any soil, including heavy clay and chalk, as long as the site has decent drainage conditions. It is quite shade tolerant and should do well in dappled shade underneath big trees. It will grow near to the coast and in polluted urban areas.
They will not grow well if the site is in full shade or if the soil is prone to waterlogging.
Prepare your site before planting:
It is good to dig over the area where you plant a hedge several months in advance, especially if the soil is poor. Then dig the soil over; remove rocks, roots and other rubbish. Mix in well rotted compost or manure down to the depth of about 2 spades. If your soil is rich, you don't have to dig it over, but killing all the weeds is still necessary.
Watch our video on how to plant a garden hedge for full details. The plants in this video are delivered pot-grown, but planting out bareroot stock is essentially the same.
Remember to water establishing plants during dry weather for at least a year after planting.
Hedge Planting Accessories:
Prepare your site for planting by killing the weeds and grass with Neudorff WeedFree Plus. We always recommend using mycorrhizal "friendly fungi" on the roots of new trees and shrubs.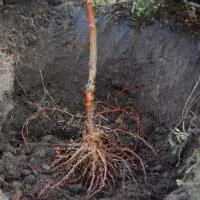 Bareroot?
Bareroot plants have no soil around the roots. They are light, easy to carry and plant.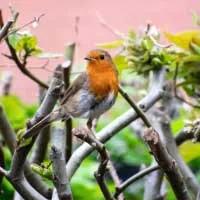 Perfect for Winter
The ground tends to be wet in winter, ideal for planting bareroot plants.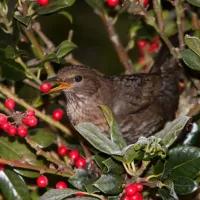 Value for money
You pay less for the same size bareroot plants, compared to potted.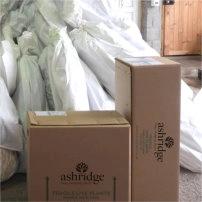 Delivered
Packaged by our experts and sent out by next day delivery.
Tag us @ashridgenurseries