Bareroot Hornbeam Hedging Plants
Carpinus betulus

The details
Carpinus betulus
Hedge Plants
Hedges: 1m to very tall
Soil: All soils
Use: Formal/Native, similar to beech.
Single Row: 3/m
Colour: green/brown
Feature: Tolerant of damp, heavy soil and shade.
RHS Award of Garden Merit
Qty
1-24
25 - 249
250 - 499
£
£1.45
£ 1.29
£ 1.25
£ 1.20
Qty
1-24
25 - 249
250 - 499
£
£1.79
£ 1.59
£ 1.55
£ 1.49
Qty
1-24
25 - 249
250 - 499
£
£2.22
£ 1.92
£ 1.80
£ 1.68
Qty
1-24
25 - 249
250 - 499
£
£2.99
£ 2.49
£ 2.35
£ 2.32
Qty
1-24
25 - 249
250 - 499
£
£5.94
£ 4.89
£ 4.65
£ 4.59
Qty
1-24
25 - 249
250 - 499
£
£6.99
£ 6.29
£ 5.99
£ 5.65
£
£8.99
£ 7.99
£ 6.99
£ 6.84
150/175cm 1m Trough
Potted
£
£160.00
£ 149.99
£ 110.00
Delivery prices
Description
Carpinus betulus: Bareroot Hedging
Delivered by Mail Order Direct from our Nursery with a Year Guarantee


Hornbeam is probably the most popular deciduous hedging plant in the country for shadier and damper sites where beech won't grow: they are very similar looking. Browse our other hedging plants.
Its leaves are the most brilliant of greens in spring; Monty Don says that the colour makes his "eyes dance". The veins on each leaf are separated by a corrugated trough so that the leaf with its serrated edge looks a bit crinkled which gives the hedge an interesting texture. The trunks and bark of hornbeam are always well shaped and slightly ridged. In the autumn (unless it has been exceptionally dry) the leaves turn a clear yellow before becoming pale brown for the winter.
Features
Size sold: 40-175 cm
Height: 1m to very tall
Soil: all soils
Use: Formal/Native
Single Row: 3/m
Double row: 5/m
Colour: green/brown
Feature: tolerant of damp, heavy soil
RHS Award of Garden Merit
Growing Hornbeam
Hornbeam will thrive in almost all soils, unless it is completely waterlogged all year, but prefers a well-drained rich soil. It will grow more slowly and a bit less luxuriantly, but happy nonetheless, in close to full shade. In open, sunny conditions, it is fast-growing.
Just like with beech, if you trim the hedge in mid-summer, the winter leaves will be 'everciduous', meaning that they stay on the branches until next spring.
Spacing a Hornbeam hedge: Like most formal hedging, plant at 3 per metre, 33cm apart in a single row.
Hornbeam in your Garden
It is as an excellent hedging plant, and the best alternative to green beech. Saplings shoot up if well-watered, so within a year or two you will have a tight-knit, low hedge, and over a few more years the potential to possess a tall hedge. A solid, trimmed hornbeam hedge can stand alone in a formal garden with little to distract from it, or can be used behind a mixed border to focus attention on the flowers by providing a consistent, green background.
It is not a specimen tree for a small garden, because it reaches 20 metres without difficulty. It does make for a great park or woodland tree, look at Hatfield and Epping Forests, though, and Carpinus fastigiata with its wonderful, slim column of leaves is suitable for most gardens.
Hornbeam responds well to training. Use it to create tunnels, alleys or more commonly to act as a pleached hedge where the hedge part is raised above the bare trunks. Pleached hornbeam hedges are an elegant boundary wall that divides a garden into different 'rooms', without the enclosed feeling of evergreen hedges. Ham House has a good example of a tunnel of pleached hornbeam emerging from a low-growing yew hedge. Grown in this way, you can cover up the bare trunks at the base, with a combination of forget-me-nots and tulips for the spring and small peonies for summer, or just good old lavender if there is enough sun.
Did You Know?
It has been a highly valued tree for many years because its timber is the hardest grown in this country. There is a venerable tradition of hornbeam being used to create butcher's chopping blocks, piano hammers and pulley blocks. It was often grown as wood 'pasture', leaving room for cattle to graze around the pollarded trees, which were pruned every few years for firewood and small objects like handles. The density is excellent for firewood and for making charcoal.
To see hornbeam at its most splendid, take a trip to Het Loo in Holland to see the Queen's garden, a labyrinth of covered walkways, caves and tunnels all fashioned from hornbeam grown over an oak trellis.
The best example of a pleached hornbeam hedge can be seen at Hidcote Gardens.
Planting Instructions
Growing Hornbeam plants:
Hornbeam will grow well in any averagely fertile conditions, including chalky places. It loves damp clay soil and it will grow well in quite deep shade. It is very hardy when it is dormant in winter, but in the wild, it doesn't grow at high altitude in Northern regions where late spring and early winter frosts are more severe. Nor will it grow well if the soil is very poor and dry.
Watch our video on how to plant a formal hedge for full details. The plants in this video are delivered pot-grown, but planting out bareroot stock is essentially the same.
After you plant a hedge, the most important thing to do is water it in dry weather. If you didn't use a mulch of some kind, you will also need to weed around the hedge. Both of these will be necessary for at least a year after planting.

Trimming Formal hedge plants:
Hornbeam doesn't need any clipping at all in its first year. From the second winter onwards, your young hedge should be trimmed lightly once a year, until it is mature. When it is fully grown, the ideal time to clip it is in August. This will make the hedge hold onto its autumn leaves for longer during winter.
Special notes on caring for Hornbeam hedges:
Hornbeam is a very tough hedge plant that shouldn't need special attention once it has established, except that we advise you not to carry out major pruning work in late spring. It will "bleed" sap, which isn't a major problem but it is better to avoid it.
If you didn't use a mulch fabric, it is beneficial to mulch around the base of the hedge each year with well-rotted manure or compost.
Hygiene & Diseases:
Dead, damaged or diseased wood can be pruned off as soon as it appears. Disinfect your pruning tools between every cut if there is any sign of disease.
Burn or dispose of any diseased material, do not compost it.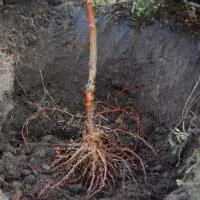 Bareroot?
Bareroot plants have no soil around the roots. They are light, easy to carry and plant.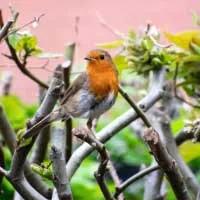 Perfect for Winter
The ground tends to be wet in winter, ideal for planting bareroot plants.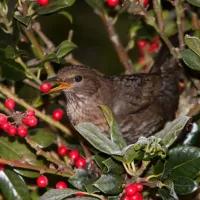 Value for money
You pay less for the same size bareroot plants, compared to potted.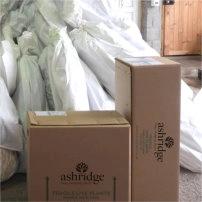 Delivered
Packaged by our experts and sent out by next day delivery.
Tag us @ashridgenurseries