Carrots are high in antioxidants, vitamins and minerals. This heart-warming soup is not only delicious, but a cheery eyeful of colour too.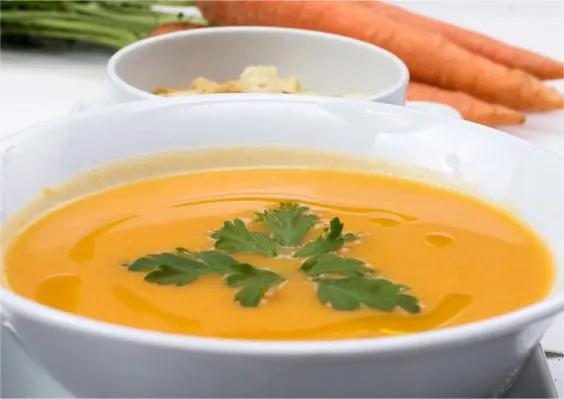 Ingredients:
150g butter
2 medium onions, finely chopped
Large bag of carrots, washed and chopped (about ½ kg)
2 cloves garlic, finely crushed
1 1/2 tsp cumin seeds
½ tsp curry powder (heat according to your taste
500ml chicken or vegetable stock (stock cubes are fine)
Sprig of thyme
Chopped coriander and a few drops of olive oil to decorate
Method:
Melt the butter in a pan and add the carrots, onion and garlic with a generous shake of salt. Sweat, with the lid on until softened. Do not burn!
Dry fry the cumin seeds until you can smell them, then add, with the curry powder, to the vegetables. Mix well and cook for a few minutes until the flavours are well integrated.
Add the stock, thyme, 300ml water and simmer for 30 minutes. Take out the thyme sprig and liquidise the soup until it's the consistency you prefer - chunkier or smooth (in which case you can sieve it for a real pro touch). Season to taste and decorate with a swirl of olive oil, chopped coriander and a sprinkling of freshly ground black pepper.