Virginia Creeper / American Ivy Plants
Parthenocissus quinquefolia
The details
Parthenocissus quinquefolia
Deciduous with brilliant autumn colour
Good in sun or partial shade
Self supporting
Fast growing to 70' / 20m
Wonderful habitat for birds and insects
5 lobed leaflets
Choose a size
How are they measured?
P9 (9cm Pot - Caned)
Potted
Delivery prices
Description
Parthenocissus Quinquefolia
Parthenocissus quinquefolia, American Ivy or Virginia Creeper, is an aggressively vigorous deciduous climber with lovely 5 lobed leaflets of a luxuriant green that turn glorious shades of red and orange early in the autumn. The small greenish flowers are insignificant but are followed by 1/4" blue-black berries which provide a food source for birds in winter. Can also be used as ground cover.

It climbs by means of tendrils and suckers that attach to bark or masonry without damaging the structure. No modern building, or sound old building, has anything to worry about, but it can work its way into weak, crumbly and cracked mortar, over the course of many years.
It will quickly cover an area 12m x 6m, making it unsuitable for smaller gardens. Being so vigorous, it will need regular pruning to keep it under control: it likes to choke gutters.
Browse our full range of climbing plants.
Great for your garden:
Virginia Creeper is a very tolerant climbing plant being happy in most soils and situations and will quickly take over a large wall, covering it closely with five lobed leaflets of bright green.

It is excellent for a north or north-east facing wall where the shade will ensure the best autumn colour. Its fast growth makes it ideal camouflage for an unsightly shed or outbuilding and it can also be used to climb into a strong tree. It can be used as groundcover where the stems will root where they touch and it will quickly smother out weeds.
Parthenocissus quinquefolia characteristics:
Deciduous with brilliant red/orange autumn colour
Good in any position where it has space
Fast growing to 12m x 6m
Insignificant green flowers and small black berries 1/4" in diameter
Self supporting after establishment
Good disease resistance
Wonderful habitat for birds and insects
Rabbit and deer proof
Tolerates pollution
5 lobed leaflets
Look out for:
Parthenocissus quinquefolia is reasonably disease free but may, very occasionally, suffer from red spider mite infestations or problems with vine weevils. These can both be treated with proprietary sprays. It will need regular pruning to keep it within bounds. The sap can be a mild irritant and the berries would cause a stomach upset if ingested.
Trivia:
Parthenocissus translates from Greek as 'virgin ivy' and so the name possibly derives from its common name, Virginia Creeper. Quinquefolia means five-leaved. The plant was brought to the UK in the middle of the 17th century by John Tradescant (1608-1662) who travelled to the New World and was possibly one of the most famous of early British plant hunters.

Tradescant succeeded his father as gardener to Charles 1 and had an estate and extensive plant collection in Lambeth. He also had a large collection of artefacts gathered by father and son. The Tradescant library and museum were obtained by Elias Ashmole and form the major part of the Ashmolean Museum where most of it still remains intact.
Woodbine is a common name applied to this and several other vines, such as honeysuckle, especially Lonicera periclymenum.

In its native America, this plant is easily mistaken for poison ivy and there is a small rhyme to separate the two:

'Leaves of 3 - let it be, leaves of 5 - let it thrive'.
Planting and Care Instructions
How to plant Parthenocissus quinquefolia:
Though tolerant of dry conditions, Parthenocissus quinquefolia should be planted about 12" from the wall in a hole just larger than the rootball. The planting hole should be backfilled with good compost and well watered in.

It will need some support initially so canes should be provided to encourage the stems towards the wall. Once growing away it will attach itself by means of suckers on tendrils that will do no structural damage. For the best autumn colour it should have some shade but will be happy in any position.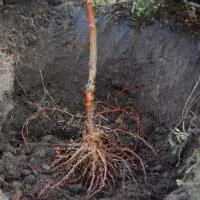 Bareroot?
Bareroot plants have no soil around the roots. They are light, easy to carry and plant.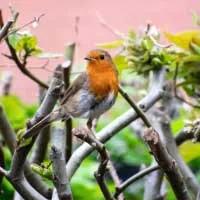 Perfect for Winter
The ground tends to be wet in winter, ideal for planting bareroot plants.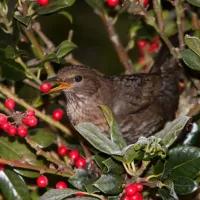 Value for money
You pay less for the same size bareroot plants, compared to potted.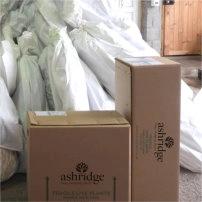 Delivered
Packaged by our experts and sent out by next day delivery.
Tag us @ashridgenurseries