Yellow Wall Virginia Creeper
Parthenocissus quinquefolia Yellow Wall
The details
Parthenocissus quinquefolia
Leaf Colour: Green, Yellow
Height: 15m x 8m
Flowering: Jun-Jul
Scent: None
Fruit: Blue-black
Hardy deciduous climber & ground cover
Self-supporting
Choose a size
How are they measured?
Description
Parthenocissus quinquefolia Yellow Wall
Set your house aglow this autumn with sunny shades of Parthenocissus quinquefolia Yellow Wall, a Virginia creeper with alternative late-season colouring. It's perfectly named - instead of red, the chartreuse green summer foliage matures into bright golden yellow hues, lightening up the garden at a time of year when you need it.
We also have plain Virginia Creeper and the closely related Boston Ivy.
Browse all our climbers.
Yellow Wall's attractive five-lobed leaves are joined by tiny white-green flowers in summer and blue-black fruit if it's been hot. This creeper is self-supporting, holding onto walls with tendrils tipped with adhesive pads. If you want to cover up a wall or fence quickly, it's a great choice, and it is effective ground cover too.
Features
Use: Self-supporting Climber or Ground Cover
Leaf Colour: Chartreuse green in summer, yellow in autumn.
Height: Vigorous to 15m x 8m.
Flowering: June to July.
Colour: Inconspicuous, greenish-white.
Scent: None.
Fruit: Blue-black.
Hardy, deciduous.
Very easy to grow
Growing Parthenocissus quinquefolia Yellow Wall
This creeper gets huge fast, up to 15m with a spread of 8m after 5-10 years, so be sure you have the space for it. It cannot damage sound structures, but be forewarned that if you want to remove it in the future, it can take paint off in the process.
It will tolerate all fertile, well-drained soil types, full shade to full sun and any exposure and aspect; you'll get the best autumn colour in the shade. If you live in one of the drier areas of the country near the coast, it can withstand salt-laden winds and is drought-tolerant when established. It is also hardy in an average winter (RHS H4, -5C to -10C).
If allowed to grow up trees, it can damage them with its sheer weight and shade them out, so remove a chunk of it every year to keep it under control.
Virginia Creepers all have extensive root systems, making them a chore to get rid of once mature and spread over an area (this quality also makes them good as ground cover). The Royal Horticultural Society advises gardeners to take great care with planting, management and disposing of waste plant material, which may root elsewhere.
Pruning in early winter is important, especially around gutters, or vulnerable wooden window frames and roofs to prevent the plant from getting out of hand.
Yellow Wall Creeper in Your Garden
The vine can be used as a shading plant for buildings to help keep them cool in summer.
The golden leaves form a wonderful backdrop for the late summer garden, especially when contrasting shrubs and herbaceous perennials are planted in front of it. Think purple-leaved smoke bush (Cotinus), asters, Rudbeckia and Echinacea.
They are good in the wildlife garden, as the berries are a winter food source for birds, and an old tangle of vines provides good nesting sites.
Did You Know?
Yellow Wall was bred by renowned Polish clematis and climber specialist Szczepan Marczyński in 2011. His plants are known for their tough, easy-going nature and disease resistance.
You may find it listed as Vitis quinquefolia, Vitis being a vine, as it is a member of the grape family. Other common names include Victoria creeper, five-leaved ivy or five-finger.
It is native to eastern and central North America, eastern Mexico and Guatemala.
Parthenocissus comes from the Greek for 'virgin ivy' but it's not closely related to the true ivies (Hedera). Quinquefolia translates as 'five-leaved'.
The sap contains needle-shaped crystals of calcium oxalate which can cause irritation to some people's skin. Likewise, the berries contain oxalic acid which is toxic to humans.
Planting Instructions
How to plant Virginia Creeper Yellow Wall
Choose a spot by a well-maintained wall in full sun, partial shade, or shade. Improve the soil by removing roots, weeds, large stones and mix in about 25 per cent by volume of well-rotted compost or manure.
Position the crown at the same height as the pot soil level. Spread the roots out, wet them and sprinkle them with Rootgrow mycorrhizal fungi.
Backfill the hole with mixed soil and compost, firming it gently as you go. Water in thoroughly.
Tie in new shoots and tendrils into canes or a trellis until they attach to the wall and can climb without support.
As a row to cover a fence, space plants 3-4 metres apart.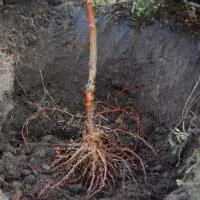 Bareroot?
Bareroot plants have no soil around the roots. They are light, easy to carry and plant.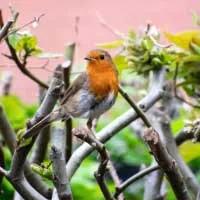 Perfect for Winter
The ground tends to be wet in winter, ideal for planting bareroot plants.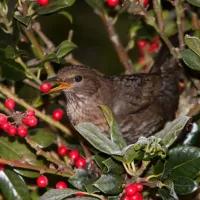 Value for money
You pay less for the same size bareroot plants, compared to potted.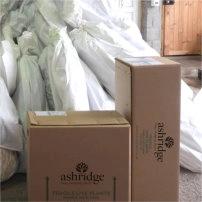 Delivered
Packaged by our experts and sent out by next day delivery.
Tag us @ashridgenurseries