Darwin's Barberry Hedge Plants
Berberis darwinii
The details
Darwin's Barberry
Hedge Plants
Thorny. Small, evergreen leaves.
Decorative flowers & edible fruit.
Excellent garden hedging.
Max. Height: 2-3m
Year round delivery.
RHS Award of Garden Merit
Choose a size
How are they measured?
Qty
1-24
25 - 249
250 - 499
£
£4.98
£ 3.96
£ 3.48
£ 3.00
£
£16.98
£ 15.96
£ 15.60
£ 15.00
Delivery prices
Description
Berberis darwinii: Bareroot Berberis Hedging Plants
Delivered by Mail Order Direct from our Nursery with a Year Guarantee


Evergreen, prickly, clippable, flowering and scented: Berberis darwinii or Darwin's Barberry has almost everything you could ask from a hedging plant or specimen bush, which is why it holds an RHS Award of Garden Merit. It looks good planted close to a wall or fence, and it is happy in the dappled shade cast by overhanging trees. Even though the prickly foliage is evergreen, it changes colour to rusty red in autumn.
It flowers in April, with dense clusters of fragrant, bright orange and yellow flowers appearing beneath the green leaves. These ripen into decorative bunches of edible purple-blue berries. Grown as a hedge, it regularly into a neat, formal shape. We recommend letting it grow a bit wild and hard pruning it every few years, so that you can enjoy the arching stems with their colourful flowers and fruit.
Good for hedges up to about 2-3m high. See our full range of berberis, or check out our other hedging plants.
Delivery season: Berberis darwinii hedge plants are delivered pot grown, year round when in stock.
Choosing a size: Small plants are cheaper and overall more convenient for hedge use, unless instant impact is your priority. If you are only buying a few plants for ornamental use, then you may as well use bigger ones. All our hedge plants are measured by their height in centimetres above the ground (the roots aren't measured).
Features:
Evergreen
Very hardy
Any well drained soil, coastal areas, exposed windy areas.
Perfect formal hedging.
Max. Height: 2-3m
RHS Award of Garden Merit
Growing Berberis darwinii
Suitable for any well-drained soil and can be planted in partial shade, although a sunny position will encourage more prolific flowering. It is tolerant of coastal conditions and can be planted in exposed spots and inner city areas too, making it a useful, versatile shrub. It is drought tolerant when established, but can be prone to mildew on dry soils.
It is naturally bushy, so it doesn't need clipping in its first year. In the winter of the year after planting, the hedge should be lightly trimmed, repeating every winter after that until it is mature. When the hedge is fully grown, it can be clipped at any time of year.
Spacing a Berberis hedge:
Plant at 3 plants per metre, 33cm apart.
Good in Your Garden
Great to add colour and structure to the winter garden, Berberis darwinii combines well with the vibrant stems of dogwoods and willows. The tiny holly-like leaves looks good as a contrast to the broad foliage of evergreens such as Fatsia japonica and Bergenia. Underplant with tulips like Ballerina or Prinses Irene to pick up the orange tones of the blossom in spring.
Did You Know?
This South American species, known locally as Michay, was first identified by Charles Darwin in 1835 during the second voyage of the Beagle. It was imported to Britain by the great Cornish plant collector William Lobb in 1849.
The fruit is edible and was a normal part of the local diet in its native lands, but is probably too sharp tasting for most people to enjoy fresh, so you could try using it as a surprise ingredient in a jam.
Flowers & Bees: In April, it produces tiny orange and yellow nectar-rich flowers that attract pollinating insects, especially bees. It is included as one of the RHS Plants for Pollinators.
Planting Instructions
Growing Berberis darwinii plants:
Berberis darwinii will grow well in any soil with decent drainage: it likes moist conditions, as long as the site isn't prone to waterlogging. They are suitable for inner city planting and will grow quite close to the sea, in areas that receive salt winds.
They will not grow well if the site is in deep shade or too wet. They are drought tolerant plants when they are established, but they can be prone to mildew on dry soils.
Prepare your site before planting:
It is good to dig over the area where you plant a hedge several months in advance, especially if the soil is poor. Destroy the weeds first. Then dig the soil over; remove rocks, roots and other rubbish. Mix in well rotted compost or manure down to the depth of about 2 spades. If your soil is rich, you don't have to dig it over, but killing all the weeds is still necessary.
Watch our video on how to plant a garden hedge for full details. The plants in this video are delivered pot-grown, but planting out bareroot stock is essentially the same.
Remember to water establishing plants during dry weather for at least a year after planting.
Hedge Planting Accessories:
Prepare your site for planting by killing the weeds and grass with Neudorff WeedFree Plus.
You can buy a hedge planting pack with sheets of mulch fabric and pegs to hold it down.
If you are planting in an area with rabbit and/or deer, you will need to use a plastic spiral guard for each plant, supported by a bamboo cane.
If your soil quality is poor, we recommend using mycorrhizal "friendly fungi" on the roots of new trees and shrubs.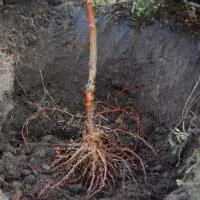 Bareroot?
Bareroot plants have no soil around the roots. They are light, easy to carry and plant.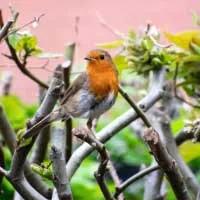 Perfect for Winter
The ground tends to be wet in winter, ideal for planting bareroot plants.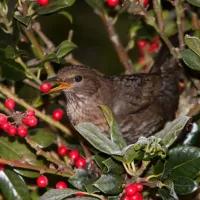 Value for money
You pay less for the same size bareroot plants, compared to potted.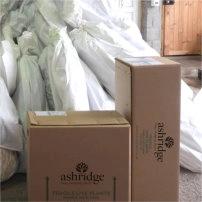 Delivered
Packaged by our experts and sent out by next day delivery.
Tag us @ashridgenurseries