Photinia Red Robin Hedge Plants
Photinia x fraseri 'Red Robin'
The details
Photinia x fraseri 'Red Robin'
40-125cms Hedge Plants
Requires well drained site, but likes clay.
Vigorous screening tree.
Good for formal & informal hedges
Shade tolerant, but colour is best in the sun.
Grows on the coast.
RHS Award of Garden Merit
Max. Height: 5m
Pot Grown: Year Round Delivery
Choose a size
How are they measured?
Half Standard 18 Litre
Potted
£
£100.00
£ 94.98
£ 94.98
Delivery prices
Description
Photinia x fraseri 'Red Robin' Hedging
Photinia x fraseri 'Red Robin' makes one of the most exciting, colourful evergreen hedges and is also a fine specimen plant. It clips easily and can be hard pruned, which is ideal for both formal hedging and low-maintenance borders. 'Red Robin' gets its name from the bright red young leaves that appear each spring on the tips of every twig and stem, creating a superb show of colour that few other evergreens can compete with. The leaves gradually change, in a sort of reverse autumn display, through a muddle of oranges and bronzes to a lush, glossy green during the summer.
As long as Photinia gets plenty of sun, the new foliage will be followed in late spring by branching clusters of little white flowers with pale purple stems. These become little round, red (inedible) fruit in autumn. All in all, Red Robin is dressed to impress for most of the year.
Suitable for formal garden hedges up to about 5 metres high.
Photinia is only delivered pot-grown, year round.
All our hedge plants are measured by their height in centimetres above the ground (the roots aren't measured).
Browse our selection of garden shrubs or our full range of hedging.
Growing 'Red Robin' Photinia
'Red Robin' does need sun to flower well (and so produce berries) but will still grow well in quite shady spots at the back of a shrub border. It is not hardy enough for cold, exposed sites.
It will grow in just about any well-drained soil type. Heavy clay is alright if it is on a slope, ridge or other site that does not trap water; waterlogged roots will kill your plants and excess humidity in the air can cause unsightly leaf spot.
Give your plants a little trim in early spring to bring on a strong flush of bright young leaves. As these begin to lose their glow, lightly trim them again to encourage another wave; you can do this about three times a year, with the last trim in July. Regular trimming also helps to prevent leaf spot.
Always clean up the fallen leaves from under your plants.
Photinia has an upright growth habit, so it naturally holds its shape when used as a hedge plant. You can also grow it as a tree with a domed canopy, about 5 metres high.
Spacing a Photinia Red Robin hedge: Plant at 2 plants per metre, 50cm apart.
'Red Robin' In Your Garden Design
If you want to take full advantage of those gorgeous young red leaves, plant in a place where they are backlit by the sun for at least part of the day. Its dense growth also makes an excellent garden screen and you can grow it as a standard if you want to make a pleached hedge. Standards work beautifully on either side of a doorway. Ornamental grasses and lavender look particularly good against photinia and spring bulbs such as crocuses or grape hyacinths, pink or blue, planted underneath make great companion plants. Euonymus are ideal shrubs to go with them as are hebes and glossy-leaved, pink-flowered camellia.
Did You Know?
Also known as Red-tip photinia, the original Photinia x fraseri is a cross between Photinia glabra and P. serratifolia. 'Red Robin' was bred in New Zealand and has won the RHS Award of Garden Merit and the Award of Merit.
Planting Instructions
Growing Photinia Red Robin plants:
Photinia Red Robin will grow well in any soil with decent drainage, including heavy clay, as long as the site doesn't get waterlogged. They are quite shade tolerant, but they always look best in full sun.
Photinia is not suitable for cold, exposed sites or frost pockets. It should be fine for sheltered Scottish gardens on the warmer West coast.
Prepare your site before planting:
It is good to dig over the area where you plant a hedge several months in advance, especially if the soil is poor. Destroy the weeds first: nettles, brambles and ground elder are tough and weed-killer is the best way to remove them. Then dig the soil over; remove rocks, roots and other rubbish. Mix in well rotted compost or manure down to the depth of about 2 spades. If your soil is rich, you don't have to dig it over, but killing all the weeds is still necessary.
Watch our video on how to plant a garden hedge for full details.
Remember to water establishing plants during dry weather for at least a year after planting.
Hedge Planting Accessories:
Prepare your site for planting by killing the weeds and grass with Neudorff WeedFree Plus.
You can buy a hedge planting pack with sheets of mulch fabric and pegs to hold it down.
If your soil quality is poor, we recommend using mycorrhizal "friendly fungi" on the roots of new trees and shrubs.
You can also improve your soil with bonemeal organic fertiliser and Growmore.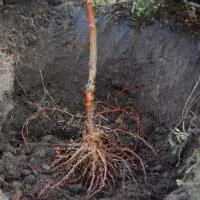 Bareroot?
Bareroot plants have no soil around the roots. They are light, easy to carry and plant.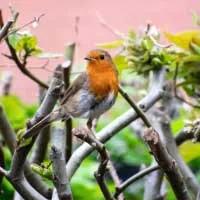 Perfect for Winter
The ground tends to be wet in winter, ideal for planting bareroot plants.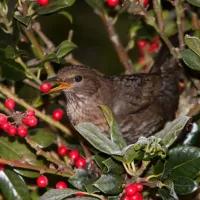 Value for money
You pay less for the same size bareroot plants, compared to potted.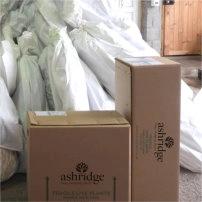 Delivered
Packaged by our experts and sent out by next day delivery.
Tag us @ashridgenurseries