Crabapple Trees
Buy Ornamental Malus Varieties in Standard Sizes
Delivered Direct from Our Nursery
Order Your Large Bareroot Crab Apple Trees Today

Flowering Crab Apples are some of the most decorative smaller garden trees, covered in white, pink, or purple Spring blossom.
Their foliage comes in green and purple, and most varieties colour well in autumn before displaying their crab apples like bright marzipan fruits until after well Christmas.
Many varieties of Malus sylvestris are useful for people with domestic apple trees, because they have such a long flowering period that they will pollinate your entire orchard. By far, the two best varieties for this purpose are Golden Hornet and John Downie.
All crab apples are self fertile and do not need a pollination partner.

What size Crab Apple trees should I buy?

If you are not in a hurry to get a full sized Crab Appletree, we recommend starting with the smaller 6/8cm girth size.
If you are in a hurry and need instant impact, then go for the 8/10cm girth size.

Standard trees are measured by their girth 1 metre above the ground, and young saplings are measured by height.
So, a 6/8cm Standard Crab apple tree is much bigger than an 60/80cm sapling Crab apple tree. If a tree is available in both sizes, it will be noted in the product description.

Browse our other ornamental garden trees.
Your Crab apple trees are delivered by mail order direct from our nursery, along with expert advice, friendly support, plus our bareroot Guarantee, so you can give them a whirl with complete confidence.
Learn More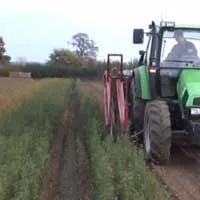 Grown
Grown and lifted by our specialist plant growers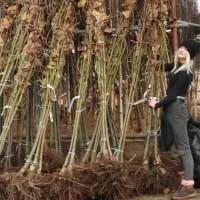 Picked
Picked by our team of experts from our Somerset nursery.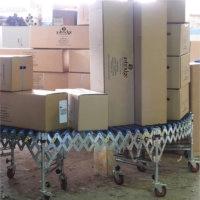 Packed
We've been packing and sending quality plants since 1949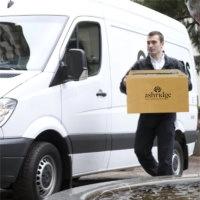 Delivered
Packaged by our experts and sent out by next day delivery.
Crab apples are productive ornamentals, with delicate pink and white blossoms appearing in spring and offering year-round seasonal interest.
Where Can I Grow Crab Apple Trees?
Crab Apples are very tough and will grow in any reasonably well drained soil, including heavy clay as long as it is not waterlogged.

Partial shade is fine, but like all fruiting trees, crab apples fruit and flower best in a sunny location.

The ideal soil conditions are moist, rich, neutral to slightly acidic, with a yearly mulching.

As a tree, they are wind resistant, but in exposed locations the wind will tend to knock the fruit off by early-to-mid Autumn. In sheltered spots, they can hold their colourful deep into winter.
How tall do Crab Apple trees grow?
Ornamental Crab Apples are relatively small, compact trees to under 10 metres, perfect for most gardens.

The weeping variety Red Jade only reaches 3-4 metres, and Red Sentinel is very compact at about 7 metres tops, with a narrow canopy.

All Crab Apples respond well to pruning and are easy to control.
When and How do I plant Crab Apple Trees?
You can plant Pot Grown Crab Apple trees at any time of year, and Bareroot trees during winter, except when the soil is frozen.

The best time to plant Crab Apple trees is from late Autumn to early Spring (November to March), using bareroot stock, which is cheaper, easier to carry and plant, and tends to establish even better than their pot grown equivalents.

Watch our Tree Planting Video for instructions.
Although optional, we strongly recommend using Rootgrow.

Aftercare:

Remember: the two biggest killers of recently transplanted trees are underwatering, and being choked by weeds and grass.

Regular, thorough watering is vital during dry weather in their first spring and summer, and highly recommended the following summer, especially if there is a heat wave.
Either remove weeds and grass by hand periodically, or use some form of mulch to suppress them.

Tree Planting Accessories

Standards that are 6/8cm in girth and upwards are quite big trees, so they need a tree planting stake and a tree tie (with a buffer between the tree and the stake) during their first couple of years.

A mulch mat is will suppress weeds & grass, and preserve moisture: remember that dry soil and competition with weeds are the two biggest killers of new trees.
Even with a mat, you should remove anything that manages to grow up between the mat and the trunk in late spring and summer.
You can buy those items separately, or save money with our Tree Planting Pack.

You definitely need a tree guard if there are deer or rabbits about.
In urban areas with no wild animals, tree guards are great for protecting against mowers and strimmers.
For that purpose, you can cut one tree guard into several pieces about 20-25cm long, to act as skirting around the base of the tree.

Mycorrhizal Fungi

We cannot recommend using Rootgrow fungi enough: it makes a huge difference, especially with larger trees, which are scrambling to regrow the root systems that they lost when we dug them up, in order to support their now top-heavy growth above ground.

Mycorrhizal fungi assist the roots in accessing soil nutrients and water, and protect the roots from soil critters.
In return, the tree shares sugar with them, and the result can be over 50% more growth above ground!
How do you care for a crab apple tree?
Our crab apple trees for sale are UK-grown in our beautiful Somerset nursery. To make the most of their white spring flowers and colourful crop, mulch them in spring after frosts have passed and water them generously, particularly when first planting bareroot trees.