Gojiberry Plants
Lycium barbarum Instant
The details
Great for beginners
Super vigorous, hardy, low maintenance
Full sun, any well drained soil
Fruit taste best dried
Precocious: crops the year after planting, if not same year
Choose a size
How are they measured?
Description
Tibetan Gojiberry Plants: Lycium barbarum
Gojis are easy to grow in a sunny location. Low maintenance and extremely vigorous, they are pretty much disease free, and this variety will often give you a couple of fruits in the summer after planting if it is happy, and will be cropping at pretty much full capacity by its third year, which is about as fast as it gets. The fruit merely taste fine when fresh, mild and sweet, with a touch of liquorice, and will blend innocuously into a smoothie or fruit salad, but they transform into an excellent natural candy after drying.
The small purple flowers are not interesting, but the ripening fruit look lovely amongst the lush summer foliage.
Browse all of our soft fruit plants.
Features:
Extremely easy to grow in any sunny, well drained location.
Very vigorous, hardy, grows near the coast and on chalk.
Fruit are nutritious and, after drying, also delicious.
Grows well as a fruiting hedge
Growing Goji Bushes:
All they really need to thrive is full sun and good drainage. Their roots are not especially deep, so it is easy to keep them well-fed with rich mulch. They are also prone to drying out during their first two years, so water them well during dry spells; by their third year they will be well settled in and need help less often.
The most productive wood is two years old, so standard procedure is to prune out two-year-old stems in the winter, making space for the new stems to replace them. You could try marking and then not pruning stems that didn't crop much in their second year for a third season, but most people prefer to keep it simple.
The fruit are carried on the lateral branches, which you can trim to about six inches to keep everything open, tidy, and encourage a better fruit set.
You can hard prune unproductive mature plants to the ground in early spring: give them a little fertiliser and, if they are in good spirits and get enough sun, they will usually still fruit a bit that year.
To get the most fruit off them, train the stems onto support wires to let them grow to a sensible height of about 2-3 metres, and to give each stem its own space. Grown this way, mature goji plants look a bit sad, sparse, and untidy in winter after the leaves fall, so they are not a great candidate for the focal point of your fruit growing area. However, they can be planted as a hedge with 1 metre between plants; clipping will make them bushy and much more ornamentally appealing, at the expense of a full crop.
How to Dry Gojiberries
Dehydration or freeze drying machines are convenient and produce superb results, but you don't need any special equipment to get started with your first crops.
Preparation: While not essential, you can speed up and improve the drying process by dunking the berries in boiling water for thirty seconds, then plunging them into ice water to split and damage their skin, which helps the moisture inside to leave easily.
Sun: Five days of continuous full sun should be sufficient. Spread the berries out on trays, protect them with a cheesecloth against flies, and jiggle them a couple of times a day to turn them, making sure they don't pile up. An airy greenhouse is the best place.
Freezer: Your ordinary freezer is adequate for freeze drying. Spread the fruit out on a tray and put it in the coldest section. Take it out once a day for the first few days to stir the fruit around, so that all sides gets exposed to the cold, dry air. It takes some practice to learn when they are ready. You check them by defrosting one: if it turns black/brown when it thaws, it needs more time to freeze dry. If the colour doesn't really change, it is ready. It's that simple, and you can start practising today with pretty much any fruit! They will then store for a long time in airless, dry containers at room temperature.
Did You Know?
A Himalayan fruit that is common in India and China, usually known as wolfberry or boxthorn in the past, it has been cultivated in Europe since the late 1600's without much interest until quite recently. It was introduced to Britain in the 1730's by the Duke of Argyll, who called it his tea tree, but was mostly grown as an exotic ornamental hedge, rather than for fruit production.
In the early 2000's, a massive marketing campaign in the early days of reliable ecommerce was initiated by multi-level marketing companies such as FreeLife International, who were capitalising on a surge of cheap Asian fruit hitting Western markets, as well as Asian companies keen to use the internet to make this easy crop and its products fashionable. They promoted gojis as a fabulous superfood with the ability to extend life, restore health, improve finances, repair relationships, and do the dishes properly, much to the humble Gojiberry's surprise after 300 odd years of being little more than a curiosity hedge in Europe. This promotional campaign got a huge boost in 2009, when FreeLife International was taken to court in a class action lawsuit over their goji-related health claims, and settled the next year.
A key figure in the legend of Goji is Li Qing Yuen, a seven-foot tall Chinese soldier, family man, and herbalist who claimed to have been born in 1736 and died in 1933, making him about 197. However, his claim was respectfully disputed by the scientific investigation of Professor Wu Chung-chieh, who proved to his conclusive satisfaction that Li Qing Yuen was in fact born in 1677, thus dying at the age of around 256. Given that gojiberries are as common where Li Qing Yuen lived as elderberries are here in Britain and far more popular as a snack, it is unclear why people would credit them with his long life, and not his reported 14 to 24 successive wives and 180 to 200 children and grandchildren: perhaps this is the power of advertising. His own Goji-free words on living a long and healthy life are said to be "keep a quiet heart, sit like a tortoise, walk sprightly like a pigeon and sleep like a dog."
Lycium barbarum is commonly known as Tibetan Goji and L. chinense is the Chinese Goji. They have similar fruit; the Tibetan ones are a good bit bigger.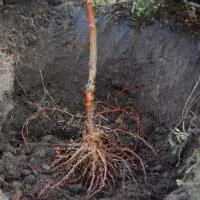 Bareroot?
Bareroot plants have no soil around the roots. They are light, easy to carry and plant.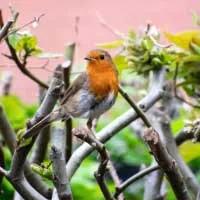 Perfect for Winter
The ground tends to be wet in winter, ideal for planting bareroot plants.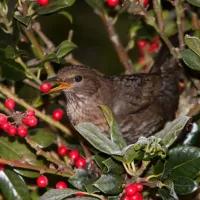 Value for money
You pay less for the same size bareroot plants, compared to potted.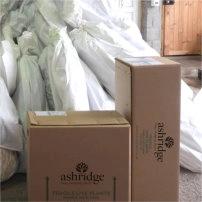 Delivered
Packaged by our experts and sent out by next day delivery.
Tag us @ashridgenurseries