Spartan Apple Trees
Malus domestica Spartan
The details
Height: to 4.5 m
Use: Eating
Pruning: Spur bearer
Pollination: Self Fertile
Picking: Oct
Apple colour: Red
Pollination: Group C
Choose a size
How are they measured?
Description
Spartan Eating Apples
Spartan is a super little eating apple. It boasts a glorious red colour that deepens to a maroon red when fully ripe with whiter than white, crisp and fine flesh. Visually therefore it is tempting to eat and in practice its sweet, slightly vinous flavour makes it very popular. Cropping in October it is a relatively late eater. Its single, white blossom is very pretty and is at its best in the first half of May. Spartan is very much not so in that it is fulsome with its crop which it bears generously every year, rarely succumbing to any of the common apple maladies like scab or canker. It lives up to its name however in being hardy in frost pockets and grows well and easily even in the far North. Take a look at the rest of our apple trees.
A City State for Spartans
Being an excellent pollinator, Spartan is a useful apple to include in an orchard where you may have triploid or other group B-D apples. Leave the apples on the tree for as long as you can because the flavour improves as the colour deepens. The apples do not store well because the flesh becomes woolly and soft. Keep them for up to a week only. Spartan juice is delicious and well worth the trouble so if you have excess fruit, juice them and freeze what you can. With its blossom early in May you could also surround Spartan with an array of bulbs to make for a wonderful spring display. Some Triumph tulips like Blueberry Ripple would look fantastic and continue with the fruity theme or go for the elegant Lily Tulips - White Triumphator would look lovely.
Features
Height: to 4.5 m
Use: Eating
Pruning: Spur bearer
Pollination: Self Fertile
Picking: October
Apple colour: Red
Pollination Group: Group C
Pollination: Excellent pollinator
Factettes about Spartan
This apple has nothing to do with Greece; unusually, it is the product of a formal scientific breeding programme carried out during the 1920s in Summerland, British Columbia. Rarely do we find apple varieties coming from the Americas to us but it has proved to be a fortunate move and the apple is now grown widely across the UK having been introduced in 1936. One of Spartan's parents is the American apple McIntosh which gave it the deeply coloured skin and white flesh. Its pollen parent is said to be Newtown Pippin.
Planting Instructions
Remove the turf (if any) in a circle of about 100cms (3ft) diameter. Soak the tree roots in water for about an hour before planting.
Dig a square hole that is about 20cms comfortably wider in both directions than your Spartan roots but only a little (maybe) 5 cm deeper. Do not plant less than 30cms from any wall.
Hammer in a tree stake off centre in the direction of the prevailing wind if the tree needs support (so the wind blows the tree away from the stake).
Loosen the soil in the bottom of the hole and add or take away until, when the tree roots are on it, the soil mark on the trunk is at the level of the ground outside the hole. Keep the graft (if there is one) at least 5cms higher than the surrounding soil. Tie the tree to the stake and position ready for planting. Wet the roots again, sprinkle Rootgrow on them and return the soil from the hole, firming it down every few centimetres.
Water well, mulch the circle in the grass and water weekly thereafter through the first summer. Use a tree guard if you have "vermin"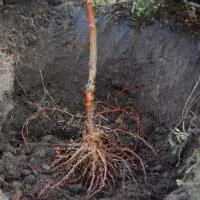 Bareroot?
Bareroot plants have no soil around the roots. They are light, easy to carry and plant.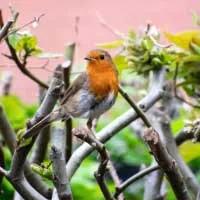 Perfect for Winter
The ground tends to be wet in winter, ideal for planting bareroot plants.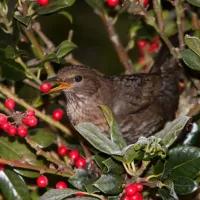 Value for money
You pay less for the same size bareroot plants, compared to potted.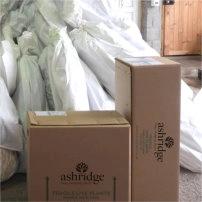 Delivered
Packaged by our experts and sent out by next day delivery.
Tag us @ashridgenurseries