Serbian Gold Quince Trees
Cydonia oblonga Serbian Gold
The details
Culinary use. Rich, aromatic flavour.
Self-fertile.
Ornamental bark and pink blossom.
Harvesting: September.
Stores well.
Ornamental bark, pink blossom, good autumn colour.
Highly fragrant.
RHS Plants for Pollinators
RHS Award of Garden Merit
Choose a size
How are they measured?
Description
Cydonia oblonga Serbian Gold Quince Trees
Serbian Gold quince trees are stunningly ornamental. The aromatic fruits are picked earlier than most, in late September, and ripened indoors for at least a fortnight before use in the kitchen.
Healthy and self-fertile, they produces heavy crops of fragrant, apple-shaped fruits. Quinces are tip bearing fruit trees which means that it take a bit longer for them to reach full cropping. The fruit can be huge, between 0.5 and 1kg, and they are incredibly fragrant. Not only do they perfume a house, on a sunny day with a gentle breeze the fragrance can fill a garden.
Browse our range of quince trees or our full variety of fruit trees.
They are fantastic in jellies and jams, and can be made into membrillo, a quince 'cheese'. They can be added to pies and tarts and are particularly good roasted with dark meats and game. You can also quickly bake them like a cooking apple.
Characteristics of Cydonia oblonga Serbian Gold:
Fruit: Culinary use. Rich, aromatic flavour.
Pollination: Self-fertile
Harvesting: Pick late-september - stores for at least 2 weeks or up to 2 months.
Characteristics: Ornamental bark, pink blossom, good autumnal colour. Highly fragrant.
Suitable for: Training, freestanding, containers.
RHS Plants for Pollinators
RHS Award of Garden Merit
Great for your garden:
With attractive bark, beautiful large leathery foliage with good autumn colour and abundant pink blossom in spring the ornamental qualities of this quince cannot be overstated.
The fruits are a wonderful bonus and provide a rich spicy-sweet fragrance that will drift around the garden, to make the most of it plant near an entrance to the house or garden.

They look good fan trained on a south facing wall, and benefit from the warmth and shelter especially in exposed gardens. Being self-fertile they are happy on their own as specimen trees.
Did You Know?
Native to the Middle East and Asia, the quince is a fruit of love, marriage and fertility. Aphrodite, the Greek Goddess of love, was given this 'golden apple' by Paris, and in Ancient Greece it was often given as a gift at weddings.
It first appeared in England in the rather grand surroundings of the Tower of London, where Edward I ordered some to be planted.
The Portuguese word for quince is marmela, which is where we get the word marmalade, indicating that long before quinces were grown in Britain, they were known in their preserved form.
Planting Instructions
How to plant Cydonia oblonga Serbian Gold trees:
Bare root trees are available for planting in the dormant season, between November and March. Container grown plants can be bought all year round - although planting in winter is preferable.
Quince trees need a sunny sheltered site away from frost pockets with soil that retains moisture during summer but is freely draining through winter.
Dig a hole no deeper than the root ball but around three times the diameter. Fork over the bottom of the hole and add in some well rotted compost or manure, as well as dressing of
Rootgrow mcycorrhizal fungi.
.
Place the tree in the hole and back fill with soil. Firm in to place. Stake in the direction of the prevailing wind. Keep well watered in dry weather, mulch and top dress with a
general-purpose fertiliser
in spring.
Container grown plants should be fed fortnightly from early spring with a liquid feed. Quinces are pruned in winter.
Spacing Cydonia oblonga Serbian Gold quince trees:
Freestanding bushes: 12-18 feet (4-6 metres) between trees and rows.
Freestanding half-standards: 18-30 feet (6-10 metres) between trees and rows.
In general, allow 1 more metre between rows than there is between each tree in the row.
Watch our video on how to plant a fruit tree for full instructions on planting a bush or half-standard sized tree.

If you are growing a maiden sized fruit tree into a freestanding tree, a bamboo cane is enough support.
If you are growing a cordon or espalier, you will need to install training wires to support them.
Remember to water establishing fruit trees during dry weather for at least a year after planting.
Fruit Tree Planting Accessories:
For bush and half standard fruit trees, our
tree planting pack
includes a wooden stake & rubber tie to support the tree and a biodegradable mulch mat with pegs, which protects the soil at the base of your tree from drying out and stops weeds from sprouting.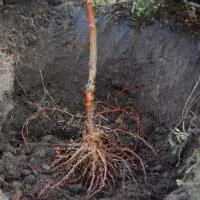 Bareroot?
Bareroot plants have no soil around the roots. They are light, easy to carry and plant.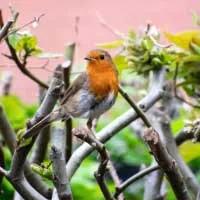 Perfect for Winter
The ground tends to be wet in winter, ideal for planting bareroot plants.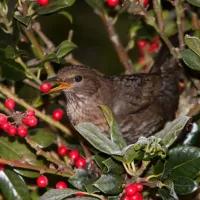 Value for money
You pay less for the same size bareroot plants, compared to potted.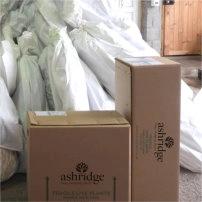 Delivered
Packaged by our experts and sent out by next day delivery.
Tag us @ashridgenurseries