Grey Alder Large Trees
Alnus incana (Standard)

The details
Delivered in Large Sizes
European tree, grows v. fast
Loves wet sites, fixes nitrogen
Sizes: Saplings & Big Standards
Ideal for very poor soils, suckers heavily
Max. Height: 20m
Bareroot Delivery: Nov-Mar.
£
£149.98
£ 144.96
£ 139.98
Delivery prices
Description
Alnus incana: Grey Alder, Standard Size Trees
Alnus incana, the Grey alder, takes its name from its grey bark and the silvery-grey tint to its young leaves. In early spring, before the leaves appear, it produces yellow catkins with a pretty pink-red tinge and plump little green cones, which will mature and release seeds in autumn. Young trees are extremely vigorous, growing by up to a metre per year. It tends to grow lots of suckering shoots from its base, which provide cover for wildlife.
Wild trees tend to become multi-stemmed and shrub like, but in the garden they are fairly narrow and upright, reaching about 20 metres. It is a relatively short-lived tree in nature, where the main stem usually dies after about 100 years and other plants shade out the thicket of suckers it produces.
We also grow the tidier ornamental cultivar, Alnus incana 'Aurea'. Standard trees are the largest size that we deliver; you can also buy younger Grey Alder saplings.
Browse our other alder trees or our full range of garden trees.
Features:
Attractive yellow catkins in spring, good for early bees
Very vigorous, with a suckering habit
Grows on the worst soils, wet or dry
Fixes nitrogen & improves the soil with its fallen leaves
To 20m
Growing Grey Alder
An extremely tough and hardy tree that will grow on practically any soil (apart from acidic peat), wet or dry, as long as it has a good amount of sun. It has a reputation for disliking chalk, but the problem is not the chalk, it is a shallow topsoil over any rocky foundation: it likes a deep soil.
It can grow quite near the coast where there is salt on the breeze.
Note on Alder roots: Alder has invasive roots that can break old water pipes and damage the foundations of old buildings or walls. 15 metres away from vulnerable structures is a safe distance to plant Alder. New build, concrete foundations are not at risk.
Did You Know?
Also known as Speckled, Hoary, or Thinleaf Alder. Native to Europe and Russia, but technically not Britain, although it has been naturalised here for a long time. Alders are pioneer trees, commonly found along the banks of rivers and mountain streams. They are often planted on polluted, reclaimed sites (they love the conditions around old quarries and mines, especially coal) where the soil is very poor or at risk of erosion, because their powerful roots stabilise and fix nitrogen below ground, while their vigorous growth dumps a lot of nutritious leaves every year over it. For the same reasons, they are used in forestry to support other young, timber trees that will eventually shade out the alders as they mature.
Grey alder wood isn't commercially useful nowadays, but it is lightweight and very easy to carve. It was once important in the cabinet making industry, and for making clogs and kitchen utensils.
Standard trees are measured by their girth in centimetres 1 metre above ground level: their trunk's waist measurement. Unlike sapling trees and hedge plants, standards aren't measured by their height, which will vary quite a bit both between and within species.
So, a 6/8cm standard tree has a trunk with a circumference of 6-8cm and an 8/10 standard has a trunk 8-10cm around. This measurement makes no difference to the tree's final height.
On average, standard trees are 2-3.5 metres tall when they arrive, but we cannot tell you precisely how tall your trees will be before we deliver them.
Planting Instructions
Notes on planting Grey Alder trees:
It will grow well in almost any soil, as long it gets plenty of sun. It prefers wet sites and will happily grow in boggy terrain or on a river bank, but tolerates dry sites well. It can grow quite near the sea.
It is happy on chalk, but does not like any shallow topsoil over rock, chalk or otherwise.
Prepare your site before planting:
It is good to dig over the site where you plant a tree several months in advance. Kill the weeds first: for tough weeds like nettles, brambles and ground elder, you will usually need a weed-killer to get rid of them. When you dig the soil over, remove stones and other rubbish and mix in well rotted compost or manure down to the depth of about 2 spades.
Watch our video on how to plant a tree for full instructions.
Remember to water establishing trees during dry weather for at least a year after planting.
Tree Planting accessories:
Prepare your site for planting by killing the weeds and grass with Neudorff WeedFree Plus.
You can buy a tree planting pack with a wooden stake & rubber tie to support the tree and a mulch mat with pegs to protect the soil around the base of your tree from weeds and drying out. We suggest that you use mycorrhizal "friendly fungi" on the roots of all newly planted large trees: if your soil quality is poor, we strongly recommend it.


After you plant a tree, the most important thing to do is water it in dry weather. You will also need to weed around the plants. Watering should be thorough, so the ground is soaked. Let the soil almost dry out before watering again. Watering & weeding will be necessary for at least a year after planting.
If your trees do need pruning, it is ideal to do this in winter. Always hire a tree surgeon to remove large branches.
Hygiene & Diseases:
Dead, damaged or diseased wood can be pruned off as soon as it appears.
Disinfect your pruning tools between every cut if there is any sign of disease.
Burn or dispose of any diseased material, do not compost it.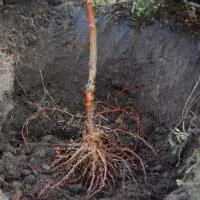 Bareroot?
Bareroot plants have no soil around the roots. They are light, easy to carry and plant.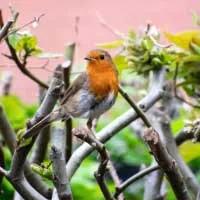 Perfect for Winter
The ground tends to be wet in winter, ideal for planting bareroot plants.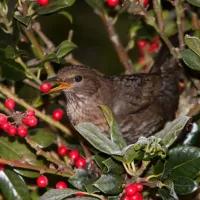 Value for money
You pay less for the same size bareroot plants, compared to potted.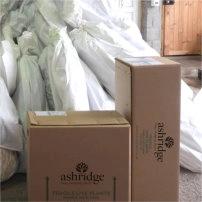 Delivered
Packaged by our experts and sent out by next day delivery.
Tag us @ashridgenurseries