Wild Service Trees, Large
Sorbus torminalis (Standard)
The details
Delivered in Large Sizes
Native. Edible fruit.
Max Height: to 25 metres.
Bareroot Delivery: Nov-Mar
Choose a size
How are they measured?
£
£169.98
£ 164.98
£ 159.97
£
£234.96
£ 229.20
£ 222.00
Delivery prices
Description
Sorbus torminalis: Bareroot Wild Service / Chequer Trees in Standard Sizes

Sorbus torminalis, the Wild Service Tree, is a native deciduous tree with edible fruit.
It has a beautiful form, with upright, sweeping branches, coated in deeply textured bark. As the tree ages, the rough young bark begins to crackle into vaguely rectangular scales that gradually flake off, creating a sort of chequered effect that might be the root of one of its common names, the chequer or checker tree.
The broad, glossy, deeply toothed leaves look a bit like a maple and turn into a lovely range of bronze yellows and russet reds in autumn. It produces lots of small clusters (corymbs) of white flowers in May that point upwards out of the foliage, making them more visible for you and for the insects that they want to attract.
It can reach a height of 13-15 metres, exceptionally over 20.
Standard trees are the largest size that we deliver; you can also buy younger Sorbus torminalis saplings, which are good hedge plants in sunny locations.
Browse our variety of large garden trees or our full range of trees.

Delivery season: Wild Service trees are delivered bareroot during late autumn and winter, approximately November-March inclusive.
Choosing a size: Small trees are cheaper, easier to handle and more forgiving of less than ideal aftercare, so they are best for a big planting project. If instant impact is your priority, or if you are only buying a few plants for use in a place where it is convenient to water them well in their first year, then you may as well use bigger ones. All our bareroot trees are measured by their height in centimetres above the ground (the roots aren't measured).
Features:
Height: 15m
Soil: Almost any
Colour: White flowers in May
Edible fruit (require bletting)
Native
Bareroot delivery only: November-March
Growing Wild Service Trees
Very flexible: it prefers deep, fertile, moist lowland sites, where it will tolerate light shade, but will grow perfectly well in dry chalky or sandy soils as long as it has plenty of sun. It doesn't mind a bit of waterlogging in winter.
Did You Know?
People who are in the know about traditional British fruit call the brown berries that ripen in late autumn chequers (or checkers) and, prior to the use of hops, they were much in demand for brewing beer: many pubs still use the word chequers in their name.
They are one of our most interesting native fruits, similar to a date but with more of a fruity flavour. The trick is to eat them at the right time: when they are over-ripe and have been frozen and thawed a couple of times by frosts (or your freezer). This is called bletting (as you would with medlars), which is not the same as rotting (that's when bacteria and fungi get inside and muck it up), so don't let the squidgy texture put you off.
It has been claimed that the official country home of the incumbent Prime Minister, Chequers Court, is named after this tree, though this is probably a coincidence. Its other common name, the wild service tree, may have something to do with spring time church services and in some areas the word service has been replaced with sarvis.
Once common and widely harvested, Wild service trees are now quite rare in Britain, mostly found in old, undisturbed forests. Despite being native, its strong suckering habit is the main reason why it is still around, as the seeds are barely able to grow into mature trees without human assistance. They won't germinate if the winter isn't cold enough, and will die if the summer isn't the right blend of rain and sun, and not too cool and cloudy. On lucky years when all those conditions are met, most seedlings get eaten by fungi or slugs as soon as they begin to sprout! Finally, those that pull through their first year are typically out-competed for light by other plants. Research in Epping forest has shown that the wild service trees there have grown from the suckers of older versions of themselves over many centuries, with none of the trees studied having grown from seed during that time.
Standard trees are measured by their girth in centimetres 1 metre above ground level: their trunk's waist measurement. Unlike sapling trees and hedge plants, standards aren't measured by their height, which will vary quite a bit both between and within species.
So, a 6/8cm standard tree has a trunk with a circumference of 6-8cm and an 8/10 standard has a trunk 8-10cm around. This measurement makes no difference to the tree's final height.
On average, standard trees are 2-3.5 metres tall when they arrive, but we cannot tell you precisely how tall your trees will be before we deliver them.
Planting Instructions
Notes on planting Sorbus torminalis trees:
Sorbus torminalis will grow in most soils and is not bothered by a bit of dampness, although it won't tolerate constantly waterlogged terrain. It is perfectly happy in dappled shade if the soil is fertile, but full sun is best on poor ones. It has a tendency to become leggy: if it does not produce a good set of side branches int he first season after planting, the leafy part of the trunk should be reduced by one half in either autumn or spring (so as much greenery is left as is removed). If this is done in spring the tree should be well watered for 4-6 weeks after pruning to help it recover. This will force it to produce side shoots and also allow the trunk time to thicken and strengthen.
Prepare your site before planting:
It is good to dig over the site where you plant a tree well in advance. Kill the weeds first: for tough weeds like nettles, brambles and ground elder, you will usually need a glyphosate-based weed-killer to get rid of them. When you dig the soil over, remove stones and other rubbish and mix in well-rotted compost or manure down one spit (spade) deep.
Watch our video on how to plant a tree for full instructions.
Remember to water establishing trees during dry weather for at least a year after planting.
Tree Planting accessories:
Prepare your site for planting by killing the weeds and grass with Neudorff WeedFree Plus.
You can buy a tree planting pack with a wooden stake & rubber tie to support the tree and a mulch mat with pegs to protect the soil around the base of your tree from weeds and drying out. We suggest that you use mycorrhizal "friendly fungi" on the roots of all newly planted large trees: if your soil quality is poor, we strongly recommend it.
If you use Rootgrow, then it is best not to further improve your soil with bonemeal organic fertiliser or Growmore.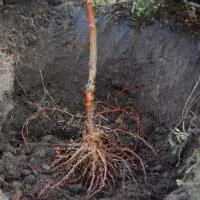 Bareroot?
Bareroot plants have no soil around the roots. They are light, easy to carry and plant.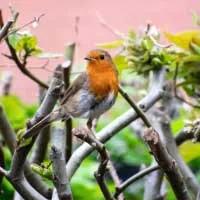 Perfect for Winter
The ground tends to be wet in winter, ideal for planting bareroot plants.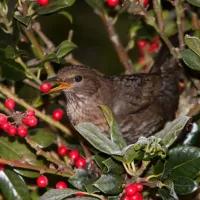 Value for money
You pay less for the same size bareroot plants, compared to potted.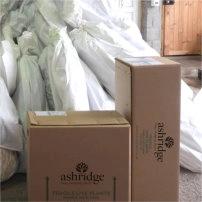 Delivered
Packaged by our experts and sent out by next day delivery.
Tag us @ashridgenurseries