Ready to Pleach Lime Trees
Tilia x euchlora (Standard)

The details
Delivered in Large Sizes
Doesn't attract aphids.
Grown flat & ready for you to pleach.
Sizes: Standards only.
Max. Height: 15m
Bareroot Delivery: Nov-Mar.
Choose a size
How are they measured?
Description
Tilia x euchlora: Bareroot Caucasian Lime Trees in Standard Sizes
Tilia x euchlora is the best pleaching lime tree. When they are young, the heads of these trees are naturally "two-dimensional", and we have encouraged them to grow flat. Otherwise, they are the same as our normal Tilia x euchlora standards.

Technically speaking, these trees are not yet pleached, but very little work is required for you to train the side growths onto pleaching wires set at the heights you want.
Browse our other Lime tree (Tilia) varieties, or our full range of trees.

Delivery season: Lime trees are delivered bareroot during late autumn and winter, approximately November-March inclusive.
Choosing a size: Small trees are cheaper, easier to handle and more forgiving of less than ideal aftercare, so they are best for a big planting project. If instant impact is your priority, or if you are only buying a few plants for use in a place where it is convenient to water them well in their first year, then you may as well use bigger ones. All our bareroot trees are measured by their height in centimetres above the ground (the roots aren't measured).
Features:
Soil: Any fairly well drained, mildly acidic to alkaline soil.
Use: Wide avenues, parks, large gardens, coast
Colour: Yellow-cream flowers in June-July, strong aroma
Ready to train onto pleaching wires
RHS Plants for Pollinators
Bareroot delivery only: November-March
Growing Pleached Lime Trees
Extremely tough and undemanding, they thrive best on alkaline soils, but mildly acidic is fine. They are happy in heavy, compacted clay with paving around them: a town planner's best friend.
They tolerate partial shade well, and are recommended for exposed locations; they won't grow right on the beach, but tolerate salt winds. When established, they are drought tolerant.
If you would like to pleach them higher off the ground, simply clear off the side branches to the required height immediately after planting, and rub off all the buds that appear below the desired height (as the tree matures and its bark thickens, there will be less and less of these).
If you want them lower, it will only take a couple of years for new shoots to develop into nice lateral branches. Simply rub off all the buds that you don't need, and keep the ones that are in the right place.
Planting Distances for Pleached Limes:
The closer they are, the denser more effective the screen is as a visual barrier. We recommend a spacing of 2 metres between trees as a default, 1.5 metres apart for an extra private barrier, and 2.5 metres apart to allow more light through.
When calculating how many trees are required, remember that you need to exclude half the planting distance at each end of the row before the first and after the last tree.
For example, if you are planting at a 2-metre spacing and have 10 metres to cover, you need five, not six trees, because the first and last tree are planted at the 1st and 9th metre marks, not the 0th and 10th metre (as would typically be the case with a hedge).
Did You Know?
Pleaching, or plashing (the latter term is more commonly used in the context of laying a hedge), is as old as hedgerow management, and as an ornamental feature it became really fashionable as a display of wealth in the gardens of stately homes in the 1800's, although it has been recorded since Medieval times. Limes, with their vigorous growth and beautifully flexible stems, are by far the most common tree for pleaching, with Hornbeam being a distant second, which is why we don't grow ready-to-pleach versions of it.
One of the UK's finest allées of pleached limes is at Arley Hall, Cheshire, which was planted by Rowland Egerton-Warburton's (1804-1891) gardeners in the mid-1800's.
Standard trees are measured by their girth in centimetres 1 metre above ground level: their trunk's waist measurement. Unlike sapling trees and hedge plants, standards aren't measured by their height, which will vary quite a bit both between and within species.
So, a 6/8cm standard tree has a trunk with a circumference of 6-8cm and an 8/10 standard has a trunk 8-10cm around. This measurement makes no difference to the tree's final height.
On average, standard trees are 2-3.5 metres tall when they arrive, but we cannot tell you precisely how tall your trees will be before we deliver them.
Planting Instructions
Notes on planting Crimean Lime trees:
Crimean Lime trees will grow well any fertile soil and tolerate partial shade. They are suitable for exposed locations.
They will not grow well if the site is very wet or if the soil is poor and dry.

Prepare your site before planting:
It is good to dig over the site where you plant a tree several months in advance. Kill the weeds first: for tough weeds like nettles, brambles and ground elder, you will usually need a weed-killer to get rid of them. When you dig the soil over, remove stones and other rubbish and mix in well rotted compost or manure down to the depth of about 2 spades.

Watch our video on how to plant a tree for full instructions.
Remember to water establishing trees during dry weather for at least a year after planting.
Tree Planting accessories:
Prepare your site for planting by killing the weeds and grass with Neudorff WeedFree Plus.
You can buy a tree planting pack with a wooden stake & rubber tie to support the tree and a mulch mat with pegs to protect the soil around the base of your tree from weeds and drying out.
We suggest that you use mycorrhizal "friendly fungi" on the roots of all newly planted large trees: if your soil quality is poor, we strongly recommend it.
You can also improve your soil with bonemeal organic fertiliser and Growmore.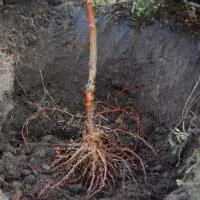 Bareroot?
Bareroot plants have no soil around the roots. They are light, easy to carry and plant.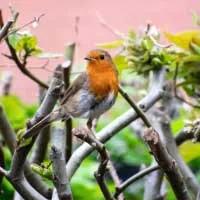 Perfect for Winter
The ground tends to be wet in winter, ideal for planting bareroot plants.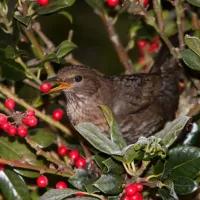 Value for money
You pay less for the same size bareroot plants, compared to potted.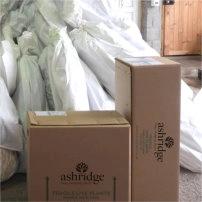 Delivered
Packaged by our experts and sent out by next day delivery.
Tag us @ashridgenurseries