Chinese Mountain Ash, Large Trees
Sorbus hupehensis (Standard)
The details
Delivered in Large Sizes
Chinese Rowan.
Tidy, upright tree.
Bluish leaves, firey red autumn colour.
Pink fruit ripen to mostly white.
Sizes: Big standard trees only.
Max. Height: 10m
Bareroot Delivery: Nov-Mar.
Choose a size
How are they measured?
Description
Sorbus hupehensis: Bareroot White Berried Chinese Rowan Trees in Standard Sizes
Sorbus hupehensis is a Chinese variety of Rowan or Mountain Ash with excellent autumn colour and distinctive white berries when ripe, touched with faint pink.
It can also easily be distinguished from native Rowans by the leaves, which have the typical pinnate form, but each opposing leaflet is oval, rather than pointed, has small serrations on the end and is deep green with a slightly blue tone.
Abundant corymbs of simple, small white flowers appear in June, standing out brilliantly from the background of dark leaves.
Its big moment of glory comes in autumn, when the leaves drop their sombre disguise and burst into lucid red flames. By that time, the pink young berries have matured to mostly white, washed with a dash of pale pink, held on red stalks. The fruit only becomes tasty to birds after they have been chilled a few times by frost, which means that they will stick around long after all the leaves have fallen: the bare tree, hung with delicate bunches of slightly rosy pearls is a beautiful and exotic sight.
Although Chinese Rowan is very vigorous, it has an upright, nearly column-shaped canopy.
It can reach a height of about 6-10 metres. One specimen in the wild was recorded at 15 metres, but this was probably both very old and forced to grow tall and straight in the forest.

Browse our other Rowan trees, Whitebeam & Wild Service trees.

Delivery season: Rowan trees are delivered bareroot during late autumn and winter, approximately November-March inclusive.
Choosing a size: Small trees are cheaper, easier to handle and more forgiving of less than ideal aftercare, so they are best for a big planting project. If instant impact is your priority, or if you are only buying a few plants for use in a place where it is convenient to water them well in their first year, then you may as well use bigger ones. All our bareroot trees are measured by their height in centimetres above the ground (the roots aren't measured).
Features:
Height: 6-10m
Soil: Any well drained
Use: Specimen, small garden, large container, avenue, urban
Colour: White flowers, pink fruit ripen to mostly white.
Bareroot delivery only: November-March
Growing Chinese Rowan
A very hardy and wind resistant tree that can grow almost anywhere with a decent amount of sun and drainage. It produces better Autumn colour on acidic soils, and won't really thrive on shallow chalk.
Did You Know?
This tree has won a couple of awards from the RHS, including one for outstanding excellence on display - we would bet that the prize was given during autumn. Unlike the berries of other types of mountain ash, these berries aren't good for humans to eat - something that hungry birds in winter are sure to be grateful for.
The adventurous Ernest "Chinese" Wilson (1876-1930) first described it in 1901 in Hubei province (spelt Hupeh in his day) in central China. About 15 years later, George Forrest (1873-1932) collected the samples from which all the S. hupehensis trees in the West are derived. Due to an administrative error at the RHS, they were sold as S. wilsoniana f. glaberrima for several years.
Standard trees are measured by their girth in centimetres 1 metre above ground level: their trunk's waist measurement. Unlike sapling trees and hedge plants, standards aren't measured by their height, which will vary quite a bit both between and within species.
So, a 6/8cm standard tree has a trunk with a circumference of 6-8cm and an 8/10 standard has a trunk 8-10cm around. This measurement makes no difference to the tree's final height.
On average, standard trees are 2-3.5 metres tall when they arrive, but we cannot tell you precisely how tall your trees will be before we deliver them.
Planting Instructions
Notes on planting Sorbus hupehensis trees:
This tree is fully hardy and likes acidic soil. It doesn't fare well on very chalky soil, however, and will sulk if planted in the shade, refusing to produce more than a few flowers and fruit. It is also drought sensitive, so if your soil is poor and free draining, we recommend helping it out by applying a thick layer of mulch around it in mid to late spring, after a few days of rain have fallen and the ground is wet. Keep an eye on it during a hot summer.
Prepare your site before planting:
It is good to dig over the site where you plant a tree several months in advance. Kill the weeds first: for tough weeds like nettles, brambles and ground elder, you will usually need a weed-killer to get rid of them. When you dig the soil over, remove stones and other rubbish and mix in well rotted compost or manure down to the depth of about 2 spades.

Watch our video on how to plant a tree for full instructions.
Remember to water establishing trees during dry weather for at least a year after planting.
Tree Planting accessories:
Prepare your site for planting by killing the weeds and grass with Neudorff WeedFree Plus.
You can buy a tree planting pack with a wooden stake & rubber tie to support the tree and a mulch mat with pegs to protect the soil around the base of your tree from weeds and drying out.
We suggest that you use mycorrhizal "friendly fungi" on the roots of all newly planted large trees: if your soil quality is poor, we strongly recommend it.
You can also improve your soil with bonemeal organic fertiliser and Growmore.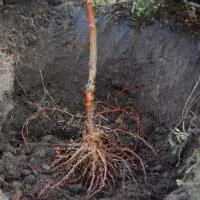 Bareroot?
Bareroot plants have no soil around the roots. They are light, easy to carry and plant.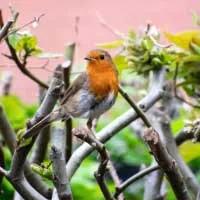 Perfect for Winter
The ground tends to be wet in winter, ideal for planting bareroot plants.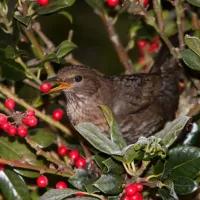 Value for money
You pay less for the same size bareroot plants, compared to potted.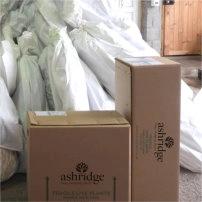 Delivered
Packaged by our experts and sent out by next day delivery.
Tag us @ashridgenurseries