Juneberry / Snowy Mespilus Plants
Amelanchier lamarckii
The details
Amelanchier lamarckii
Hedge Plants
Small, upright & bushy.
Spring flowers & autumn colour.
Edible fruit.
Not suitable for chalk.
Can be used as hedging.
Max. Height 8 metres.
Bareroot delivery only: Nov-Mar
RHS Award of Garden Merit
Choose a size
How are they measured?
Qty
1-24
25 - 249
250 - 499
£
£3.36
£ 3.12
£ 2.88
£ 2.64
Qty
1-24
25 - 249
250 - 499
£
£3.96
£ 3.48
£ 3.00
£ 2.70
Delivery prices
Description
Amelanchier lamarckii: Juneberry Hedge Plants
Delivered by Mail Order Direct from our Nursery with a Year Guarantee


Amelanchier lamarckii, Snowy Mespilus or Juneberry, is one of our favourites. A deciduous shrub or small tree that makes an elegant flowering hedge, with interest almost all year round. It's covered in wiry racemes of single, star-shaped white flowers in early spring – all the more eyecatching as they open early, on bare branches. The blossom is soon joined by copper-coloured oval leaves and then, in summer, red-purple edible berries, which are popular with birds. In autumn, the foliage turns a brilliant orange-red. Grown as a tree, it will reach 8-10 metres.
The plants on this page are bareroot saplings, perfect for planting as hedging or in woodland. If you're after stand-alone specimen trees, you can see other Amelanchier varieties here that are equally well suited to the job. Alternatively, browse our full range of hedging.
Delivery season: Juneberry hedge plants are delivered bareroot during late autumn and winter, approximately November-March inclusive.
Choosing a size: Small plants are cheaper and overall more convenient for hedge use, unless instant impact is your priority. If you are buying only a few plants for ornamental use, then you may as well use bigger ones. All our hedge plants are measured by their height in centimetres above the ground (the roots aren't measured).
Features:
Deciduous.
White spring flowers, summer berries, autumn foliage colour.
Very hardy.
Any soil except a bog, anywhere but full shade.
Lovely blossom-bearing hedging.
Max. Height: 10m
RHS Award of Garden Merit
Growing Juneberry
It holds an RHS Award of Garden Merit and will grow well in most fertile soils. The books say it needs a rich, moist soil, and it certainly loves good growing conditions, but we have one at home that grows in dry, poor ground and does very well. It's not suitable for chalk or limestone. It is hardy, although it does not like salt conditions near the sea.
Juneberry doesn't really need pruning if you're growing as a tree, otherwise you risk spoiling its elegant shape. Just remove any dead, damaged or diseased branches in late winter or early spring. If you're growing it as a hedge, at a light prune to this regime. It will put on 30-40cm of growth each year.
Spacing a Juneberry hedge: Plant at 3 plants per metre, 33cm apart
Good in your garden
Amelanchier lamarckii can be grown as part of an informal garden hedge, in a shrub border or as a well-behaved small specimen tree, when it's especially suited to smaller gardens, as it won't dominate or overpower. It's a wonderfully natural-looking tree so suits a similar style of garden. In borders, underplant with spring bulbs to make the most of its charms; anything that brings out the copper tones of the emerging leaves is also a great choice – a tulip such as Orange Brilliant would look lovely in generous drifts under its canopy.
Did you know?
Found across Europe, Asia and North America, Amelanchiers are a genus containing around 25 different species of trees and shrubs. This species was named after the famous French biologist and soldier, Jean-Baptiste Lamarck (1744-1829), who was an early proponent of the theory of evolution.
The black summer berries are perfectly edible when cooked, and are said to taste like blueberries. Native Americans used to use what, across the pond, they call serviceberries to make a dried food called pemmican (an intriguing mixture of fat, bison meat and berries), which was stored to eat over the leaner months of winter. A bit like the dried filling of an early mince pie, perhaps? We'll leave the testing to those with an adventurous palate, and an available bison.
Birds love those berries, too; they're particularly popular with goldfinches, which chatter happily in the branches all through spring, picking off the ripening fruit.
The hard, dense wood of the Juneberry was used by native Cree Americans to fashion arrow shafts; more recently it's been used to make the handles of garden tools and fishing rods.
The American common name, serviceberry, is surrounded in folklore. Some stories go that it came into common usage as the tree's flowering coincides with the melting of the snows in the Appalachian mountains, and thus the resumption of grave digging and church services given by travelling preachers. However, the most likely etymology is that the berries are like those of the Sorbus genus, namely Rowan.
Flowers & Bees: In March and April, trees produce elegant five-petalled, open, star-shaped white flowers. These are pollinated by bees and midges; it's frequently listed in the top five of recommended trees for bees.
Firewood: Although it is not productive enough to be grown for this purpose, and is very wet when freshly cut, it does make good slow-burning firewood when dried, if you ever have the occasion.
Planting Instructions
After planting, the most important thing to do is water in dry weather. You will also need to weed around the plants. Watering should be thorough, so the ground is soaked. Let the soil almost dry out before watering again. Watering & weeding will be necessary for at least a year after planting.

Trimming your plants:
Amelanchier lamarckii should be cut back on planting to encourage it to become more bushy if you are growing it as a shrub or in a mixed hedge.Thereafter the best time to clip is after it has fruited.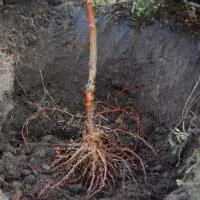 Bareroot?
Bareroot plants have no soil around the roots. They are light, easy to carry and plant.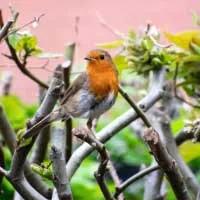 Perfect for Winter
The ground tends to be wet in winter, ideal for planting bareroot plants.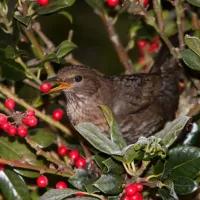 Value for money
You pay less for the same size bareroot plants, compared to potted.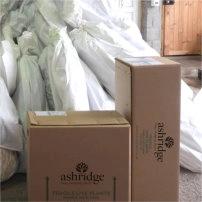 Delivered
Packaged by our experts and sent out by next day delivery.
Tag us @ashridgenurseries