Green Barberry Hedge Plants
Berberis thunbergii
The details
Green Barberry
Hedge Plants
Thorny. Yellow flowers, red berries, red autumn colours.
Excellent garden hedging.
Max. Height: 2m
Year round delivery.
Choose a size
How are they measured?
Qty
1-24
25 - 249
250 - 499
£
£2.82
£ 2.26
£ 1.98
£ 1.84
Delivery prices
Description
Berberis Thunbergii: Green Japanese Barberry Hedging Plants
Delivered by Mail Order Direct from our Nursery with a Year Guarantee


Berberis thunbergii is the green variety of Japanese Barberry. It's ideal as an intruder-proof hedge up to almost 2m high, with its vandal-proof, vicious spines. It also makes a good specimen shrub with its springy, arching stems.
In spring, it bears small, fragrant cup-shaped yellow flowers and red, inedible berries in summer. The small green leaves are deciduous, providing a fabulous autumn display of red, orange and pale purple.
The dense growth is an absolute haven for wildlife, providing excellent nesting sites for garden birds.
View our other varieties of berberis hedging or see our full range of hedging plants.
Delivery season: Berberis thunbergii is delivered bareroot during winter (November-March) depending on the weather and pot-grown year-round. Bareroot Barberry bushes are cheaper than pot-grown plants. Pot grown shrubs are available in the largest sizes.
Choosing a size: When you are ordering Berberis thunbergii for a hedge, we recommend that you use 40/60cm high plants. They are cheaper, easier to handle and will establish well in poor conditions. Use the 60/80cm tall plants if you want a mature hedge quickly, for topiary or as instant impact as a specimen shrub. All our hedge plants are measured by their height in centimetres above the ground (the roots or pots aren't measured).
Features
Type: Hedging or specimen shrub
Site: Sun/partial shade
Area: Coastal, Exposed & Windy
Soil: Any well drained
Leaf Colour: Green
Leaf Type: Deciduous
Flower/fruit Colour: Yellow flowers, red berries
Special features: Autumn colour, berries, wildlife
Awards: RHS Perfect for Pollinators
Growing Green Japanese Barberry
Barberries will grow well in sun or partial shade but you'll get the best flowers and berries in the sunniest spot. They're excellent for exposed or seaside gardens with half-decent soil, as they will tolerate poor weather and salt-laden winds. They don't like a waterlogged site or sandy soil that is prone to drought.
Spacing a Green Barberry hedge: Plant at 3 plants per metre, 33cms apart.
Good in Your Garden
This Barberry is primarily thought of as a hedging plant but to really brighten up your boundaries, mix it with the purple Barberry, Berberis thunbergii atropurpurea for an extra dimension of colour.
If you're using it as a specimen plant, give it room to breathe so the arching stems can be fully appreciated. Plant it in front of evergreens, such as holly or Pyracantha, to show off its autumn foliage and give your garden some interest when the leaves have dropped.
Underplant bushes or hedges with late-flowering daffodils to pick up the colour in the small yellow flowers.
It is also ideal in a wildlife garden, especially if plants are grown as a hedge. The stems are incredibly dense, making a safe habitat for small birds such as sparrows, blackbirds, dunnocks and robins, especially those that nest near the ground.
Did You Know?
A Japanese native, barberries have become widely naturalised in China and North America, so much so that they are regarded as invasive in the Great Lakes and North East of the USA. The spines are actually highly modified leaves, rather than true thorns. In the past, it was used to make dye.
This species was introduced to Europe from Japan in the 1860's. It is named after Karl Peter von Thunberg, one of the "apostles of Carl Linnaeus", who first described it around 1784.
It is one of those plants that we consider as having an honourary RHS Award of Garden Merit, in that it doesn't hold one itself, but several of its cultivars do.
Flowers & Bees: With profuse flowers from April into June in a good year, the RHS recommends this plant for supporting bees and other pollinators.
Planting Instructions
Growing Berberis thunbergii plants:
Will grow well in any soil, including heavy clay and chalk, as long as the site has decent drainage conditions. It is quite shade tolerant and should do well in dappled shade underneath big trees. It will grow near to the coast and in polluted urban areas.
They will not grow well if the site is in full shade or if the soil is prone to waterlogging.
Prepare your site before planting:
It is good to dig over the area where you plant a hedge several months in advance, especially if the soil is poor. Destroy the weeds first. Then dig the soil over; remove rocks, roots and other rubbish. Mix in well-rotted compost or manure down to the depth of about 2 spades. If your soil is rich, you don't have to dig it over, but killing all the weeds is still necessary.
Watch our video on how to plant a garden hedge for full details. The plants in this video are delivered pot-grown, but planting out bareroot stock is essentially the same.
Remember to water establishing plants during dry weather for at least a year after planting.
Hedge Planting Accessories:
Prepare your site for planting by killing the weeds and grass with Neudorff WeedFree Plus.
You can buy a hedge planting pack with sheets of mulch fabric and pegs to hold it down.
If you are planting in an area with rabbit and/or deer, you will need to use a plastic spiral guard for each plant, supported by a bamboo cane.
We always recommend using Rootgrow when planting trees and shrubs.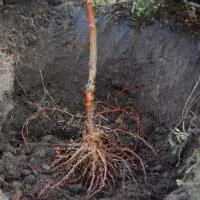 Bareroot?
Bareroot plants have no soil around the roots. They are light, easy to carry and plant.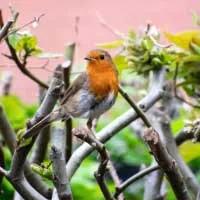 Perfect for Winter
The ground tends to be wet in winter, ideal for planting bareroot plants.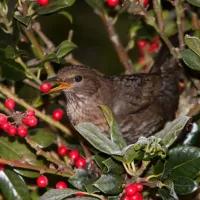 Value for money
You pay less for the same size bareroot plants, compared to potted.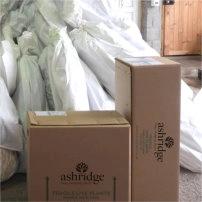 Delivered
Packaged by our experts and sent out by next day delivery.
Tag us @ashridgenurseries