Wildlife & Game Cover Thornless Shrubs
Mix of 5 Species in Bundles of 50 Plants
The details
Wildlife Habitat Collection
Bushes for bird & animal shelter.
Not intended for hedging. Thornless.
Tolerant of shade & damp soil
Mostly evergreen plants
Bareroot Delivery Only: Nov-Mar.
Choose a size
How are they measured?
£
£ 139.92
£ 134.32
£ 129.43
£ 118.93
£ 111.94
Delivery prices
Description
Game Cover Plants - Delivered in Bundles of 50 Plants with a 1 Year Guarantee
This pack of 50 mixed bushes & shrubs is intended for planting as shelter for game animals and wildlife. It is not for planting as a hedge. You can order the same plants individually from their respective pages, but you will save money on the same size plants by buying the pack.
We will choose the plants that go into the mix from the following list: we regret that we cannot accept requests for specific plants to be used in your pack. If you want to be certain of having a particular plant in your mix, please order it separately.
These plants are mainly evergreen or semi-evergreen and thornless, so they provide year-round cover for animals, and they are easy for beaters and gamekeepers to walk through. They will produce fruit for birds to eat and their flowers & leaves will support bees and butterflies, but for the most part these plants are not appealing food for deer and other grazing animals.
You can plant these shade-tolerant plants in existing woodland or out in the open to create a new copse.
Although all of the plants in this pack make good hedging on their own, they are not really suitable for planting together in a mixed hedge. The big plants like the cherry laurel would constantly be out-growing the smaller ones.
Game Cover hedge packs are only delivered bareroot, during winter (November - March).
The plants in this pack will be 30-80 cms tall when we deliver them. All our hedge plants are measured by their height in centimetres above the ground (the roots aren't measured).
Spacing Game Cover plants:
This pack is not intended for a hedge. It is meant to be planted randomly and allowed to grow freely to create natural looking cover for wildlife.
You can decide on planting distances to suit your site: 2 metres between each plant will make a fairly dense thicket that is still quite easy to walk through. Planting them more closely together will provide more shelter for very exposed sites. Planting them further apart will increase visibility and make it easier for groups of people to walk through it.
Planting Instructions
Growing Game Cover plants:
Game Cover will grow well in any conditions with decent drainage. It is tolerant of dappled shade and can be planted under established woodland trees.
They will not grow well if the site is too wet or chalky.
Prepare your site before planting:
These wildlife cover plants are tough. The only essential preparation is to kill the weeds in a strip a metre wide along the planting site: improving the soil should not be necessary. If your soil is exceptionally poor and dry, then digging in some well rotted manure and/or compost is worthwhile.
These plants are young and strong. On most sites, they can be slit-planted. Simply push the spade into the soil, wiggle it backwards and forwards to make a V shaped hole. Sweep the roots of the plant down into the hole and squash the soil back firmly with your boot.
Remember to water establishing plants during dry weather for at least a year after planting.
Planting Accessories:
Prepare your site for planting by killing the weeds and grass with Roundup weed killer.
If your soil quality is poor, we suggest using mycorrhizal "friendly fungi" on the roots of new trees and shrubs.
You can also improve your soil with bonemeal organic fertiliser and Growmore.
After you plant your shrubs, the most important thing to do is water them in dry weather. If you didn't use mulch of some kind, you will also need to weed around them. Both of these will be necessary for at least a year after planting.
Evergreen plants are active and using water throughout the year. This means that if the weather is dry in winter, your establishing plants need to be watered.
Trimming Game cover plants:
Your plants don't really need to be trimmed, but you will encourage really bushy growth if you let them settle in for a couple of years and then, from their third winter onwards shear the top foot or so off each plant in winter - every year or every other year is fine.
Hygiene & Diseases:
Dead, damaged or diseased wood can be pruned off as soon as it appears.
Disinfect your pruning tools between every cut if there is any sign of disease.
Burn or dispose of any diseased material, do not compost it.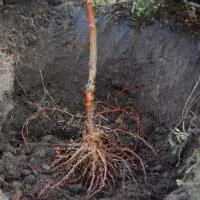 Bareroot?
Bareroot plants have no soil around the roots. They are light, easy to carry and plant.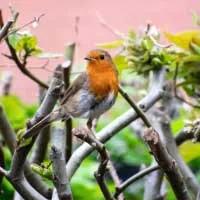 Perfect for Winter
The ground tends to be wet in winter, ideal for planting bareroot plants.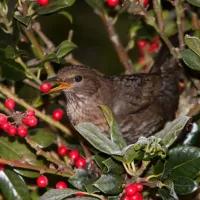 Value for money
You pay less for the same size bareroot plants, compared to potted.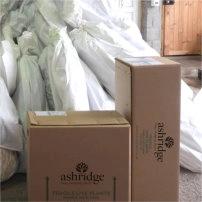 Delivered
Packaged by our experts and sent out by next day delivery.
Tag us @ashridgenurseries