Purging Buckthorn Hedge Plants
Rhamnus cathartica

The details
Rhamnus cathartica
Hedge Plants
Grows anywhere with decent drainage.
Good hedging & screening.
Max. Height: 6m
Bareroot Delivery Only: Nov-Mar.
Choose a size
How are they measured?
Qty
1-24
25 - 249
250 - 499
£
£3.12
£ 2.64
£ 2.28
£ 2.16
Delivery prices
Description
Rhamnus cathartica: Bareroot Purging Buckthorn Hedging Plants
Delivered by Mail Order Direct from our Nursery with a Year Guarantee


Common or Purging Buckthorn, Rhamnus cathartica, is a hardy, deciduous spiny native that can be used for country hedging. A large shrub or bushy small tree naturally, it has lush green leaves that clip well into a dense hedge. Purging Buckthorn is good for hedges up to about 6 metres high on any well-drained soil. Browse our other varieties of Buckthorn hedge plants. Alternatively, see our selection of native hedging plants or view our full range of hedging.
Rhamnus cathartica's flowers are green and insignificant, so you won't really notice them, but they attract plenty of bees and butterflies. The abundant small berries are red as they ripen, turning black when they mature in the autumn, which looks good next to the leaves as they turn yellow.
Delivery season: Purging Buckthorn bare-root plants are delivered in winter and are only planted when they are dormant, from November to April. They can be pre-ordered in summer.
Features:
Size sold: 60-80cm.
Hedge Height: Up to 6m.
Soil: All well-drained types.
Use: Native/country.
Single Row: 3/m.
Colour: Deciduous, yellow autumn leaves, red/black berries.
Best for informal native country hedges.
Growing Purging Buckthorn
Purging Buckthorn will grow well in any moist but well-drained soil, including on shady sites, such as under large trees. It will tolerate chalky soil and coastal sites well, but not waterlogged nor dry shade.
Make sure the planting area is weed-free and enrich soil with well-rotted manure or compost before planting. Keep plants well-watered until established. Trim once a year in winter until the hedge is mature.
Spacing a Purging Buckthorn hedge:
Plant at 3 plants per metre, 33cm apart.
You can also plant Purging Buckthorn at 5 plants per metre in a staggered double row, with 33cm between each plant along the row and 40cm between the rows.
Good in Your Garden
Purging Buckthorn is a great addition to a mixed native hedge if you're looking to attract more wildlife into your garden. A typical country hedge also includes hawthorn, and the more plants you use, the better for the bugs and birds.
If you're looking for plants that ease the transition from a cultivated garden into the wild countryside beyond, this is an excellent choice. Its berries turn red before ripening to black, contrasting with the yellowing of the leaves before they fall.
For an informal yet secure barrier for your garden, Rhamnus cathartica is worth considering, with short shoots often ending in a spine. Add some blackthorn to beef up the thorny factor.
Did You Know?
The black berries are popular with birds in winter.
Native throughout Europe, south to Morocco and east as far as Kyrgystan.
Purging buckthorn gets its common name from its medicinal use in the past to encourage vomiting and diarrhoea. It is mildly poisonous, so it's probably better to leave this piece of traditional medicine in the past (for now...). However, birds love the berries, and it has no effect on them.
According to the famed astrologer-physician Nicholas Culpepper (1616-54), buckthorn was also known in the 17th Century as harts'-horn, Herba-stellaria, Sanguinarea, Herb-eve, Herb-ivy, Wort-cresses and Swine-cresses. Bruised leaves applied to a wound would stop it from bleeding and would cause warts 'to waste away in a short time'.
Other common names include French berry, rainberry or Rhineberry thorn and waythorn.
Flowers & Bees: Purging Buckthorn and the related Alder Buckthorn are the only food sources for Common Brimstone butterflies (Gonepteryx rhamni).
Planting Instructions
Growing Purging Buckthorn plants:
Purging Buckthorn will grow well in any fertile, well drained soil. It will grow on both chalk and acidic peat.
They will not grow well if the site is in full shade or if the ground is prone to waterlogging.
Prepare your site before planting:
Native hedge plants like Purging Buckthorn are very tough. The only essential preparation is to kill the weeds in a strip a metre wide along the planting site: improving the soil should not be necessary. If your soil is exceptionally poor and dry, then digging in some well rotted manure and/or compost is worthwhile.
Watch our video on how to plant a country hedge for full details. The instruction to cut the plants in half after planting only applies to thorny native hedging and plants in the conservation hedge mix: this isn't necessary for Purging Buckthorn.
Remember to water establishing plants during dry weather for at least a year after planting.
Hedge Planting Accessories:
Prepare your site for planting by killing the weeds and grass with Neudorff WeedFree Plus.
You can buy a hedge planting pack with sheets of mulch fabric and pegs to hold it down.
If you are planting in an area with rabbit and/or deer, you will need to use a plastic spiral guard for each plant, supported by a bamboo cane.
If your soil quality is poor, we recommend using mycorrhizal "friendly fungi" on the roots of new trees and shrubs.
You can also improve your soil with bonemeal organic fertiliser and Growmore.
After you have planted your Purging Buckthorn hedge, the most important thing to do is water it in dry weather. You will also need to weed around the plants. Watering should be thorough, so the ground is soaked. Let the soil almost dry out before watering again. Watering & weeding will be necessary for at least a year after planting.
Trimming Country hedge plants:
From the winter after planting onwards, your young hedge should be trimmed lightly once every winter, until it is mature. When it is fully grown, you can clip it at anytime.
Special notes on caring for Purging Buckthorn hedges:
Purging Buckthorn is a very tough hedge plant that shouldn't need special attention once it has established. If you didn't use a mulch fabric, it is beneficial to mulch around the base of the hedge each year with well rotted manure or compost.
Hygiene & Diseases:
Dead, damaged or diseased wood can be pruned off as soon as it appears.
Disinfect your pruning tools between every cut if there is any sign of disease.
Burn or dispose of any diseased material, do not compost it.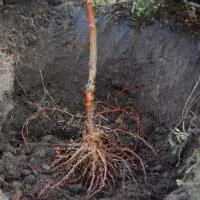 Bareroot?
Bareroot plants have no soil around the roots. They are light, easy to carry and plant.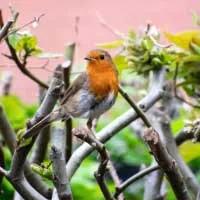 Perfect for Winter
The ground tends to be wet in winter, ideal for planting bareroot plants.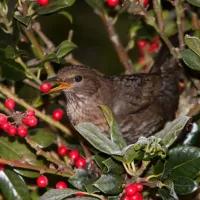 Value for money
You pay less for the same size bareroot plants, compared to potted.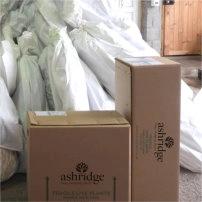 Delivered
Packaged by our experts and sent out by next day delivery.
Tag us @ashridgenurseries