Native Thornless Hedge Plants
Mix of 5 Species in Bundles of 50 Plants
The details
Native Thornless Hedge Collection
Bundles of 50 plants composed of 5 species.
Mixed native, thornless hedging.
Qualifies for BN11: Planting New Hedges Grant
Safe for children.
1 pack = 16m of single row, or 8m of double row hedge.
Bareroot Delivery Only: Nov-Mar.
Choose a size
How are they measured?
Description
Thornless Hedging Mix
This mixed hedge pack is a bundle of 50 thornless, native plants that are safe to plant around young children or along public footpaths and rights of way. You can order the same plants individually from their respective pages, but you will save money on the same size plants by buying the hedge pack.
We will choose the plants that go into the hedge mix from the following list, occasionally the pack may change between the time of ordering and the time of despatch.
Bundles of 50 plants composed of 5 species.
Mixed native, thornless hedging.
Qualifies for BN11: Planting New Hedges Grant
Safe for children.
1 pack = 16m of single row, or 8m of double row hedge.
Bareroot Delivery Only: Nov-Mar.
We regret that we cannot accept requests for specific plan s to be used in your pack. If you want to be certain of having a particular plant in your hedge mix, please order it separately.
The mix is made up of 20% of each of five varieties. Plants are not restricted to those listed but are usually chosen from:
These plants are all thorn-free and mostly non-toxic; Spindle berries aren't edible, but they taste too bitter to chew or swallow. This mix of rugged, native plants is great for biodiversity, providing plenty of food for birds, small animals and butterfly caterpillars.
If you want a thorny, secure hedge that is safe for large farm animals and horses, have a look at our Stock friendly hedge mix.

Thornless hedge packs are only delivered bareroot, during winter (November - March).
The plants in this pack will be 60-80cm tall when we deliver them. All our hedge plants are measured by their height in centimetres above the ground (the roots aren't measured).
See our selection of discounted hedging packs or view our full range of hedging plants.
Please note: when you receive our mixed hedging packs, they will not be already mixed and will be bunched by plant species. Please remember to mix them for best results.
Spacing a Thornless hedge:
You can plant thornless hedging in a single row at 3 plants per metre, 33cm apart, for a normal garden boundary.
However, to qualify for the BN11: Planting New Hedges Grant, and/or for a stockproof hedge, you must plant at 6 plants per metre in a staggered double row, with 33cm between each plant along the row and 40cm between the rows.

Each pack of 50 plants will make 16 metres of single row hedge and 8 metres of double row hedge.
Planting Instructions
Growing Thornless hedging:
The hardy plants in the Thornless hedge mix will grow well in any conditions with decent drainage. They tolerate partial shade, poor soil and occasional waterlogging.
They will not grow well if the site is too boggy or too sandy and dry.
Prepare your site before planting:
Native hedge plants are very tough. The only essential preparation is to kill the weeds in a strip a metre wide along the planting site: improving the soil should not be necessary. If your soil is exceptionally poor and dry, then digging in some well rotted manure and/or compost is worthwhile.
Watch our video on how to plant a country hedge for full details. The instruction to cut the plants in half after planting is optional: if the purpose of the hedge is to present a solid barrier to children, we recommend cutting the plants back hard, as shown in the video. This will encourage bushy growth close to the ground that should stop kids from being able to wriggle through it.
Remember to water establishing plants during dry weather for at least a year after planting.
Hedge Planting Accessories:
Prepare your site for planting by killing the weeds and grass with Roundup weed killer.
You can buy a hedge planting pack with sheets of mulch fabric and pegs to hold it down.
If you are planting in an area with rabbit and/or deer, you will need to use a plastic spiral guard for each plant, supported by a bamboo cane.
If your soil quality is poor, we recommend using mycorrhizal "friendly fungi" on the roots of new trees and shrubs.
You can also improve your soil with bonemeal organic fertiliser and Growmore.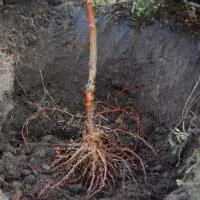 Bareroot?
Bareroot plants have no soil around the roots. They are light, easy to carry and plant.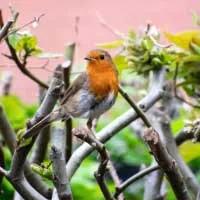 Perfect for Winter
The ground tends to be wet in winter, ideal for planting bareroot plants.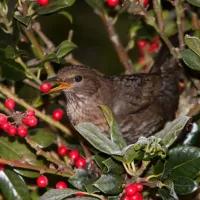 Value for money
You pay less for the same size bareroot plants, compared to potted.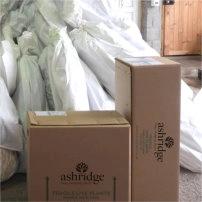 Delivered
Packaged by our experts and sent out by next day delivery.
Tag us @ashridgenurseries