Mulch Fabrics
Weed Control Fabric: Woven Plastic or Jute / Hessian
Long-lasting, UV protected weed control fabrics such as Permatex/Mypex can take a lot of work out of ground preparation, eliminating the need to weed under your new hedge; they are also great for growing strawberries and a range of vegetables.

Watch our quick video on installing mulch fabric for a country hedge.

Hemp mulch mats are for fruit and ornamental trees, and they are biodegradable.

For traditional well-rotted organic matter, we supply peat-free RocketGro Magic Mulch.

Mulches - fabric and organic - are among the most important planting accessories we sell, because they stop your new plants from dying or struggling due to the two biggest killers of new plants: weeds and drying out!
Learn More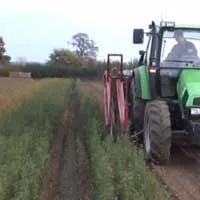 Grown
Grown and lifted by our specialist plant growers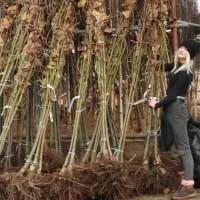 Picked
Picked by our team of experts from our Somerset nursery.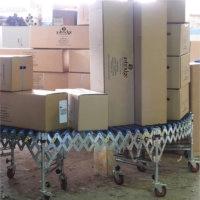 Packed
We've been packing and sending quality plants since 1949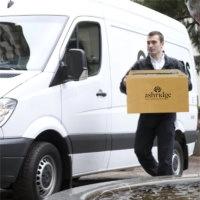 Delivered
Packaged by our experts and sent out by next day delivery.
Use mulch to hold moisture, suppress weeds, and for root shade. Ashridge's range of mulch to buy online has something for everyone.
What is mulch, in gardening terms?
Garden mulch is any substance that blocks light from the soil while allowing rain through, thus keeping the soil moist while suppressing weeds and grass.

In some cases, mulch is also used to protect soil and/or the crowns or tubers of perennial plants from frost in winter.

Mulch made from organic material has the added advantage of slowly decaying and feeding the soil.
But even inorganic mulch like woven polypropylene sheets, or gravel, improves soil fertility by keeping it moist: dry soil is infertile, by definition.
What is mulch made of?
Mulch is a general term for any material used over garden soil. While most gardeners will use bark chipping or straw ('strulch'), any compost or coil improver can work in the same way. Organic matter like this benefits the soil as well as blocking light from weeds. More budget-friendly options for simple ground cover include Mypex polypropylene sheets or biodegradable products like Hemp.

Does Organic Matter need to be Well Rotted to use as Mulch?

Absolutely not! You can use fresh lawn clippings, woodchips, fallen leaves, any plant matter that will cover the soil and is not full of weeds seeds.
That is how mulch works in nature (plus the weed seeds!).

Sure, well rotted organic matter is better because it will begin to release nutrients immediately, but that is only a concern if you need to fertilise something promptly: usually when growing vegetables, or for prize display flowers.
For most garden purposes, fresh organic matter is completely fine.

The only big exception is horse manure, which can be too "hot" (high in nitrogen) for some plants, either small plants with shallow roots, or recently transplanted trees and shrubs that have not had time to establish deep roots.
Horse manure should be left to decay for a year before applying in those cases.

Cow, sheep, goat, and rabbit manure is usually fine to apply fresh, although it might be too rich for newly sprouted seedlings.
When do I Mulch my garden?
You can mulch your garden at any time of year, but don't mulch over dry soil in summer: give the ground a good soaking first.

The best time to apply organic mulch in order to feed the soil is in late Spring when the soil has warmed up.

The best time to apply mulch in order to protect plants from frost is in Autumn, after the foliage has either died or been cut back, when the soil is still warm.

But as with so many garden tasks the famous maxim applies: the important thing is not when you mulch, but that you mulch!
What is the best mulch to prevent slugs?
Let's be realistic: most mulch is a home for slugs. Crushed eggshells won't do anything.

The most effective natural slug prevention is to fill your garden with ducks, and they will do plenty of damage of their own.

To get rid of slug conveniently and effectively, don't waste time with homemade efforts like beer traps: simply use organic approved Sluggo by Neudorff.
How thick does mulch need to be to stop weeds?
Plastic sheeting, like Myxpex, is a great solution that completely stops weed underneath it, although they will still find their way up through the holes where your plants poke through.
It is great for intensive crop management and new hedges or rows of trees.

For organic mulches, like bark chippings, or compost, mulch should be 8-10cm thick to effectively block out light.