Willow Plants
Buy The Best Salix Screening Plants
Delivered Direct from Our Nursery
Order Your Bareroot Willow Hedging & Saplings Today

What is Willow Hedging & Screening?
The willows, Salix species, are too vigorous to be a neat, formal hedge, and they don't fit in a typical mixed country hedge either.
However, planted on their own they are exceptionally versatile as a shaggy, wild hedge, a "fedge" (a fence-y kind of hedge), a wildlife friendly windbreak, or something more intricate such as bowers, arbours, and other creative structures like a living sofa woven out of their flexible stems.

The best willow varieties for live-sculpting and for producing weaving rods are Violet Willow, Scarlet Willow, Osier Willow, and Purple Willow.


• Uses: Wild hedges & windbreaks from 100cm upwards.
• Good Points: Very vigorous, versatile, graceful, easy to propagate.
• Position: Most places in full sunlight, loves wet soil, will grow with roots underwater.

How many Willow hedge plants do I need?

The planting density for your willow hedge depends on the purpose:
For a normal garden boundary hedge, plant at 3 plants per metre (every 33cm) in a single row.
A classic willow fedge requires 2 staggered single rows (i.e. start one row 16.5cm after the other), side by side. That works out at 5 plants per metre in total.
Other willow fedge designs, such as hooped arches, require looser spacing - it's really up to you!

What size Willow hedge plants should I buy?

If you are not in a hurry to get a full sized willow hedge, we recommend starting with smaller sizes: up to 60cm tall.
If you are in a hurry and need instant impact, or are filling gaps in an existing hedge, then of course pick the biggest size that fits your budget.
Smaller plants are cheaper, easier to plant, and tend to establish better because they are dug up with most of their roots intact.

If you still aren't sure, then 60/80cm tall is considered the ideal compromise between price, size, and waiting time until you get a mature hedge.
Most varieties are also available as larger willow standards.
Browse our range of sapling trees and hedging plants.

Your willow plants are delivered by mail order direct from our nursery, along with expert advice, friendly support, plus our bareroot Replacement Guarantee and Free Returns for all plants, so you can give them a whirl with complete confidence.
Learn More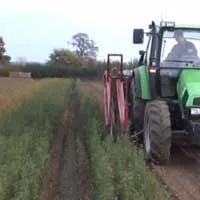 Grown
Grown and lifted by our specialist plant growers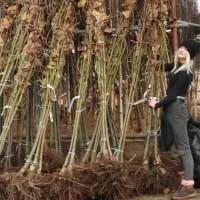 Picked
Picked by our team of experts from our Somerset nursery.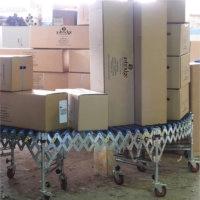 Packed
We've been packing and sending quality plants since 1949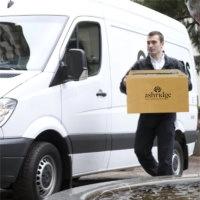 Delivered
Packaged by our experts and sent out by next day delivery.
Willow is, along with Alder (Italian Alder is best for hedging purposes) and dogwood, a go-to choice for wet sites that are prone to waterlogging.
Where can I grow a willow hedge?
Willows will grow in most sunny locations.
Although they love wet soil and will grow with their roots underwater, they generally grow in dry, poor soil as well.
Most of them do not grow well on chalk or by the sea, but Osier Willow will grow with its roots in brackish water (i.e. where fresh water and seawater mix).

Important Note on Willow Roots:

Willow roots tend to be quite shallow, spreading, and anti-social!
We advise against planting them near old buildings, vulnerable walls or drains. Once a willow root gets into a drain, it will quickly clog it, and is difficult to remove.
How long does a willow hedge take to grow?
Willow plants are extremely vigorous, growing up to 200cm+ per year, depending on your location (plants generally grow faster in the warmer South & West than in the cooler East & North of Great Britain) and your local conditions (wind-shelter and full sun are ideal).

Bear in mind that it is common for most plants to put on very little height in their first year after being transplanted into your garden.
There is nothing wrong with this: they are laying down roots first, in readiness for growing upwards and filling out.

How big does a willow hedge grow?

A willow hedge can be maintained from about 2 metres up to the mature height of the particular species, at least 4 metres.
When and How do I plant a Willow hedge?
Plant willow hedging in winter (November to March), using bareroot stock, anytime the soil is not frozen.

For a basic willow hedge, follow the instructions in our formal hedge planting video - it demonstrates beech, but it's the same process.

Essential Aftercare:
Water well after planting, and consistently during the first summer. A porous hose will make the job easier.
Unlike most new hedging and trees, it is not possible to overwater willow!

Keep the ground under your new hedge clear of weeds.

Remember: the two biggest causes of new hedges failing are drying out, and/or being choked by weeds.
How do I Pollard Willow?
Several willow species are frequently grown for their winter displays of bright bark on their new growth.
They must be pruned in a specific way, known as pollarding, every 1 or 2 years: yearly pruning gives the best display and although it's a more frequent chore, it's easier to cut one-year-old wood than older wood.

Pollarding is very easy: all you do is cut the trunk at the desired height - from about 1m to 3m is typical - at which point it will make several side branches.
Cut these side branches back to stumps every year (or two) in late Winter / early Spring.

Best Willows for Coppicing / Pollarding

You can Pollard any willow, but these are our top 4 in order:
What is a Willow Fedge?
A willow fedge is a cross between a fence and a hedge, which uses three of willows special properties to achieve the effect:
Willow is very vigorous.
New willow shoots are very flexible and suitable for weaving.
Willow will readily graft onto itself where two shoots are held together, fusing into one stem
There are really no rules to making a fedge, but a good basic starter structure for a dense barrier fedge is to plant one row of willows 33cm apart with each plant at a 45-degree angle to the ground, and a second row immediately next to it at the same spacing, only staggered so each plant goes in the middle of the gap between plants in the first row, creating a criss-cross shape.
Then tie the stems together at the points where they cross.
Then, every Spring, weave the whippy new shoots around each other to form and strengthen the structure (it may help to use some cut sticks around the top to weave the willow around).
That is one of many ideas you can try: the only limit is your imagination, and the fact that you always want to weave upwards or horizontally, not downwards.