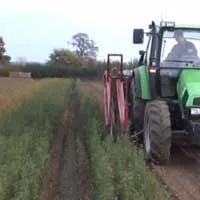 Grown
Grown and lifted by our specialist plant growers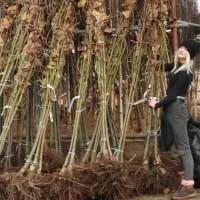 Picked
Picked by our team of experts from our Somerset nursery.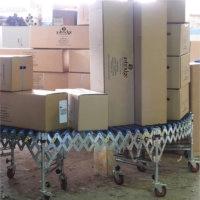 Packed
We've been packing and sending quality plants since 1949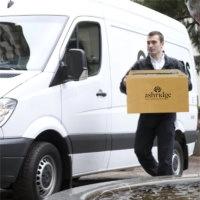 Delivered
Packaged by our experts and sent out by next day delivery.
This selection of exotic and unusual fruit are generally easy to grow and hardy across the UK, but they are not all able to produce ripe fruit outdoors when growing in colder regions of the North & Scotland, where a greenhouse may be necessary to get worthwhile crops.
Please read their desciptions carefully before buying.
All of these plants are genuinely self-fertile and do not need a pollination partner

Which Exotic Fruit Tree Should I Buy?

The common and Brown Turkey Figs crop fairly well in the Southern half of Great Britain, but given a sunny, South facing wall and a sheltered microclimate, they can be coaxed into cropping outdoors in a good year on the west coast up as far North as Glasgow. Even without their fruit, they are a handsome foliage plant for ornamental gardens.
Still, they are really a greenhouse crop in the North and Scotland, which is now easier than ever thanks to the dwarf fig, Little Miss Figgy.

Hardy kiwis are a similar story: in the North, they are unlikely to fruit consistently outside a greenhouse due to the later Spring frosts.
Jenny reaches around 6m, often takes a few years to start bearing fruit, and needs strong supports, but otherwise is a doddle to grow, so she's a great project for dedicated growers with a bit of space.

Medlars used to be a common delicacy in Britain, and they make a fine ornamental specimen or fruiting hedge. They are hardy and reasonably shade-tolerant, but like any fruit tree crop best in full sun.

Quinces add a perfume to your garden that is unmatched by any rose or lily. Serbian Gold is the most popular variety due to its early cropping and large size, but Meeches Prolific and Vranja are just as good.
They are extremely hardy, but do need full sun for the fruit to ripen.

King James I Mulberries are also very hardy and will crop well anywhere, but require a sheltered site and rich soil. They are such lovely trees when mature, especially in Autumn.
The fruit do not travel at all, so dried mulberries are all you ever find in the shops: nothing to compare with a fresh one!
Are medlar, kiwi and quince trees easy to grow?What kind of soil should I use?Should I plant my tree in a container or the ground?Should I prune my tree?Do these varieties yield a good crop?