Nottingham Medlar Trees
Mespilus germanica Nottingham
The details
Mespilus germanica
Stewed fruit consistency
Sweet apple-like flavour
Extremely easy to grow.
RHS Award of Garden Merit
Crops late Oct
Self Fertile
Choose a size
How are they measured?
Description
Mespilus germanica Nottingham
Medlar trees are usually grown for their ornamental value these days, but the fruit were once widely eaten fresh, and highly regarded. A well over-ripe medlar, with its wrinkled, papery brown skin and mushy insides, tastes like gourmet apple and pear cooked stew or sauce - sweet, sharp and irresistible.
Nottingham is the default British commercial variety thanks to its well sized fruit and regular harvests, which suit Medlar jam & cheese makers.
Browse our full range of fruit trees.
It is a low, spreading tree with lovely twisting branches and thick, slightly downy foliage that begins life pale green, flushed with a hint of rosy pink and then darkens with age. The simple white flowers are carried on the tips of the branches and are often surrounded by a halo of leaves, like a white iris in a green eye. They have excellent autumn colour, as the raised surfaces of the leaves glow with shades of pink, red and orange while the leaf veins hold their green pigment for a bit longer, creating an exotic tropical effect.
On our semi-dwarfing Quince A rootstocks, a full-grown tree can top 4 metres, 13 feet, so they are usually maintained in a spreading, open centred bush form up to about 3 metres tall, and 4-5m wide.
Harvesting, Bletting & Storing your Medlars:
Between mid-October and early November, the fruit should part easily from the branches and are ready to be picked and stored. It is best to disinfect them before you store them: stir salt into a bowl of warm water until no more will dissolve, and give each fruit a gentle wash with a soft brush to remove dirt. Dry them off well and store them in a cool, dry, dark place with their "eye" facing downwards. Space the fruit so they don't touch each other - wrap them in paper if necessary.
Leave them for about three weeks to blet (soften) - you know that they are ready when they become squidgy-soft all over. The longer you leave them, the softer they become.
You can also leave them on the tree and pick each one when you see that its skin is wrinkled and turning brown, but this may be quite time-consuming with a larger tree - the fruit may also fall off and get poached before you can get to them. If you are impatient to try one, freeze it and let it thaw two or three times - this should speed up the bletting process.
An easy way to peel them when you want to remove the flesh is to grip the base around the eye and, starting from the other side, scrape their papery skin with a small, fairly sharp knife downwards to where you are holding the fruit, then deftly scrape the flesh off the base in one go and into a bowl, so that you are left holding all the skin.
When eating them yourself, you can crack the eye open and suck the flesh out of a perfectly bletted specimen, neatly leaving the inedible stone behind: this is medlar heaven.
Growing Nottingham Medlars
Medlars are very tough and disease resistant, suitable for any well drained soil except chalk, preferring neutral to slightly acidic. They are shade-tolerant, but like most fruit trees, should be grown in full sun to crop well. The flowers appear late and avoid most frosts, but can still be damaged by strong, dry winds, so a sheltered location is necessary to ensure good harvests in exposed, colder regions.
They are susceptible to fireblight, which is uncommon in the UK. Their new growth can be stunted by aphids, so remove them as necessary while the tree is still young.
We recommend pruning your tree diligently for its first four years to encourage an open centred, spreading form. Cut back every leading branch by about a third of its new growth from the previous summer, down to an outward facing bud, and clear the main stem of small shoots.
Medlars can be grown as a fruiting hedge, so they produce a lot of bushy branches and mature, unattended trees tend to become congested.
Grown as a hedge, plant maidens 1 metre apart, cut off the leading stem to make them bush out, and do not clean the main stems of the side branches that appear above the graft, but rather allow them to branch out laterally.
They are tip bearers and are fine for training as fans, rather than espaliers or cordons.
Suckering from below the graft is a common issue: it is best to rub or rip these suckers off while they are still new, which discourages more forming. But if you spot them when they have matured a little, cut them off with a sharp knife with an upwards motion from the bottom.
Did You Know?
These exotic fruit were once highly in-demand seasonal delicacies across Europe, and local varieties are still popular in Greece, Turkey and the Middle East. London's Borough Market is one of the few places that still sells medlars in season - ask for them from late October.
Medlars are smaller and less convenient to farm and to eat than apples or pears, which is one reason for their decline in popularity and general absence from greengrocers. Another is squeamishness: medlars do not rot when they blet (from the French adjective blette, overripe), but their stewed consistency appears a bit that way compared to other fruit that we eat, which would indeed be rotten if they looked like a medlar inside. In the bletting process, some medlars with broken skin will usually rot (meaning germs and fungi get inside), and they must be thrown away.
Finally, back when medlars were in demand, medlar hedges and windbreaks used to be common options for the less favourable areas and borders of orchards, where perhaps there was the least sun, or the most wind, or a frost pocket. These days, people have fences or narrower, cheaper, and easier to maintain edible hedges and conservation hedges.
Shakespeare and Chaucer both likened their shape to a person's bottom, as when Mercutio teases Romeo about his passion for Juliet:
If love be blind, love cannot hit the mark.
Now will he sit under a medlar tree,
And wish his mistress were that kind of fruit
As maids call medlars, when they laugh alone.
Romeo, that she were, O, that she were
An open et cetera, thou a poperin pear!
If The Bard wasn't clear enough, the traditional names for them here in the West Country are Open-Arse and Monkey's Bottom.
If you are unsure about fruit tree sizes, please take a look at our Guide to Fruit Tree Sizing.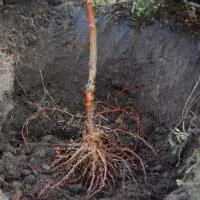 Bareroot?
Bareroot plants have no soil around the roots. They are light, easy to carry and plant.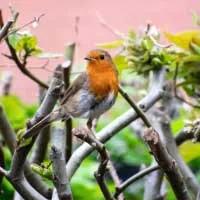 Perfect for Winter
The ground tends to be wet in winter, ideal for planting bareroot plants.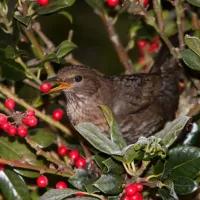 Value for money
You pay less for the same size bareroot plants, compared to potted.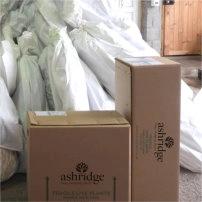 Delivered
Packaged by our experts and sent out by next day delivery.
Tag us @ashridgenurseries